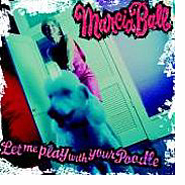 released in 1997 from ROUNDER RECORDS


"Marcia Ball comes across like a female Delbert McClinton. The main difference is that where McClinton's style is Texas roadhouse blues, Ms. Ball is playing and singing Louisiana Delta roadhouse blues in the style of such New Orleans rockers as Irma Thomas and Ernie K-Doe." -- Dallas Morning News
"Tall, lovely, with an earthy sense of class and a strong, mellow voice that can moan a blues or rock the night away, this Louisiana-via-Texas lady is what rock 'n' roll is really all about when it's practised away from the hype, back where the music came from, and where ... 'it didn't have to go anywhere because it was already home.'" -- Michael Ventura, L.A. Weekly
"Marcia Ball is best known for her rolling Austin meets New Orleans piano style (like a cross between Jerry Lee Lewis and Professor Longhair), and she provides plenty o' reasons to lace up those high heeled sneakers." -- CMJ
Marcia Ball honed her powerful singing and deft, rollicking keyboard chops while growing up in the small town of Vinton, Louisiana, on the Texas border. This musical and cultural frontier has produced such other roots-music greats as Gatemouth Brown, George Jones, Janis Joplin, Clarence Garlow, Cleveland Crochet, Clifton Chenier, Joe Bonsall and Johnny and Edgar Winter. It was and still is a hotbed of country, blues, gospel, Cajun, zydeco, rockabilly and Gulf Coast "swamp pop", and young Marcia absorbed it all, even as she was receiving her formal piano training.
After attending Louisiana State University in Baton Rouge, Marcia hit Austin in the late 1970s, just as the Texas capital's progressive country movement was growing. Ball was an important and popular figure on the Austin scene, first as the leader of the beloved Freda & the Firedogs, and then as a solo artist signed to Capitol Records. Her recorded debut was Circuit Queen, which appeared in 1978, and while artistically successful in the progressive country vein (and still sounding good today), the album quickly sank amid record company politics.
By the early '80s Ball was focusing on Gulf Coast rhythm & blues, and she's never looked back. In addition to her critically acclaimed Rounder albums ( Soulful Dress, Hot Tamale Baby, Gatorhythms, Blue House, and Let Me Play with Your Poodle), Marcia also found time to collaborate with Angela Strehli and Lou Ann Barton on a well-received album for the Antone's label called Dreams Come True.
At the end of 1997, Marcia finished work on a similar "three divas of the blues" project for Rounder, this time in the distinguished company of Irma Thomas and Tracy Nelson. The album, Sing It! was released in January 1998 and was nominated for both a Grammy and Handy as "Best Contemporary Blues Album". Ball also appears as a featured singer with Cajun country legends the Hackberry Ramblers on their recent Deep Water album (on the Hot Biscuits label), where she makes her recording debut singing in Cajun French ("Les Blues de Bosco").
Marcia Ball's prolific studio work is sandwiched between live appearances that keep her constantly in touch with her legion of fans throughout the U.S. and Europe. She has appeared at virtually every major festival on both continents, received glowing reviews in all major music publications, and been featured on leading radio and television programs around the globe. She received the 1998 Handy Award for Contemporary Female Vocalist of the Year and is nominated again in 2000, as well as for Blues Instrumentalist-Keyboards. In 1999, Marcia and her band appeared In Performance At The Whitehouse along with B.B King and Della Reese which was broadcast nationally on WETA Public Television.
Marcia's most recent solo album is Let Me Play With Your Poodle. Bursting with all the passion, excitement and sly humor that make Ball's live performances legendary, Let Me Play With Your Poodle is also a dazzling display of her keyboard prowess and co-production skills. There's even a cameo appearance by guitar virtuoso Clarence Holliman whose classic sound graced so many historic '50s and '60s sessions by crooner Bobby "Blue" Bland.
Full-tilt or subtle as the moment demands, this unabashed powerhouse is at home playing roadhouse rock, jump-blues, second line syncopation (a la Professor Longhair, one of Ball's idols), R&B, deep soul, and ballads. What's more, Ball's great singing and songwriting are matched by superb piano playing that is eclectic and effective.