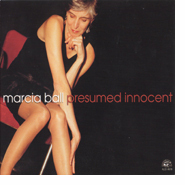 released in 2001 from ALLIGATOR RECORDS


"Rollicking, good time blues and intimate, reflective balladry... Her songs ring with emotional depth and the truth of experience." -- Rolling Stone
"Texas-based, Louisiana-bred Marcia Ball embodies the best of both regions in her partying b lend of New Orleans piano boogie and Austin roadhouse R&B." -- USA TODAY
"Like most of the great blues singers, Ball has a throaty, penetrating voice and a style that manages to combine romance, sorrow and defiance." -- PEOPLE
Singer/pianist Marcia Ball knows how to raise roofs and tear down walls with her infectious, intelligent and deeply emotional brand of southern boogie, rollicking, roadhouse blues and heartfelt ballads. Over the course of her three-decade career, Ball has earned a huge and intensely loyal following all over the world. Her exquisite piano playing and passionate, playful vocals fuse New Orleans and Gulf Coast R&B with Austin's deep songwriting tradition into a sound No Depression described as "a little rock, a lot of roll, a pinch of rhythm and a handful of blues." According to the Minneapolis Star Tribune, "Ball is the bayou queen of the piano, steeped in blues and honky-tonk. When revved... she's a rollicking dynamo spewing heat-seeking triplets from the ivories while her horn-driven band wails. She's also a subtle songwriter and a formidable singer with a wisp of huskiness edging her Cajun-Texan twang."
Ball's Alligator Records debut (the ninth album of her career), PRESUMED INNOCENT (AL 4879), is a tour-de-force of potent, imaginative songs fueled by leg-swinging boogie, deeply original, rocking blues and heart-stopping ballads. Produced by Ball and Doyle Bramhall and recorded at Arlyn Studios in Austin, Texas, PRESUMED INNOCENT features thirteen songs, including 5 songs written or co-written by Ball. From the soulful "You Make It Hard" (featuring guest vocalist Delbert McClinton) to the pleading "I Have The Right" to the foot-stomping declaration of independence "Count The Days" to the heartbreaking "Let The Tears Roll Down," PRESUMED INNOCENT is Ball's most emotionally candid and mature record to date. Featuring Ball's longtime touring band - along with special guests McClinton, Mark "Kaz" Kazanoff, Sonny Landreth and C.C. Adcock - PRESUMED INNOCENT touches all the styles and emotions of one of Ball's unforgettable live shows.
Born in Orange, Texas, in 1949 to a family whose female members all played piano, Ball grew up in the small town of Vinton, Louisiana, right across the Texas border. She began taking piano lessons at age five, listening to and playing old Tin Pan Alley tunes from her grandmother's collection. From her aunt, Marcia heard more modern and popular music. But it wasn't until she was 13 that Marcia Ball discovered the blues, as she sat amazed as Irma Thomas delivered the most soulful and spirited performance the young teenager had ever seen. According to Ball, "she just blew me away, she caught me totally unaware. Once I started my own band, the first stuff I was doing was Irma's." In 1966, she attended Louisiana State University, where she played some of her very first gigs with a blues-based rock band called Gum, whose repertoire included more than one Irma Thomas song.
After graduating in 1970, Ball set out for San Francisco. Her car broke down in Austin, Texas, and while waiting for repairs, she fell in love with the city and decided to stay. It wasn't long before Ball was performing in the city's clubs with a blues-influenced progressive country band called Freda and the Firedogs while beginning to hone her songwriting skills. It was around this time that Ball delved deeply into the music of the great New Orleans piano players, especially Professor Longhair. "Once I found out about Professor Longhair," recalls Ball, "I knew I had found my direction."
When the band broke up in 1974, Ball launched her solo career, signing to Capitol Records and debuting with the bluesy, country-soul album Circuit Queen in 1978. She released a number of critically acclaimed Rounder albums during the 1980s and 1990s, including Soulful Dress, Hot Tamale Baby, Gatorhythms, Blue House, and Let Me Play With Your Poodle. In 1990, Ball - collaborating with Angela Strehli and Lou Ann Barton - recorded the hugely successful Dreams Come True on the Antone's label. At the end of 1997, Marcia finished work on a similar "three divas of the blues" project for Rounder, this time in the distinguished company of Tracy Nelson and Ball's longtime inspiration, Irma Thomas. The album, Sing It!, was released in January 1998 and was nominated for both a Grammy® and a W.C. Handy Blues Award as Best Contemporary Blues Album.
While her studio albums have won her fans around the globe, Ball's dynamic live performances keep them coming back for more. Playing over 100 shows a year, Ball has appeared at virtually every major festival in the United States, received glowing reviews in all major music publications, and has been featured on leading radio and television programs, including Austin City Limits and National Public Radio's Fresh Air and Piano Jazz. She received the 1998 W.C. Handy Blues Award for Contemporary Female Vocalist of the Year and was nominated again in 2000 and in 2001 for Best Blues Instrumentalist-Keyboards. In 1999, Marcia and her band appeared in the nationally televised Public Television special In Performance At The White House along with B.B. King and Della Reese.
Ball's move to Alligator Records - and her joining the roster of the influential Rosebud Agency for booking - are major milestones in her career and a very exciting time for her personally. "I'm thrilled to be on Alligator," says Ball. "I have high hopes and I feel like I really will be a priority. Alligator is a solid blues label and that will definitely work to my advantage." Alligator president Bruce Iglauer agrees. "I've been a fan of Marcia's for years, and I've watched her grow from being a terrific interpreter of New Orleans and Texas blues and R&B into an excellent songwriter who can deliver a ballad that really touches your heart. She's got one of the biggest, most devoted cult followings of any roots music artist, and she earns it by delivering some of the best party music and the most soulful, deepest blues and ballads night after night." The new album may be titled PRESUMED INNOCENT, but if Marcia Ball's transgression is stirring souls with her ballads and tearing down roofs with her rollicking boogies and blues, she's very much guilty as charged.