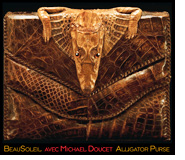 January 20, 2009 from YEP ROC RECORDS


Listen to "Alligator Purse" at Reverb Nation >>
Every genre has its defining figureheads. Folk has its Woody Guthrie and Bob Dylan; country has the Carter Family, Bob Wills and Hank Williams. Rock has its Elvis, Chuck Berry, and the Beatles. In blues, it's Bessie Smith, Robert Johnson and Muddy Waters, and in jazz, Louis Armstrong, Duke Ellington, and Miles Davis. When it comes to contemporary traditional Cajun music, there is BeauSoleil. For the past 34 years Lafayette, Louisiana's BeauSoleil has carried the torch of tradition while continuing to chart uncharted waters with ingenuity and innovation. Their latest release and Yep Roc label debut Alligator Purse is not only a vibrant testament to BeauSoleil's healthy spirit but is easily their most adventuresome record yet.

Since their inception in 1975, BeauSoleil has not only spearheaded a cultural Renaissance but has elevated Cajun music to one of domestic and international acclaim. Along the way, they have appeared regularly on Garrison Keillor's A Prairie Home Companion and garnered ten Grammy nominations. In 1998, they became the first Cajun band to win a Grammy for their L'Amour Ou La Folie effort in the traditional folk category. While they've introduced their sources of inspiration, Dennis McGee, Canray Fontenot, Varise Connor, Wade Fruge, Dewey Balfa, Amédéé Ardoin and Freeman Fontenot, to new audiences, they've also daringly blended zydeco, Tex-Mex, western swing, blues, New Orleans traditional jazz and Caribbean calypso into their framework. As a result, any ethnomusicologist would be hard pressed to speculate where Cajun music would be today without the contributions of BeauSoleil.

Indeed. BeauSoleil's accomplishments have been nothing short of epic. Yet, it all begins with the preservation of a sacred culture, the lifelong calling of fiddling frontman Michael Doucet. "In the beginning, we mainly tried to get this music to the people in Louisiana. When I graduated from high school in 1969, we noticed that when people died, so did the culture, whatever culture they had with them. It was a transitional time, the old world French and the New World. So we had time to hang out with people of our grandparent's generation who could teach us the songs."

Upon graduation from college in 1973, Doucet toured France with his then group, the Bayou Drifters. Intending to stay two weeks, the sojourn lasted six months and it became clear what Doucet's mission would be. "When I came back, my duty was to bring this music back to the younger generation because it was so vastly disappearing."

From the very outset, BeauSoleil elected not to trot over the same, worn out footpath as their contemporaries but blazed a new trail by injecting their own innovations into the music. Whereas most Cajun bands revolve around their accordionist, BeauSoleil's emphasis has always been on fiddle, showcasing it heavily in their arrangements. The wooden stringed instrument played with a horsehair bow was the lead instrument of choice before the advent of the diatonic accordion in the late 19th century when the repertoire consisted largely of fiddle tunes.

Additionally, BeauSoleil became a Cajun band of many firsts. They were the first to play the frottoir, the rub board that's a staple in Cajun music's cousin genre zydeco. BeauSoleil was also the first Cajun band to record an Amédéé Ardoin and a Dennis McGee song, the first to feature a female vocalist and the first to feature an acoustic guitarist, Doucet's brother David, who flatpicked his lead parts in place of the proverbial steel guitar. For additional information, photos or to set up an interview, please contact...

Though these were radical concepts for the day, it didn't stop there. "We were the first Cajun band to really bring back the acoustic sounds," Doucet says. "We didn't plug in until the sound got so bad in the late 80s. We all played through mics. Around here in the 70s and 80s, everybody, including Dewey Balfa, plugged in. They wouldn't play plugged in at folk festivals but here we said no, we are going to do it this way [play unplugged] because that's how we learned it. It's music that we learned acoustically around the table. It didn't evolve around a group or an image; it was just a group of friends that wanted to have a good time and develop it."

With Alligator Purse, their 29th release, BeauSoleil's revolutionary evolution continues with plenty of surprises. The seeds of Alligator Purse were planted in 2005 when old friend and entertainment industry insider Michael Pillot asked Doucet if he would participate in the Build The Levee benefit concert to assist the victims of hurricanes Katrina and Rita. There, at Bard College in upstate New York, Doucet joined forces with Dr. John, Natalie Merchant, cellist Rushad Eggleston, guitarist Artie Traum, avant-garde trombonist Roswell Rudd and Lovin' Spoonful's John Sebastian. The gathering was almost a premonition as Doucet and several of the benefit's musicians would soon play together again.

Two years later, when things fell into place to begin recording BeauSoleil's next album, Doucet asked Pillot to be its producer, which was virtually unprecedented since the band has only had two outside producers (John Jennings and the late Charles Sawtelle) in their storied career. Clubhouse Recording Studio in Rhinebeck, NY proved to be the obvious choice since its comfortable confines was where the musicians rehearsed for the benefit concert. Pillot, in turn, enlisted heavyweight talent, Band keyboardist Garth Hudson; Sebastian; vocalists Merchant, Artie and Happy Traum; banjoist Bill Keith; electric guitarist Jim Weider and Rudd to collaborate. And word soon got out that something special was happening at the Clubhouse. Andy Stein (Commander Cody, Asleep at the Wheel) stopped by to lay down swooning sax solos on "Marie."

"It was so relaxed and we had a great time in the studio," says Doucet looking back at the memorable experience. "We recorded 15 songs in only four days. Everything was done live with very little overdubs."

But, of course, Doucet was determined to steer this record beyond where BeauSoleil has ever been before. "You know, things are changing now. Why do another traditional record?" he asks. "The traditional stuff is out. The best stuff in the world was the 1928-1936 recordings, Dennis McGee, Amédéé Ardoin and Luderin [Darbone and the Hackberry Ramblers]. And you get into the 50s with Iry LeJeune and Harry Choates, so some of the best stuff is done. So now is the time to say who we are and that's what we did."

"This is how we would play a dance," Doucet continues. "This whole album tells a whole story from the beginning of a dance to the end of the dance."

Bookending the 'dance' are selections from Dennis McGee and Amédéé Ardoin, the cornerstones of 20th century Cajun music. "Reel Cajun," as in "Reel Cajun/451 St. Joseph St.," is one of the first Cajun reels that the influential fiddler ever recorded, something that for years Doucet was unaware of until more of McGee's discography surfaced. Today, reels in Cajun music are virtually nonexistent unless it's a rendition of an ancient fiddle tune since its associated dance and practitioners have long disappeared.

The "451 St. Joseph St." portion of the title refers to McGee's street address in Eunice, LA where Doucet spent many an afternoon playing with the senior fiddler. The plaintive Ardoin tune, "Valse à Thomas Ardoin," is a perfect symbolic closer since the Creole accordionist laid the groundwork for Cajun music in the early 20th century. In addition to the bookend tracks, songs "Bosco Stomp" and "La Valse à BeauSoleil" play out the band's reverential nod to traditionalism. The remaining nine tracks on Alligator Purse unveil the true identity of the band within the cultural framework of American music.

Doucet's uncanny ability to hear a song in its innate form and envision the possibilities lies at the heart of this identity and remains one of the major themes explored on Alligator Purse. Their pulsating, yet strolling rendition of "Marie" is truly a landmark as it is the first time the Aldus Roger hit has ever been transformed into classic swamp pop, a fact that still surprises Doucet. "Doesn't it work great?" he asks proudly. "Why somebody has never done that before, I have no idea."

Similarly, an a cappella ballad culled from the Lomax archives, "La Chanson de Théogène Dubois" sung by Fenelus Sonnier in 1934, is transformed into a full blown palm-trees-and-coconuts arrangement, something that could easily be heard in the Caribbean. "I didn't change the melody at all but I did change the rhythm because when I first heard that song, it was like, 'This sounds Caribbean'," Doucet says about the song he rechristened "Théogène Créole." "When I hear music that's unadorned, it becomes a symphony for me."

Doucet's ability to see the promise of innovation in the alteration of Cajun and non-Cajun music illuminates the other major theme of Alligator Purse. The melding of other American styles into BeauSoleil's progressive Cajun signature. "Les Ognions" is a New Orleans Creole jazz tune and features Roswell Rudd's Herculean free jazz infused trombone stylings. Through his mighty embouchure as well as altering the mute's placement inside the trombone's bell, Rudd essentially eliminated the need for a horn section, providing all the needed tones himself. "Rollin' and Tumblin'" a classic tune often credited to obscure bluesman Hambone Willie Newbern and better known through Muddy Waters, is here morphed into a French-language Cajun romp. Inspired Bob Dylan's rendition at a New Orleans Jazz & Heritage Festival, Doucet and company thought it fitting to record their own version ("Rouler et Tourner") for Alligator Purse.

If you want to hear BeauSoleil on old school bluegrass, check out "Little Darlin'" by Julie Miller where Doucet sings haunting harmony with Natalie Merchant. "Obviously [she] has heard Cajun music because that song is so Cajun," Doucet says. "She hit the nail on the head because it epitomizes most themes of Cajun songs in a very poetic way." For this particular tune Doucet decided to leave the lyrics in their original English stating, "There's no way I could have translated it any better. It communicates the feel and theme of many Cajun songs and to switch it to French would, ironically, have screwed it up." Another song Doucet wisely left in its native state - English - is Tulsa boogie rocker JJ Cale's "The Problem." With Keith, Weider, David and Michael all hammering out a clackety, cool acoustic shuffle, the song isn't necessarily political per se but stresses activism in regard to whatever struggle is at hand.

With Alligator Purse BeauSoleil make the most dynamic statement of their career. By flowing music – whether it be blues, bluegrass, rock or traditional Cajun – through their one-of-a-kind musical lens the band has almost singlehandedly raised the music of southern Louisiana and its progenitors into the cultural spotlight, it's influence and importance standing tall and proud on a musical landscape that has recently exhibited much overdue appreciation for other "roots" music forms in the past decade or more. Alligator Purse will do for Cajun and Creole music what O Brother, Where Art Thou? did for bluegrass, what The Buena Vista Social Club did for the music of Cuba – concentrate the attention of the world on one album, one chosen capsule of the traditions and the innovations of thousands of musicians and decades of transmutation. Alligator Purse is, at once, the family hymnal and that first Bo Diddly beat. Alligator Purse is music. Alligator Purse is America.