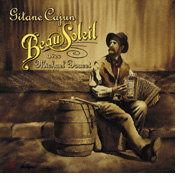 released in 2004 from VANGUARD RECORDS


For almost thirty years now, BeauSoleil has packed dance-floors around the globe with potent Cajun music that's deeply traditional and vibrantly futuristic. Led by Michael Doucet - fiddler / composer / chanteur extraordinaire - the Grammy-winning band from Lafayette, Louisiana, also incorporates a seamless blend of flat-out Cajun French folk-rock, zydeco, various jazz styles, Latin and Caribbean music, medieval European material, western swing, and more. This uniquely eclectic approach and consummate artistry are gloriously evident on BeauSoleil's latest album, Gitane Cajun (Cajun Gypsy.)
Gitane Cajun marks the band's first studio recording since 1999 and its debut album for Vanguard. This pairing is apt indeed since BeauSoleil and Vanguard are both committed to disseminating traditional music and interpreting it with intelligence, taste, and creativity. "I have a lot of respect for Vanguard," Doucet comments, "because of all the great folk and blues they released in the '60s - and also because of their recent tributes to Cajun music and zydeco, Evangeline Made and Creole Bred, which I was honored to play on."
In addition to the ferocious grooves, fine solos and tight ensemble playing for which BeauSoleil is renowned, Gitane Cajun also reflects Doucet's continuing growth as a songwriter. "A lot of the songs here, Doucet explains, "look at a universal understanding of life, death, pain, and happiness - and how you can't have one without the other. I didn't write them with a thematic album in mind but just let my feelings flow without any preconception of what Cajun music is, isn't, or should be. The music expresses where we are now and how far we've come - while still paying tribute to past greats like Canray Fontenot and Dennis McGee, whom I knew well."
These poignant lyrics, sung mostly in French (with translations provided) are showcased in a wide variety of settings. "La flPche d'amour" ("Love's Arrow") showcases sly, half-spoken vocals with a slinky blues groove. The haunting "Les fleurs fleurissent" ("The Flowers Bloom") unfolds in slow, modal waltz-time. "Le soleil brille" ("The Sun Shines") has an anthemic feel, while "Bye, Bye Boozoo" pays rollicking tribute to the late Boozoo Chavis, an elder statesman of zydeco. Spritely swing highlights the appropriately titled "Tu m'as fait rire" ("You Make Me Laugh.") "Windhorse Eyes" ( a Shambhala Buddhist reference) is a tender love song, sung in English. There are instrumental originals as well, including the title track, a spirited Cajun two-step romp, and the heartfelt "Me and Dennis McGee." And Gitane Cajun also reprises some classics. There's a jaunty western-swing beat on "Lena Mae," by the late great accordionist Lawrence Walker; a relaxed funk feel on the archaic ballad "La femme qui jouait aux cartes" ("The woman who plays cards"); and Afro-Caribbean/Latin echoes on Canray Fontenot's "Malinda."
This category-defying hybrid has defined BeauSoleil from the band's inception. BeauSoleil's saga is well known to its many admirers. But listeners who are under 30 - younger than the band - may not comprehend the profound social changes that allowed BeauSoleil to emerge and prosper. Today's accepting atmosphere of Cajun chic and a-Cajun-brand-of-every-conceivable-product have not always been the norm. Such pride was scarce when Michael Doucet was born in Lafayette in 1951. Doucet grew up in the assimilationist atmosphere of the Cold War and the Eisenhower Era. Most expressions of regional identity - including ethnic music - took place among insiders only, well below mainstream radar. This mind-set was especially drastic in South Louisiana where speaking local French dialects had been banned in the public schools since 1916.
By the late '60s, however, a new appreciation arose. Courses in Cajun and Creole French were introduced to public-school classrooms. In Lafayette, a 1974 concert entitled "A Tribute to Cajun Music" brought similar and quite unprecedented validation to Cajun music and zydeco. Young Cajun and Creole people who had scorned or denied their heritage began, instead, to revel in it.
Michael Doucet was a leader in this movement. Cajun music was "all around" when Doucet was growing up, "but it was just there," he comments; "we didn't really think about it." Doucet played trumpet in grade school and guitar in a teen-aged folk-rock band. In 1974 he took up the fiddle, and the next year he founded BeauSoleil. In a potent sign of the times Doucet named his band after Joseph Broussard dit BeauSoleil - a leader of Acadian resistance against the British who become a patriarch of the Louisiana Acadian exiles later known as Cajuns.
Besides forming BeauSoleil in 1975 Doucet was awarded a Folk Arts Apprenticeship in Cajun fiddle styles from the National Endowment of the Arts. "I had planned to go to graduate school in New Mexico to study the Romantic poets," he recalls. "Instead I traded William Blake for Dewey Balfa." Doucet sought out Balfa, Dennis McGee, and such venerable Cajun and Creole fiddlers as Sady Courville, Luderin Darbone, Varise Connor, Canray Fontenot, and Freeman Fontenot. Doucet studied their technique, learned many of their songs, and encouraged some to resume performing in public. He also pored over rare folkloric field recordings of Cajun and Creole music and reintroduced many dormant songs to dance-floor popularity.
But Doucet is also a product of the '60s counter-culture, and for a time that adventurous side of his persona was expressed in a separate band called Coteau and often referred to as "the Cajun Grateful Dead." When Coteau disbanded in 1977, Doucet decided that BeauSoleil could effectively accommodate all of his far-flung interests - and the band has rolled on from there. In the early 1980s, frequent performances on A Prairie Home Companion helped establish BeauSoleil nationally. So did inclusion on the soundtrack to 1987's The Big Easy, an otherwise forgettable summer-movie hit that catapulted Louisiana music into mainstream consciousness. BeauSoleil provided the soundtrack for Belizaire the Cajun, one of the first Hollywood feature films to portray South Louisiana without stupid stereotypes. The Belizaire soundtrack was nominated for a Grammy. Many achievements and accolades have followed through the years and some 25 albums, including a Grammy for L'amour ou la folie as the best Traditional Folk album of 1997, and BeauSoleil's long-awaited on the Grand Ole Opry in July, 2004. Upcoming events of note include a feature story on CBS Sunday Morning and a performance in a Bravo documentary about the New Orleans Jazz & Heritage Festival. Michael Doucet also appears in the documentary Make 'Em Dance: The Hackberry Ramblers' Story which aired in January, 2004, on the PBS series Independent Lens. Doucet has appeared as a special guest on two of the Ramblers album, and has also graced recordings by Keith Richards, Mary-Chapin Carpenter, Taj Mahal. In addition he finds time to tour with two other groups, The Savoy-Doucet Cajun Band and Fiddlers Four.
Three of BeauSoleil's current band members go back to group's very beginning. "My brother David is just an incredible guitar player," Doucet says. As heard on his two solo albums, Quand J'ai Parti and 1957, David Doucet has perfected a unique and seamless blend of Appalachian finger-picking with Cajun music. Drummer Tommy Alesi combines a light, graceful touch with an assertive rhythmic drive. Anchored by this foundation, percussionist Billy Ware adds a wealth of rhythmic textures. Sadly, one founding member has passed on. Tommy Comeaux, who played bass, guitar, and mandolin, died in a tragic accident in 1997. His memory is honored by the Dr. Tommy Comeaux Memorial Endowed Fund for Traditional Music at The University of Louisiana at Lafayette.
Longtime accordionist Jimmy Breaux "can play anything," Doucet says. "The things he makes sound simple aren't simple." Breaux comes to BeauSoleil from a distinguished Cajun-music family. His grandfather, Amédée Breaux, made the first recording of a song entitled "Ma blonde est parti," later known as "Jolie Blonde," and is great aunt was Cleoma Breaux Falcon, one of the first prominent women in Cajun music. Besides working with BeauSoleil, Jimmy Breaux has released a solo album, Le Chemin Que T'a Pris. The band's line-up is completed by bassist, banjo picker singer and fiddler Al Tharp, who has been with BeauSoleil since 1990. Gitane Cajun also features some distinguished special guests. Steel guitarist Cindy Cashdollar has toured and recorded with the diverse likes of Bob Dylan and Asleep at the Wheel, to name just a few. Pianist David Egan, who co-produced this album, has emerged as one of Louisiana's most in-demand players and is a member of Lil Band 'o' Gold. Cellist Rushad Eggleston is Michael's Doucet colleague in the acclaimed band Fiddlers Four.
Thirty years ago Michael Doucet was an eager young apprentice to the elder statesmen of Cajun and Creole fiddling. BeauSoleil will soon celebrate three decades in music - an eternity in the Spinal Tap world of bands - and Doucet is now approaching elder statesman himself. But in many respects he's still a musical gypsy at heart - so join in as his odyssey with BeauSoleil continues on Gitane Cajun.