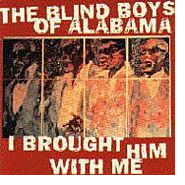 released in 1997 from HOUSE OF BLUES RECORDS

The Blind Boys of Alabama have been pilgrims on the Gospel highway for nearly 60 years now -- the seeds of the group took root among friends singing informally in 1937. The road from Talladega, Alabama's Institute for the Deaf and Blind, to Hollywood's House of Blues is a long one, and the journey was often a test of faith: there were the legal inequities and social insults that marred road life in the group's early days; there were bilkings by record company sharks; temptations to 'cross over' to secular rhythm and blues; painful losses of colleagues and friendly rivals, among them founding Blind Boy Vel Bozman Traylor, Archie Brownlee of the rival Blind Boys of Mississippi, and one-time Soul Stirrer Sam Cooke.
But Clarence Fountain was daunted by none of it. "I just kept waiting for the big thing," he said. "I knew we would hit the jackpot one day."
Few singers of Fountain's age possess his assured perseverance; few groups formed in the Depression are still going, and none -- Blind Boys excepted -- can look back on this past decade as its most successful. Beating the odds, however, is only one of The Blind Boy's feats. What they do best is evident on this, the group's first ever 'live' recording. Clarence Fountain and The Blind Boys of Alabama held church at Hollywood's House of Blues January 14-16, 1995. The fourteen performances here are culled from those three zealous nights, the first of which became the first full length concert broadcast on the Internet in the medium's history. If that seems ironic for a group which released its debut 78 in 1948, it may be a matter of The Blind Boys' timeless energy finding yet another medium for their message.
The 'information superhighway' of Clarence Fountain's youth was radio. It brought him the sounds of The Heavenly Gospel Singers ("the first group I heard," he recalls), the Soul Stirrers and, most influentially, the Golden Gate Quartet. In 1937, NBC began regular broadcasts of that group on its "Magic Key Hour." Fountain, not yet in his teens, was singing in the Glee Club of the Talladega Institute for the Deaf and Blind and enlisted his friends Johnny Fields, J.T. Hutton, Ollice Thomas, George Scott, and Vel Bozman Traylor into a group called the Happy Land Jubilee Singers. "We were just a bunch of happy guys," Fountain recalls. Except for Hutton, all of them were blind.
Fountain fondly recalls the group's first performances: "The school was not happy for us to go off campus, but we would sneak out," he told Folk Roots interviewer Dave Peabody. "We would go out and make some money. There was a big soldier camp up there,had about ten or twelve thousand soldiers. We'd perform for that soldier camp and we'd do alright."
The troops loved hearing them sing such topical songs as the Golden Gate Quartet's 1942 celebration of the Soviet rebuff of Hitler, "Stalin Wasn't Stallin." It was one of many songs they learned from the Golden Gate Quartet. "Those were the people that we patterned ourselves after," Fountain told Peabody. "They made the current chords and we made 'em, too; they didn't sing hard, they just sang jubilee. They sang a lot of music." The legacy of the Gates' 'jubilee' style can be heard on at least three of the Blind Boys' most stirring performances here. The rollicking "Didn't It Rain", the dark "Hush, Somebody's Calling My Name", and the gorgeous a cappella "Listen to the Lambs" were all recorded by the Golden Gate Quartet.
The Happy Land Jubilee Singers' success entertaining troops inspired them to drop out of school and hit the Gospel Highway in 1945. Tragedy followed in 1947 when lead singer Velma Bozman Traylor died as the result of an accidental gunshot ("he always liked to play with guns," Fountain recalls). The loss of Traylor was deep -- "He really was the one who got the thing together," says Fountain -- but they continued with Rev. Paul Exkano sharing lead vocals with Fountain for a few years. As the Happy Land Gospel Singers, this group made its record debut with "See Everybody's Mother But Mine" for the Newark-based Coleman label in 1948.
By the time of their 1950 recordings, the group had become The Five Blind Boys of Alabama. "Let me tell you how this came about," Fountain said to Seamus McGarvey in a Blues & Rhythm interview. "This came about when we really got to movin' ahead, then The Blind Boys came into existence..."
...Wasn't there already a gospel vocal group called the Five Blind Boys from Mississippi's Piney Woods School for the Deaf and Blind? Exactly. "We changed our name when the Five Blind Boys of Mississippi came along and were doing really well," he explained to Peabody. "The only distinction was one group was from Mississippi and one was from Alabama; you could go to which one you liked the best. We were tryin' to kill each other for real," he laughs.
The competing Blind Boys squared off in epic battles of hard Gospel shouting which provoked pandemonium; the climax was Fountain vs. his Mississippi counterpart, Archie Brownlee. "Every night I had to battle it out with him," Fountain told McGarvey. "Who would the people like the best-- and may the best man win! At the end of the Show, we would come down the aisle, shake hands and collaborate together. That was really exciting. Archie, he could sing you to death." Huge crowds weren't uncommon; nor were ambulances whisking away 'saints' overcome by the fervor of "The Battle of The Blind Boys." "We racked up," Fountain recalled to Rejoice! reporter Pepper Smith. "I must have had $5,000 in my pocket by December. In 1955, that was mighty good."
Between 1953 and 1957, The Five Blind Boys of Alabama recorded for Art Rupe's Specialty label. It was an era of both intense activity on the Gospel Highway and of mass defection to secular R&B by many great voices nurtured in the church. Fountain told Peabody about one such temptation: "Sam Cooke was in the studio to finish some tunes up and we were there to do a session. I was singing something like, 'Baby, you been good to me.' The man who was running the session, his wife was in there and she just mellowed down. And he came in there, took his check book out, and told me, 'Name your price' (to become a secular singer). I said, "Can't go, buddy."
In the early 1960's, the 'Hard Gospel' drive pioneered by groups like The Five Blind Boys of Alabama was effectively co-opted by R&B: Bobby 'Blue' Bland's "Yield Not to Temptation" and Marvin Gaye's "Can I Get A Witness" were secularized church exhortations. The Five Blind Boys never strayed from their path, recording extensively for Vee Jay from 1963-65. In 1969, however, Fountain left the group to pursue a solo career. "Do Lord, Remember Me", a rousing spiritual heard here with guest blues shouter Koko Taylor, was one of the final songs Fountain recorded with The Blind Boys in 1969 before a hiatus of nearly a decade.
Paul Simon's 1973 hit, "Loves Me Like a Rock," integrated gospel and contemporary pop with the help of the Dixie Hummingbirds. Even more ambitious was the 1983 Lee Breuer- Beb Telson gospel adaptation of Sophocles' Oedipus at Colonus, which made a Pentecostal Oedipus of Clarence Fountain and The Five Blind Boys of Alabama. The Gospel at Colonus was a stunning production which won an Obie Award and debuted on Broadway in 1988. It opened new venues to a group which has always remained faithful to its mission while readily adapting to new mediums, be they theaters, clubs, or the Internet. The Blind Boys of Alabama can be as topical as "Amazing Grace" without missing a beat. Their "If I Had A Hammer", scarcely a gospel standard, becomes a call-and-response tour de force. Joined by the majestic Solomon Burke, they make a reflective masterwork of "Looking Back". Clarence Fountain looks back over the long road from Talladega's Institute for the Deaf and Blind to Hollywood's House of Blues with deep satisfaction: "It panned out for me," he says simply. "I think that if you serve Him, He'll serve you."