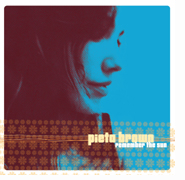 September 25, 2007 from One Little Indian Records


It is a voice that demands attention without rattling the cage - soft, seductive, bearing the flickering, genteel ghost of a Southern drawl. You lean into it to get closer, to catch the drift, and quickly discover that this aural voice functions as something of a stealth vehicle for a substantial writer's voice that's lean, elegant and - above all - utterly devoid of pretense.
On the sublime Remember the Sun (One Little Indian Records), Pieta Brown continues to ride the upward arc begun with her eponymous debut in 2002 and subsequently extended by 2005's critically acclaimed In the Cool.
To Brown's credit, each stop along the way has revealed dazzling growth in artistic maturity and vocal and instrumental command, as well as a palpable expansion in her ability to utilize the studio and her musical cohorts to bring her concepts to fruition.
But let's not get ahead of ourselves.....
The daughter of two preachers' kids, Brown spent her childhood in Iowa and Alabama amidst a broken but very musical family. In her bare-bones bohemian upbringing in Iowa there was no electricity or running water. There, Pieta was exposed to traditional and rural folk music through her father, two-time Grammy nominee Greg Brown. Later, while spending time in Birmingham, AL with her full-time working mother, Pieta drew on all these influences and began writing poetry.
After leaving home, Pieta lived a rambling lifestyle that found her wandering from the sprawling American Southwest to the teeming megapolis of the Northeast. Each locale left its mark on her musical makeup, accounting for an artist who brings together the unvarnished humility of Loretta Lynn, the frank, modern rock punch of P.J. Harvey, the country sass and poetry of Neko Case, the urbane sophistication of Norah Jones or Rickie Lee Jones, and the soulful Southern grit of Bobbie Gentry, and - coloring it all - a deep abiding saturation in folk and blues that's beyond her years.
By the time she hit her early 20s, Brown had already gained a local reputation as a gifted performer and it wasn't too long before she came to the attention of Lucinda Williams' guitarist and bandleader Bo Ramsey. He subsequently co-produced In the Cool in 2005 - a release that was named one of the year's best by Amazon.com and a number of newspapers across America. It also broke the Top 20 of the Americana Music Association radio chart and the Top 30 on the AAA radio chart.
Remember The Sun finds Brown writing and recording on a deeper level altogether. Recorded and mixed by Tom Tucker (Jonny Lang, Lucinda Williams, Prince) in Minneapolis, the album boasts a stellar, flexible core group featuring Pieta singing and playing acoustic and electric guitars, piano and Wurlitzer piano, with Bo Ramsey providing his trademark array of riveting guitar soundscapes, world-class session ace Chad Cromwell (Neil Young, Mark Knopfler) on drums/percussion, Jon Penner on bass, Ricky Peterson (Prince, John Mayer) on B-3 organ and keyboards, and David Mansfield (Alpha Band, Rolling Thunder Review) on violin and viola. Pieta handled production chores with some help from Ramsey and Grammy Award-winning executive producer Chris Goldsmith (Blind Boys of Alabama/Ben Harper/Charlie Musselwhite).
At the top of her estimable game and in full control of the proceedings, Brown leads this crew through a masterful set of illuminating songs. Take "In My Mind I Was Talking To Loretta," perhaps the most personal song she's ever written. "I had gone for a drive out in the country one day last year," Brown recalls, "and I saw this cloud of birds landing in a field and it made me flash on when I grew up. We lived outside of town in a little shack when I was a little girl, and one day my dad took me to the movies to see Coal Miner's Daughter.
"I was really affected by the movie because I was young and we didn't have running water and we used the wood stove for heat, so I related to this lady [Loretta Lynn]. And from that time on, through my teenage years and to this day, Loretta's been a big inspiration - both as a person and as a songwriter."
Ordinary folks would've just seen birds in a field.
"Innocent Blue" seeks to cut through a delusional world fog, "Rollin' Down the Track" is an easy-going, countrified ramble with a disturbing undercurrent, and the itchy, insistent "Sonic Boom," the rockin'-est track in Pieta's young career, looks to shake things up and break a few windows. "West Monroe" offers harrowing, "wrong side of the tracks" misadventure as a comment on an America gone wrong. From there, Pieta offers a deceptively simple ditty with a Randy Newman vibe entitled "Song For A Friend," then drops the hammer all the way down on the grungy blues rant, "Not Scared." "Are You Free?" is swampy and haunting, , "Hey Run" dresses panic up in loping country-rock duds, then "Worlds Within Worlds" offers an intimate, time-tripping interior shot before Brown closes with the beautiful, trancelike benediction of the title track.
Ambitious, elegantly mapped-out and artfully realized, Remember the Sun is yet another high-water mark in Pieta Brown's mercurial, fascinating career, but fine as it is, don't look for her to fall into cruise control anytime soon.
"It feels like I figured out how to make a real record," she says with some sense of wonder, "and so now I have some inner place to operate from. Making a record is always some kind of chase...but maybe I got a little closer?"
Pieta's eagerness to expand the scope of her musical palette has led to fruitful (and ongoing) collaborations with such notable and disparate artists as Calexico, The Pines, The Diplomats of Solid Sound, Iris Dement and her father. "Long before I ever put a record out there for somebody else to hear, my aim was to be a great artist, and that's what I'll always be going after. All my life, I've been close to writing and music and all kinds of art...and that closeness continues to drive me."