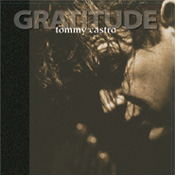 March 14, 2003 from HEART & SOUL RECORDS
available at TommyCastro.com >>
"The blues is in good hands. When someone has the right intentions, with sincerity, you can never go wrong. This is the person who has the voice, the sound, and the intentions to touch everybody's heart." - Carlos Santana
In many respects, Gratitude – the seventh release by the Tommy Castro Band – represents a culmination. At root, it is retrospective – a tribute record that amply showcases Castro's own epic blues guitar-playing and limber vocal genius. It is simple in execution (most all of the vocals and solos were cut live with the band), but immense in impact. "We went into the record intending a much more complicated production," says Tommy. "But after we listened back to the initial tracks, everything already sounded so spontaneous and spirited, we figured we'd better not mess with it too much."
Of course not. It's been the ability of Castro and his band to electrify a live audience that, within the course of just a few short years, has taken them from San Francisco fame to international acclaim. Having toured with such acts as B.B. King, Robert Cray, Jonny Lang and the late John Lee Hooker, Tommy has become firmly-established as one of the premiere and most compelling artists on the blues scene. Blues Review said, "Castro's energy and charisma leap right out," and The Gavin Report lauded his song writing as consistently rising above usual clichés of the genre. "Castro is the awesome exception to the blues rule … the next blues rock hero."
Even as a tribute album, Gratitude is forward thinking, in that its release represents the launching of Castro's own label, Heart & Soul Records (cofounded with Blue Sky Artist Managements Miki Nord). A career move toward the ultimate artist-friendly environment seems natural for someone of Tommy's stature, but it is also indicative of his integrity that he works so tirelessly to preserve the legacies of his heroes. He understands that the future of the blues is in knowing its past. "These are the cats that turned me onto music in the first place. Their stuff had such a powerful effect on me, I didn't have a choice. I had to learn to play and sing!"
The result is an old-time gritty affair that exudes the joy of getting to perform material by 12 of Tommy's rock-n-soul heroes -- Sam & Dave, Ray Charles, Otis Redding, Howlin' Wolf, B.B. King, Chuck Berry, John Lee Hooker, James Brown, Albert King, Wilson Pickett, Muddy Waters and Buddy Guy. "Always creating your own music can be a heavy trip," laughs Castro. "This whole record is just about having a blast – playing great songs by all the cats I like. And we couldn't even come close to fitting them all in – I guess we'll just have to make another one."