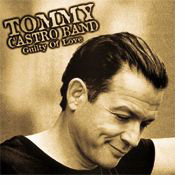 2001 from 33RD STREET RECORDS
available at TommyCastor.com >>
From the moment Tommy Castro and his band began playing their distinctive blend of blues, soul and rock in and around the San Francisco Bay Area in 1991, fans and critics alike have been enthralled both by his exceptional song writing ability and his passionate performances. One of America's leading blues publications,BLUES REVUE, said "Castro's energy and charisma leap right out..."Musician Magazine said of the San Jose, California native, "Castro could be a star" andPlayboy gushed, "Worshipped for his guitar virtuosity, Castro throws a bit more rock and two bits of soul into his basic blues mix... He has the voice, the band and the guitar to pull it off." Hailed from the outset as one of the most electrifying and compelling live acts working today (he's been an indispensable fixture on both the club and festival circuit in the US and abroad, touring with artists such as B.B. King, Robert Cray, Jonny Lang and the late John Lee Hooker), The Tommy Castro Band has also proven its studio prowess with several highly regarded albums and continued airplay on hundreds of radio stations across America and around the world. In fact, both his "Right As Rain" and "Live At The Fillmore" releases spent multiple weeks near the top of the prestigiousBillboard Blues chart. His original material keys a repertoire that has earned him a reputation as one of America's leading blues exponents as well as one of its most passionate purveyors.
GUILTY OF LOVE, his debut for Tower Records' new label, 33rd Street Records, promises to be his best work yet. Tommy is justifiably proud of its content and its energy: "When planning this record I focused mainly on the quality of the songs. I had the opportunity to work with some great writers on this record. Our producer, Jimmy Pugh, who is himself a gifted musician, helped me to make the most out of each of the songs on the album. Everyone in my band put their heart, soul and a piece of themselves into this record". We had a great time making the record and I hope our audience feels our excitement." The title track, which features a guest vocal by John Lee Hooker, is a perfect example of why this album is so special for Tommy. He recorded the track at John Lee's home in Los Altos, CA just weeks before his untimely passing. Said Tommy, "Recording with John Lee was one of the most incredible experiences of my life. We'd been doing shows with him in recent months and I came to admire him as a human being as well as the genuine living legend he was. l feel a great sense of gratitude for the gift he left with me." Tommy's musical origins are linked to inspirations from guitar progenitors like Eric Clapton, Buddy Guy and Freddie King as well as vocalists Otis Redding, Wilson Pickett and James Brown, and he works tirelessly to preserve both their legacy and his own integrity. This dedicated approach has enabled him to strike a primal nerve within the blues community. To underscore this B.B. King has chosen the Tommy Castro Band to open his Blues Festival 2001 Tour for the second consecutive year. Last year's pairing with King, Buddy Guy and Susan Tedeschi was hailed by one publication as..."best tour of the year-by far!" This year's package with King, Guy and John Hiatt may well exceed even that lofty praise. As Tommy said last year after working with BB, "It doesn't get any better than that."
As the Tommy Castro Band enters its second decade of no-holds-barred blues for an ever-growing legion of enthusiastic fans, it draws upon a track record of considerable achievement. The group's previous albums; "Exception To The Rule", "Can't Keep A Goodman Down" and "Right As Rain", have consistently ranked at the top of the national blues charts.The Blues Revue Readers' Poll rated "Right As Rain" as one of the 40 best albums of all time and magazines and newspapers around the country continually refer to Tommy as ..."the real deal", whether talking about his records or riveting live performances. In the tradition of several generations of performers, the Tommy Castro Band tours continuously, with more than 200 shows planned for 2001 alone. Carlos Santana recently remarked, "The blues is in good hands. Tommy has the voice, the sound and the right intentions to touch everyone's heart." With GUILTY OF LOVE, he'll be doing that for a long time to come.