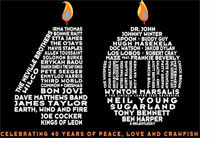 Rosebud Artists Everywhere At New Orleans Jazz Fest
May 2009, Rosebud News
Rosebud Artists could be found performing in a wide variety of formats during the 40th Annual New Orleans Jazz and Heritage Festival (April 24 - May 3).
...Also in various formats was Jon Cleary, performing with his long-standing bandleader, Bonnie Raitt, on the Main Stage before racing over to play a set with his current bandleader, John Scofield, at the Blues Tent and then being joined by both Bonnie Raitt and John Scofield at his own House of Blues show later the same night. Cleary returned to the Fairgrounds for his own band's set on the closing day of the festival.... read full story >>
---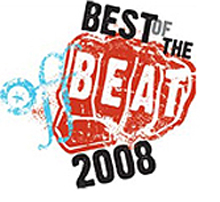 Rosebud Artists Honored With New Orleans Best of The Beat Nominations
January 2009, Rosebud News
Rosebud Artists are once again figuring prominently among those honored with nominations for Best of The Beat Awards presented by OffBeat magazine, recognizing the best of New Orleans music. Nominees are selected by the editors and writers of OffBeat and the public has the opportunity to vote for the winners. Vote here as the polls close January 22. The awards take place January 31 at the House of Blues in New Orleans.
Rosebud Artists nominated are Trombone Shorty and Orleans Avenue for Best R&B / Funk Band or Performer - a category they won last year. Trombone Shorty himself is nominated for his third Artist / Band of the Year award and for Best Trumpet player. Also nominated for Best R&B / Funk Band are Jon Cleary and the Absolute Monster Gentlemen, who have recently joined the Rosebud roster. Jon Cleary is also nominated for Best Piano / Keyboards player. Dr. John's City That Care Forgot, which features a guest performance by Trombone Shorty, is nominated for both Album of the Year and Best R&B / Funk Album. The Dirty Dozen Brass Band have been nominated for Best Brass Band, a category they have won a number of times in the past. Best Cajun Band or Performer nominees include 12-time winners BeauSoleil avec Michael Doucet. Michael Doucet's solo CD, From Now On, is nominated for Best Cajun Album and Michael is also nominated for a Violin / Fiddle award.
Best of luck to all the nominees!
---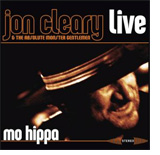 Jon Cleary Signs With The Rosebud Agency

January 2009, Rosebud News
The Rosebud Agency has signed New Orleans singer, songwriter and piano master Jon Cleary for exclusive worldwide representation. Cleary, born in England, is an adopted son of the Crescent City, who's made good his citizenship with five soul-soaked R&B funk albums with the Absolute Monster Gentlemen. He has collaborated with a long and diverse list of artists including India.Arie, Taj Mahal, Ryan Adams, B.B. King, Irma Thomas, Keb Mo and many more and is a longstanding member of Bonnie Raitt's touring band. According to Bonnie Raitt, "Jon Cleary is the ninth wonder in the world."
Cleary recently recorded on John Scofield's new CD, scheduled for a Spring release. A subsequent 2009 tour sees Jon spending a great deal of his time on the road in Europe, the US and Japan on keys and as featured vocalist with Scofield and The Piety Street Band (also featuring George Porter, Jr. and Ricky Fataar (Bonnie Raitt). One segment of the tour is capped at the 40th Annual New Orleans' Jazz Fest where Jon will perform with both Raitt and Scofield on the same day, returning two days later to perform with his own band on the festival's closing day. Only rare dates are available for Cleary in 2009 between an already hectic touring schedule and work on a new Jon Cleary CD.
---
"MO HIPPA" BIOGRAPY
NEW ORLEANS PIANO MASTER RELEASES LONG-ANTICIPATED LIVE ALBUM
On April 22, just in time for Jazz Fest, Jon Cleary and the Absolute Monster Gentlemen drop MO HIPPA, recorded live at the Vanguard in Sydney, Australia, on Cleary's own FHQ label. In the hallowed ranks of New Orleans "piano professors," Jon Cleary is on the tenure track. With his new release MO HIPPA (on FHQ Records), which will be in stores in time for Jazz Fest 2008, Cleary finally puts the sizzling energy of his live shows on wax.
"The fact is that the magic that happens in a live performance is unique and will only happen once," Cleary says. On MO HIPPA, that magic is captured.
The Absolute Monster Gentlemen are Cleary on piano; New Orleans natives Derwin "Big D" Perkins on guitar and Cornell C. Williams on bass, both ten-year vets of the band; and new face Eddie Christmas on drums. While Cornell's deep grooves and Eddie's hard, funky beat anchor the grooves, Big D and Jon soar, with R&B licks that take the best from island rhythms, jazz, funk and traditional New Orleans soul.
Cleary, born in England, is an adopted son of the Crescent City, who's made good his citizenship with five soul-soaked R&B funk albums with the Absolute Monster Gentlemen. As a session man, he's played with Taj Mahal, B.B. King and Bonnie Raitt, to name a few, and is a longstanding member of Raitt's touring band. Musically, though, his heart and soul reside on the banks of the Mississippi.
Recorded at the Vanguard club in Sydney, Australia, MO HIPPA shows Cleary and his ace band stamping their signature, groove-laden style on New Orleans classics like Professor Longhair's iconic "Tipitina" and the Meters' funk masterpiece "People Say." Originals like "C'mon Second Line," and "Port Street Blues" show the British-born Cleary's fluency in his adopted hometown's idiom - as he slides from street-parade swagger into soulful blues, he funks it up like a native. The smoking original track "When U Get Back" is a singular example of Cleary's eclectic style: killer R&B infused with Caribbean funk, Cajun sizzle and a catchy pop sensibility that infects the dance floor.
The closing track, the shack-shaking funk blues original "Mo Hippa," is a celebration of everything New Orleans, playfully challenging the rest of the world to step to the Crescent City's legendary and effortless groove. The infectious energy in the Vanguard that night as the song took over the room is audibly apparent on the recording.
The audience was "seated, and like many jazz club audiences they were a little polite and almost seemed to be waiting for permission to move all the chairs and tables out of the way," Cleary remembers. "When it came time, we gave them a gentle nudge and the next minute they were all getting down and shaking it New Orleans style."
---