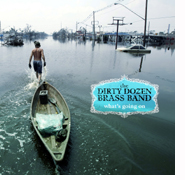 August 29, 2006 from SHOUT! FACTORY


• sound clips at Shout! Factory - What's Going On >>
• video clips at producer:Shawn Amos' site >>
• What's Going On e-card with trailer >>

Gregory Davis - Trumpet & Vocals • Roger Lewis - Baritone & Soprano Sax • Kevin Harris - Tenor Sax • Efrem Towns - Trumpet, Fluglehorn • Kirk Joseph - Sousaphone • Terence Higgins - Drums • Jamie Mclean - Guitar • Revert Andrews - Trombone
In a world of war, poverty, ecological disasters, dissent and conflict in the social fabric of society, Marvin Gaye found himself looking to the heavens in 1971 and asking the heartfelt question What's Going On? And with that Gaye created the unqualified masterpiece of his astounding career, an album addressing these questions of an uncertain world.
In 2006, with the same questions looming even larger, the Dirty Dozen Brass Band has borrowed on Gaye's inspiration to create a crowning achievement in their own career, which spans more than three decades of innovation and leadership in New Orleans music and beyond.
Mixing vibrant instrumental pieces with simmering, scorching vocal numbers (performed by guests Chuck D., Bettye LaVette, G. Love, Ivan Neville and Guru), the Dirty Dozen has translated the songs from What's Going On into its own music language. The new recordings are infused with the powerful feelings resulting from the band's own experiences with Hurricane Katrina, the subsequent massive flooding and the devastation of their homes and communities.
The August 29th Shout! Factory release of What's Going On marks the one-year anniversary of Katrina's devastation of New Orleans.
"It just made sense in light of all that happened with the storm," says trumpeter Gregory Davis, who with fellow Dirty Dozen co-founders Roger Lewis (baritone and soprano sax), Kevin Harris (tenor sax) and Efrem Towns (trumpet, flugelhorn), make up the group's core. "But even beyond that, to ask 'What's going on?' in the world makes sense. What happened with 9/11, what happened with the tsunami, what happened with the earthquakes over in Iraq and Afghanistan, what's happening with the so-called war. What's really going on?"
"It's a timely question," adds Harris. "What the hell is going on? It's been freaky out there. Bad enough when human beings are snapping at each other left and right, but when nature is drowning thousands of people with tsunamis and hurricanes and scourges? Things are changing, getting strange."
The idea for the project came as the group discussed potential album plans with Shout! Factory A&R executive and producer Shawn Amos.
"I was spending time with the guys, getting to know them," says Amos. "We were thinking about what kind of record to make, and one afternoon the conversation turned to Katrina. The Dozen were the first people from New Orleans I had hung out with post-Katrina and it shook me to hear their stories. They lost their homes and their memories. One of them was on a cell phone dealing with an insurance company. The guys were so understandably angry at what was going on in their city, or rather what wasn't going on. We talked about it, and the discussion led to the war and to other political matters. I asked them how they would feel about remaking Marvin's album."
The Dirty Dozen has been up for big challenges in the past with its bracing, innovative blend of traditional New Orleans sounds and modern jazz sensibilities. The ensemble has recorded with artists from Dizzy Gillespie (a hero and inspiration) to Elvis Costello, taken on the music of jazz inventor Jelly Roll Morton for the album Jelly and reinterpreted the hymns and parade songs of the Crescent City second-line bands for 2004's Funeral For A Friend (following the death of co-founding member Tuba Fats). They've mixed intriguing approaches to traditional and familiar material, but in a context emphasizing challenging original music composed by the Dozen members themselves. In the course, the band resurrected, revitalized and put distinctly personal stamps on what was a dying tradition of New Orleans brass bands when the group formed in the late '70s, inspiring a full-on revival that's flourished with several new generations of young brass bands each bringing their own twists to the form.
The Dozen had interpreted one of these Marvin Gaye songs before, recording a hot, soulful arrangement of "Inner City Blues (Make Me Wanna Holler)" for their 1999 Buck Jump album. (The new version, with Guru, provides some new twists.) But taking on the entirety of Gaye's landmark was a huge challenge.
"I'm a big-time Marvin Gaye fan," says Towns. "You listen to the words on that album; it's his personal diary of what the hell's going on. 'God Bless My Father,' 'Mercy Mercy.' Marvin was a bad dude, one of the greatest who ever lived. Just to contend with Marvin's music was a challenge in itself. I didn't want to just copy his music, but make the songs our own."
The album came together very quickly.
"It's different from stuff we have done in the past, but we still tried to maintain our identity," says Lewis. "We never really rehearsed the music before we went into the studio. We had some music written out for guidelines, but we put it together on the spot. Just went in and did it. Came out pretty good, I think!"
But the very process of making the album was impacted by the post-Katrina circumstances.
"We recorded every single idea any of us had, gave it a shot so we wouldn't shut out anybody emotionally," says Davis. "This was even more important because the band is spread out now. Before, we could call a rehearsal and say, 'We'll meet at this place and rehearse for two or three hours.' This time it was, 'Gotta get the flights, make sure everyone's available. It's really like booking a gig to make it happen. Very difficult when you're trying to concentrate on the music, but in the back of your mind - or front - you're thinking about your house that was under water."
As it stands, Davis and Lewis have returned to the Gentilly neighborhood where most of the band had lived pre-Katrina. Harris is in Baton Rouge and expects to be there for some time to come - after his father had a heart attack three years ago, he'd moved in with him, then their house was flooded beyond repair. Towns is currently based in Northern Virginia, not sure when he'll be back in New Orleans full-time.
More than their homes, the Dirty Dozen Brass Band is distressed about the loss of their communities and personal treasures; photo albums and mementos of their travels were all destroyed.
"I'm not talking about clothes and shoes and material things, but family albums," says Lewis. "I have a 7-year-old daughter. I had pictures of myself as a child, but I can't share them with her because they were destroyed. All she's really going to know is her dad as a 64-year-old man."
Overall, the band believes the problems created by the hurricane can be addressed effectively, and maybe even some good can come from all this.
"Katrina exposed a lot of issues and social irregularities that shouldn't be tolerated in the society we live in, but appear in our own backyards," says Towns. "New Orleans will prevail, but as far as the social stuff, it's what's been going on. Gee, it takes a catastrophe like Katrina to expose the whole thing."
These feelings and more are what make this interpretation of What's Going On the Dirty Dozen Brass Band's very own.
"During the making of the record, we went through a lot of highs and lows, anger and joy," says Davis. "What's Going On is all of that."
---
Introduction for " What's Going On"
by Mari Watanabe
Some old message songs have never lost their impact on - - such as songs by Bob Marley, Jimmy Cliff and Marvin Gaye. Does it mean that their words are universal or that this world has not gotten better since they were written?
A year has passed since Hurricane Katrina hit the coast of Gulf of Mexico, and the recovery of New Orleans has been unbelievably slow. In flooded areas, many of us still don' t have regular communication systems such as ground phones or mail service. Even in non-flooded areas, garbage is picked up barely once a week. Schools and offices are opening but their numbers are much lower than pre-Katrina level. More than half of residents are still staying outside of the city, but aid from the government will end soon.
Will they abandon us? During the crisis, news were talking about us as" poor people" who could not afford evacuating and went neighborhood stores looting--such a jerk, we deserved it! But that was not true. Evacuation itself is very hard in many ways so that people who thought their houses were strong enough for Hurricane decided not to leave. There were no supply for food and water for long time after lifeline was cut off, that's why people had to go to get them for their own. It was totally different from looting in the Garden district by nationwide gangs.
What's going on?
How long did it take to supply food and water to people who were sitting at Convention Center? How many people lost their lives while waiting?
What's going on?
The levee system and pumps are still not repaired completely. "People who are in charge" said that it was good enough to protect us against a category 3 Hurricane. But when the hurricane was about to strike, they said it wouldn't be good enough.
What's going on?
A huge donation is supposed to be coming in this way. Where did the money go? How was it used? When do we get the grant money to rebuild our houses?
New Orleans is the home of American music. All kinds of music, such as Jazz, R&B, R&R were born and developed in this city. There are still parades every week and many talented young musicians have been brought up here. It is the mission for New Orleans musicians to introduce their culture to the world. Each musician's role has to be great as the city's recovery owes to each New Orleanian.
It is essential that we hand this culture down to our children. I don't want my daughter to tell her children " There used to be so-called parades in your grandmother's days." Not only musicians but also the audiences and second-liners need to come back for that to happen.
I saw an eighty-three-year-old man fixing his house all by himself. He does not count on official assistance. He does not have electricity in his house. And yet he declared, "This is nothing, compared to those days I came up. This is my house and I won't give it up just because of a hurricane. But when another one comes, I'll just pack and leave."
People have sacrificed during war and other disasters ever small communities became a bigger society. But still each life is going on. That's how culture is born and passed down through generations. Life has got to be going on.
This is the message from Dirty Dozen Brass Band using Marvin Gaye's words.
---
Mari Watanabe
Jazz Pianist, resident of New Orleans since 1985, originally from Tokyo, Japan. Played with such musicians as Danny Barker, Michael White, Tuba Fats. Performs at New Orleans Jazz and Heritage Festival regularly.
This portion was included in the Japanese release of "What's Going On".