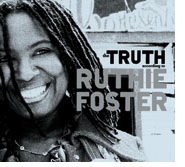 February 3, 2009 from Blue Corn Music


"Everybody ought to have a stone love"
So says Ruthie Foster on the opening cut of The Truth According to Ruthie Foster. And when Ruthie lays it down, you'd be well advised to listen.
This extraordinary songwriter/performer tackles life's big issues throughout her sizzling new album. On it, Ruthie repeatedly testifies to her core message - that through all of the ups and downs of living, you must stay true to yourself. The pain as well as the joy of love, the strength it takes to weather life's challenges, the hope that grows from seeds of faith and wisdom: All of this breathes inspiration and celebration into The Truth According to Ruthie Foster.
And the music brings it to life. Truth be told, Foster could sing the phone book, jam on a laundry list and send everyone home happy. But the combination on The Truth According to Ruthie Foster of uplifting lyric and electrifying vocals, backed by a band of world-class players bristling with soul, proves impossible to resist.
Even fans who have followed her trajectory from her self-released debut through the aptly-titled The Phenomenal Ruthie Foster in 2007 will find something different in The Truth According to Ruthie Foster - namely, the summing-up of the various influences in this artist's growth.
The music of The Truth According to Ruthie Foster is in fact the soundtrack of a young but remarkable life. From her beginnings in the Brazos Valley of Central Texas, she was launched by a strong mother and a large supportive family down a path whose pitfalls Ruthie learned to avoid and whose destination she charted on her own, with talent, faith and determination lighting her way.
On her previous albums and gigs that have taken her from choir lofts to folk bistros and onto stages in Europe and Australia, Foster has raised the multiple flags of American music. There's Southern blues in her groove, rock in her rhythm, a blend of gospel redemption, country poetry and jazz elegance in her singing. But not until The Truth According to Ruthie Foster have all the pieces fit into a picture this powerful.
For all the facets of this album, the heat of soul music burns at its core. That's what drew her to Memphis, where she set up shop in the legendary Ardent Studios with a stunning assemblage of musicians. Symbolically, Ruthie began working on the very day of Hayes' funeral - the same studio with many of the same musicians that Isaac Hayes often used. Once there they began working to convey the energy of Ruthie's performances, cutting almost everything live, going for feeling above all else…and making their own kind of history.
With a sound that ignores demographic lines and a charisma that can ignite any audience, Foster emerges on The Truth According to Ruthie Foster as an artist of all-encompassing appeal. This was only a matter of time. Even as a young girl, she was taking in a wide variety of music, whether through the hymns her mother taught her, the Beatles songs she analyzed in a book given by her guitar teacher, the 45s her truck-driving uncle would drop off during his visits, the old-school country she heard while watching various country variety shows with her grandfather, or the pop songs that crackled through the family radio.
"It didn't matter to me what genre it was," she remembers. "I just took it all in as great music - music that moved me."
Even before her debut at age 14 as a soloist in the choir her uncle conducted, Foster knew that her life would revolve around music. After moving to Waco to attend McClennan Community College, she mixed classes in music and audio engineering with visits to clubs at night, where the curriculum wasn't based not on textbooks but on the power of performance. After a while she was fronting a blues band in biker bars and other venues from Dallas to San Antonio.
Foster immersed herself so deeply in music that eventually she decided she needed to step back and regain a little real-world perspective. "For years, all I did was eat, talk, dream and live about music. It got to the point that I wanted to find out if I could even hold a conversation about anything else," she recalls, laughing. "But I was also curious about what was going on with the rest of the world. So I joined the Navy."
Even there, music tracked her down. At a Christmas party for her helicopter squadron, she couldn't resist sitting in with the band to sing a few choruses of "Red House." It was a short step from there to being signed up by Pride, a Navy ensemble that played the Top 40 and funk hits of the day at recruitment drives, mainly throughout the Southeastern states.
"There were seven of us, and I was the only woman in the band," she recalls. "That's where I learned how to work and hold my own on the road, and that was huge for me too."
From there, Foster's path led to New York, where she absorbed more influences by performing at folk venues and collaborating with some of the city's better songwriters. Supported at the time by a contract with Atlantic Records, she expanded her lyrical and musical range.
But it became apparent that she wasn't the mainstream power-ballad singer the label wanted her to be, and that her writing was veering away from commercial pop and drawing instead from the roots that had nourished her personally and artistically in her youth. Then, her duty as a daughter called her to look after her mother during her final illness, and Foster took that as her cue to pack up and head back home to Texas.
Since that time, Foster has progressed through five albums and a steady regimen of hard work, whether fronting a full band or working solo, writing at her digs in Austin or taking it to the people. Her shows have inspired a string of reviews in which the essential points are made repeatedly: Ruthie Foster merits comparison to the legends that inspired her, even as her unique contributions stake out a place of her own in the spotlight.
"Ruthie's drawn comparisons to Ella and Aretha, but musically neither is really close," observed the Philadelphia City Paper in one such rave. "What she does have in common with Fitzgerald and Franklin is the irresistible blaze. It's impossible to look away, even close the eyes, for one second."
That becomes truer still on The Truth According to Ruthie Foster, where a group of superlative musicians brings Foster's music to fruition. With roots-music producer Chris Goldsmith (Blind Boys of Alabama, Charlie Musselwhite) overseeing the proceedings, all of the essentials - the hard-edged blues of guitar icon Robben Ford (the Yellowjackets, Bob Dylan, Joni Mitchell, countless others), the Memphis magic conjured by keyboardist Jim Dickinson (Rolling Stones, Aretha Franklin) and organist Charles Hodges (Al Green, Ann Peebles), the rock-steady rhythm anchor of bassist Larry Fulcher (Taj Mahal, Los Super Seven) and drummer Rock Deadrick (Tracy Chapman, Ben Harper) - settle into their unique pocket, with trumpeter Wayne Jackson and the legendary Memphis Horns adding a distinctive coup de grace.
It's a diverse lineup, able to reflect the universalism of Foster's music: the raw punch of "Nickel and a Nail," the urban strut and affirmative lyric of "Dues Paid in Full," the aching romance buoyed by a bubbling reggae beat on "I Really Love You" and all of the other bases touched throughout this tour de force.
If any one song can encapsulate the cascade of emotions of The Truth According to Ruthie Foster, it would be "Truth!" This track gave the album its name and enforces its essential message. After a slash-and-burn guitar intro by Ford, Foster sums it all up in one line:
"Truth is right where you are," she proclaims. So it is throughout The Truth According to Ruthie Foster, Ruthie Foster's greatest triumph to date. And that is as true as truth can get.