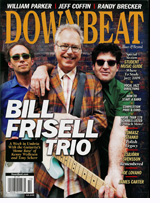 In a career spanning more than 25 years and over 150 recordings - including over 25 albums of his own - guitarist, composer, and bandleader Bill Frisell has established himself as a visionary presence in American music. He has collaborated with a wide range of artists, filmmakers and legendary musicians. But it is his work as a leader that has garnered increasing attention and accolades.
The New York Times described Frisell's music this way: "It's hard to find a more fruitful meditation on American music than in the compositions of guitarist Bill Frisell. Mixing rock and country with jazz and blues, he's found what connects them: improvisation and a sense of play. Unlike other pastichists, who tend to duck passion, Mr. Frisell plays up the pleasure in the music and also takes on another often-avoided subject, tenderness."
Frisell's recordings span a wide range of musical influences. His catalog has been cited by DownBeat as "the best recorded output of the decade." It includes original Buster Keaton film scores to arrangements of music for extended ensemble with horns (This Land, Blues Dream); compositions originally written as sound-tracks to Gary Larson cartoons (Quartet); interpretations of work by other classic and contemporary American composers (Have a Little Faith; and collaborations with the acclaimed rhythm section of bassist Viktor Krauss and drummer Jim Keltner (Gone, Just Like a Train, Good Dog, Happy Man).
Other releases include an album with Nashville musicians (Nashville), the solo album Ghost Town, an album of his arrangements of songs by Elvis Costello and Burt Bacharach (The Sweetest Punch), a trio album with jazz legends Dave Holland and Elvin Jones, and a collection of American traditional songs and original compositions inspired by them entitled The Willies. The Intercontinentals, nominated for a Grammy in 2004, combines Frisell's own brand of American roots music and his unmistakable improvisational style with the influences of Brazilian, Greek, and Malian sounds. His 2004 release, Unspeakable, won a Grammy this year. His soon-to-be-released new album - a two-CD set, East/West - features his two working trios recorded in concert on both coasts.
The Philadelphia Inquirer says, "Frisell is a revered figure among musicians - like Miles Davis and few others, his signature is built from pure sound and inflection; an anti-technique that is instantly identifiable."
Frisell's collaborators have included such diverse artists as Gavin Bryars, Don Byron, Ron Carter, Loudon Wainwright III, Elvis Costello, Suzanne Vega, Jerry Douglas, Marianne Faithful, Robin Holcomb, Wayne Horvitz, Paul Motian, Rinde Eckert, Caetano Veloso, Rickie Lee Jones, David Sylvian, Bono, Ron Sexsmith, Vic Chesnutt, Van Dyke Parks, Dave Holland, Elvin Jones, Laurie Anderson, Paul Simon, Vinicius Cantuaria, John Scofield, Jack DeJohnette, Lee Konitz, Hal Willner, Ginger Baker, Charlie Haden, Marc Ribot, T-Bone Burnett, Kenny Wheeler, Joe Lovano, John Zorn, Jan Garbarek, Gary Burton, Joey Baron, Marc Johnson, Vic Chesnutt, film directors Wim Wenders, Gus Van Sant and Rory Kennedy, cartoonist Gary Larson and visual artist Jim Woodring, and many others.