A legitimate treasure of American roots music, John Hammond has made other people's songs his own during his decades-long career. With his 2003 Back Porch Records debut, READY FOR LOVE, the veteran bluesman ventured into new territory with his first-ever recorded composition, Slick Crown Vic. "My wife Marla gets the credit for the tune. She said, 'listen, you gotta write a song.' So, after about a year being told that, I wrote it. The tune was inspired by experiences I've had over the years - I once owned a 1955 Crown Victoria Ford and I did in fact drive into town and that kind of thing."
It turns out that Slick Crown Vic was just the tip of the iceberg. On his latest venture, IN YOUR ARMS AGAIN, Hammond once again takes up the pen with the album's title track and Come To Find Out. "Writing Slick Crown Vic, I didn't feel like I had to prove anything, but I got this new sense of freedom," he mentions. "My inspiration for writing comes from Marla, who gives me a push just at the right times. Also, in my world of blues - since I began listening to it in the mid-'50s and throughout my 42-year professional career, a lot of the images for the songs simply come from my life and times."
Born in 1942, Hammond, the son of the legendary Columbia Records A&R man who discovered Bob Dylan and Bruce Springsteen, was raised mostly by his mother. A lifelong New Yorker (he now calls Jersey City home), John didn't buy his first guitar until he turned 18, but that was it - he'd found his calling. Almost immediately, he was on the Greenwich Village club scene, and by 1963, he was accomplished enough to share a Newport Folk Festival bill with the likes of Mississippi John Hurt and the Reverend Gary Davis.
"I was inspired initially by Chuck Berry and Bo Diddley," Hammond says. "Then I discovered the roots of it all. When I began playing professionally, I incorporated all my passions into what I did solo. I did Chuck Berry and Bo Diddley songs as well as Muddy Waters and Howlin' Wolf. I saw how they could make something come alive and be just as important as it was ages ago."
Hammond's first five records for Vanguard are still in print, and over the years he's played, recorded, or crossed paths with John Lee Hooker, Dr. John, Jimi Hendrix, Duane Allman, Michael Bloomfield, Bill Wyman, Pops Staples, and The Band. He remains best-known as an acoustic artist: America's modern country bluesman.
Then, two dozen albums later, came WICKED GRIN, Hammond's 2001 brilliant reimagining of Tom Waits' songs. An international success story, the album exposed Hammond's musicianship to a whole new audience. "The success was almost overwhelming," he recalls. The album shattered any genre typecasting, both in terms of public expectations and Hammond's image of himself. "It was exhilarating and freeing in a lot of ways, because I did material that I had never even thought of doing before, and found that it flowed," he says. "That gave me this relaxed feeling, that I'd be able to do the material I wanted, and now was the time to do it. "
2003's READY FOR LOVE, produced by Los Lobos stalwart David Hidalgo, saw Hammond spread his well-traveled interpreter's wings even further, putting his stamp on songs by George Jones, Jagger/Richards, as well as two more songs by Waits. "The experience on WICKED GRIN opened me up tremendously. READY FOR LOVE represented a lot of where I'd been."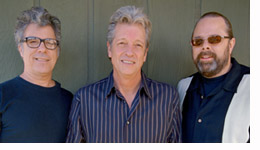 Hammond's new album reunites READY FOR LOVE alums Marty Ballou (bass), Stephen Hodges (percussion), and engineer Oz Fritz for an acoustic tour de force. The seeds of the album were sown in October, 2002 when Hammond played at a blues festival in Salina, Kansas. The festival was staged at the Blue Heaven Studio, an old, gothic-style church now used as a concert venue and recording studio. "Marla remarked on how wonderful the acoustics were," Hammond recalls. Tantalized with an offer to use the space for recording by the owner, work began on the new album two years later.
"I'm very happy about the songs we selected for IN YOUR ARMS AGAIN - real, good blues like Jitterbug Swing, Serve Me Right To Suffer and My Baby's Gone written by Percy Mayfield, as well as Bob Dylan's tune, I'll Be Your Baby Tonight." In addition to Hammond's In Your Arms Again and Come To Find Out, darkly-tinged covers of I Got A Woman and Fool For You by the great Ray Charles are also included on the gritty collection. "I first heard Ray in 1956 on records. He was a great blues singer and his early recordings were - and remain - a big influence on me." The itinerant storyteller's ability to interpret such classics, flavored by four decades of playing the blues, gives the feeling he's just getting started.