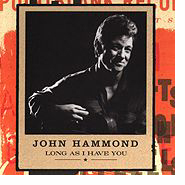 released in 1998 from Pointblank / Virgin


Listening to John's latest recording, Long As I Have You, might easily be compared to visiting the Blues Hall of Fame, with song selections from such historic artists as Sonny Boy Williamson, Willie Dixon, Eddie Taylor, Jimmy Rogers, T-Bone Walker, Howlin' Wolf, Little Walter and Blind Boy Fuller. The song credits are a virtual "who's who" in the blues. John's performances of these classic songs are as sincere and meaningful as those of the originators of this music. The passion John brings to these blues is a testament to the dedication and reverence he has for these musicians who first walked the path he has chosen to follow. A fine example of carrying on the tradition is John's poignant rendition of the somewhat obscure Howlin' Wolf "Crying At Daylight." The karma was definitely in the studio at recording time, and as John himself says of the band, "...like on the Wolf tune...God, did they get it right!" Whether it's the Willie Dixon classic and title track, "As Long As I Have You," the very obscure Baby Boy Warren, "I Got Lucky," the country blues influenced Jimmy Rogers tune, "Goin' Away Baby," or the extended solo by Charlie Baty on the T-Bone Walker classic, "I'm Gonna Find My Baby," John and the band most definitely got it right!
With a recording release for almost every year he has played professionally for 40 years, three of the recent CDs have been Grammy nominees, and with tens of thousands of live performances under his belt, it is significant that John has the ability to bring a freshness to each performance, breathing life into even the oldest of traditional tunes, making every song uniquely his own. Over the years, John has accumulated an incredible number of classic blues into his repertoire, but he has kept some special tunes on "the back burner" for just the right moment. That moment is now and the group of friends and musicians that he has chosen to help him record those special tunes is none other than Little Charlie and the Nightcats. On tracks 1 through 12, John takes on the singular duty of lead vocals, leaving all instrumentals entirely to the band. Asked if it was a big departure to give up the instrumental duties, John responded: "Yes, ... but I didn't miss it for a second. I've worked with these guys enough to know that they have impeccable taste. ... they just really know how to play. They're just phenomenally together as players."
Charlie Baty, one of the most understated masters of blues guitar today, multi-styled and steeped in the traditions of the West Coast sound, provides a guitar tone that is at once reminiscent of the smoky bars and clubs that gave birth to the classic tunes that John has chosen to record on this release. When asked to comment on what might be Charlie's most important contribution to the album, John responds, "... Charlie's knowledge of these tunes and how he can relay this so easily to the other guys." Rick Estrin, suave frontman and the harmonica impresario for the Nightcats, gives these 12 tunes a legitimacy of authentic harp work. "... one of the best harmonica players I've ever heard," says John. A solid anchor for the vocals and lead instruments is laid down by the rhythm section of Ronnie James Weber on bass and June Core on drums. Steve Lucky from Oakland, California, deepens the already full sound of the Nightcats with masterful piano performances.
Legendary songwriter JJ Cale ("After Midnight," "Cocaine," "Call Me The Breeze") lent his production expertise once again for the three acoustic tracks (13-15) on this release. Cale had already produced two Grammy-nominated CDs for Hammond, Got Love If You Want It (1992) and Trouble No More (1993) when he entered the studio with Hammond to produce these songs. This time around, Cale and Hammond explore the marriage of John's signature vocals, harmonica, and National steel guitar style with Chaz Leary's hyper-percussive washboard. Chaz, originally from New York and now residing in Kansas City, has had a rich and varied career on washboard and previously recorded with John on his 1982 Frogs for Snakes album on the Rounder label. John's reunion with Chaz was long overdue as John's testament to Chaz's talents imply: "Chaz Leary ... he's just the greatest washboard player I've ever heard."
While the blues envelope continues to expand and musicians test the waters of blues influenced sub-genres, this new release is a breath of fresh air by one of blues' greatest second-generation performers. While some argue about what is and what isn't blues, John Hammond backed here by Little Charlie & the Nightcats plays the deep and natural blues ... the real blues ... the blues of the past, the present and the future. The blues of this century and the next millennium. John Hammond's blues.
---
CRITICS RAVES (solo performance)
The immediacy and gut-wrenching emotion that poured forth from his commanding program of solo acoustic blues was simply startling. Truly a one-man band, he played brilliantly on standard acoustic, National metal bodied and bottleneck guitars. He also unleashed howling harmonica solos and sang in a variety of hues and tones that ranged from a gentle whisper to a defiant roar. -- Los Angeles Times, January 20, 1997
It has been said that when the Rolling Stones first heard recordings of Robert Johnson, they couldn't believe that it was just one person playing. That night, I heard someone remark after Hammonds' set, "I keep looking to see where the other guys were! I can't believe one guy was making all that music! " The ghost of Robert Johnson was, no doubt, smiling. -- Porcupine Press, August 1998
John Hammond was the first in the spotlight. His trademark acoustic guitar and harmonica playing is always filled with fire and passion, and tonight was no exception. He took us down to the Delta conjuring up visions of hot summer night, juke joints and ghosts of the great blues singers. -- Blueprint, July 1997
So how does he continue to do it and do it with such passion? "Beause I lovve it, that's how," he said recently. "It's my life." Blues doesn't get any better than this, in concept or execution. Stay on the road, John Hammond. We need you, blues. -- BlueSpeak, May 1998
Whether soulfully testifying or confessin' the blues, Hammond carries the torches passed along by Willie Dixon, Sonny Boy Williamson, and Howlin' Wolf. Never too gritty and with just enough guts, Hammond's voice vacillates effortlessly throught swing and jump blues like a freight train moves through the countryside. -- Gavin, April 10, 1998