---
Billboard.com: Hammond Opts For One Of His Own On New Set (Nov. 18 2002) >>
---
Liner Notes by Tom Waits
Used to be songs weren't written down, they circulated like rumors or humor, scary stories, bad news, good news, and everyone whose hands they passed through put their mark on them and the songs put their mark on you, songs that were filled with truths that are as true today as they were in Muddy Waters day, songs about cheap wine, prison, women, depression, desire, liquor, trains, death, and momma. Songs that grew wild all over this country, along ridges, under bridges, in road houses and train yards, in creek beds, in motel beds, along highways, John Hammond learned from the masters, Muddy, John Lee Hooker, Skip James, Son House, Johnny Shines, Sonny and Brownie, Albert King, Hendrix, James Cotton, and now he is a master. John Hammond has made all these songs his own; songs that carry secrets and cautions, truths, confessions and shadows. Hollered, shouted out and moaning low. Songs have fingerprints on them and there are places where they are worn down or broke in, like a shovel or a saddle or a guitar or a gun. Because songs migrate like seeds do on the wind, in the water, and in birds. John is one of those birds that picks up a song here and carries it to another town and like the wind, like the water, like the birds, he carries them with him and sings them from New York to Tampa along Highway 95, Highway 61 to Slidell, Baton Rouge, Hattiesburg, Winona, San Berdu, Sulphur Springs, Cleveland, Rochester, Buffalo, Ann Arbor and Detroit. John Hammond with his guitar and a slide, a harmonica and a voice that can make a sound like a whole train going by at night or like he's tryin' not to wake the baby. The road, the song, one is plugged into the other and they are both plugged into John Hammond and it's the same thing, it's the same thing.
---
"I'm pushing 60, and I'm happening!" John Hammond said last year, with a mixture of pride and disbelief.
A legitimate treasure of American roots music, Hammond does indeed get better with the passing of each season. Wicked Grin, his 2001 collection of Tom Waits' songs, was an international success story, with many calling it the finest record of a long career. Now the bluesman nonpareil returns with READY FOR LOVE, his 29th album, and another fearless foray into unexplored terrain.
Produced by Los Lobos' David Hidalgo, READY FOR LOVE reaps the benefit of Hammond's touring band, the first he'd assembled since 1970. The combo's chemistry and chops allowed Hammond to spread his well-travelled interpreter's wings even further, putting his stamp on songs by George Jones and Jagger/Richards as well as Waits and Willie Dixon. The cherry on top is the leadoff (and title) track Slick Crown Vic - Hammond's first-ever original recorded composition.
"I don't feel like I have to prove anything, but I've got this new sense of freedom," he says. "The experience with Tom Waits opened me up tremendously. READY FOR LOVE represents a lot of where I've been and what's inside me." As Waits himself told Rolling Stone: "John knows such a rich pageantry of American music. My songs…(are) just a smidgen of what he knows."
Born in 1942, Hammond is the son of the legendary Columbia Records A&R man who discovered Bob Dylan and Bruce Springsteen, but was raised mostly by his mother. A life long New Yorker (he now calls Jersey City home), John didn't buy his first guitar until he turned 18, but that was it - he'd found his calling. Almost immediately, he was on the Greenwich Village club scene, and by 1963, he was accomplished enough to share a Newport Folk Festival bill with the likes of Mississippi John Hurt and the Reverend Gary Davis.
"I was inspired initially by Chuck Berry and Bo Diddley," Hammond says. "Then I discovered the roots of it all. When I began playing professionally, I incorporated all my passions into what I did solo. I did Chuck Berry and Bo Diddley songs as well as Muddy Waters and Howlin' Wolf. I saw how they could make something come alive and be just as important as it was ages ago."
WICKED GRIN coincided with such musical phenomena as the O Brother, Where Art Thou? Soundtrack, The Blind Boys of Alabama, and tradition-minded jam-bands like Gov't Mule and the North Mississippi All-Stars. Hammond figures that's because all serious music fans go through the same thing he did, whether it's 1962, 1982, or 2002. "I think everyone discovers that solid roots base as they turn 18, 19, 20," he says. "You've had it up to here with everything you hear pumped into the radio. As you define your tastes, you come back to the stuff that's substantial."
Hammond's first five records for Vanguard are still in print, and over the years he's played, recorded, or crossed paths with John Lee Hooker, Dr. John, Jimi Hendrix, Duane Allman, Michael Bloomfield, Bill Wyman, Pops Staples, and The Band. He remains best-known as an acoustic artist: America's modern country bluesman. But in the '90s Hammond and producer JJ Cale experimented with electric sounds, backed up by Duke Robillard, Charlie Musselwhite, and Little Charlie and the Nightcats.
Then came WICKED GRIN. Hammond's brilliant reimagining of Waits' songs was termed "a genuine revelation…a rambunctious joy from beginning to end" (Q) and "a more creative use of the blues than most have come up with in years" (The Nation). Along with the usual references, like Robert Johnson and Skip James, Hammond found his name in the same sentences as Hank Williams, Morphine, and Nick Cave ( a comparison Cave probably found flattering).
"The success was almost overwhelming," Hammond says. "We toured all over the world for a year-and-a-half. It was a major adventure, playing so much music for so many different people in so many countries."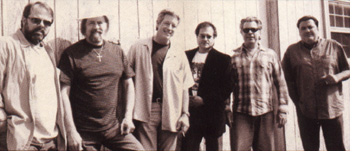 READY FOR LOVE, which was recorded in five days in Millbrook, NY (the first time Hammond has recorded on the East Coast), reunites Hammond with drummer Stephen Hodges (the Fabulous Thunderbirds) and keyboardist Augie Meyers (the Sir Douglas Quintet, Dylan, Willie Nelson), both WICKED GRIN alums, as well as touring bandmates Frank Carillo (guitar) and Marty Ballou (bass).
Also on board are violinist/vocalist Soozie Tyrell (currently a member of the E Street Band) and Hidalgo, who contributes guitar, mandolin, and two grooving, brooding compositions (No Chance and I Brought the Rain) from his 1999 side-project HOUNDOG. Hammond hooked up with the Los Lobos stalwart at the suggestion of his wife Marla, who also brainstormed the Waits collaboration. "She's got a pretty good record here," Hammond says with a smile.
Marla also gets credit for Slick Crown Vic. "She said, 'listen, you gotta write a song,'" Hammond says, "So finally, after about a year of being told that, I said, 'ok - here ya go.' It was inspired by experiences I've had over the years - I once owned a 1955 Crown Victoria Ford and I did in fact drive into town and that kind of thing. It's written in the John Lee Hooker style. It came pretty quickly, so perhaps that's just the tip of the iceberg, I don't know."
In the meantime, Hammond continues to make other people's songs his own. WICKED GRIN shattered any genre typecasting, both in terms of public expectations and Hammond's image of himself. "It was exhilarating and freeing in a lot of ways, because I did material that I had never even thought of doing before, and found that it flowed," he says, "That gave me this relaxed feeling, that I'd be able to do whatever I wanted, and now was the time to do it. This band can really play - they fall right into anything I'm doing."
That includes tow more songs by Waits (Gin-Soaked Boy and Low Side of the Road) which were left off WICKED GRIN but demanded recutting after 18 months of live work. Also represented twice is Jones, via Color of the Blues and the high-lonesome-perfect barroom weeper Just One More. Then there's Comes Love, a mid-tempo torch song made famous by Billie Holiday ("I wasn't sure I could do it, but we did," Hammond says) and Money Honey, an Elvis favorite (originally by the Larks) Hammond used to play in the mid-'70s.
Freddie Hart's Easy Lovin' also goes back a decade or three. "It was a minor hit on the country stations," Hammond recalls. "I'd been on tour with Poco. Backstage after gigs I'd play the song, and those guys would say 'oh man, you should record that tune!' That was 32 years ago."
"I feel very fortunate that my name has remained out there," Hammond says of his longevity. "I won't go away - this is what I love to do most, and I'll always believe that good stuff will find its way into the hearts and homes of those who are seeking it out. It's been quite a trip."