Produced by Tom Waits, featuring 12 Waits-penned tunes


Celebrating his 40th year of performing and recording, venerated blues artist John Hammond releases Wicked Grin on March 13, 2001 marking his fifth album for Pointblank / Virgin Records and his 28th solo album overall. For the new album, Hammond enlisted the aid of long time friend Tom Waits to helm the production. Once in the studio, the album evolved into a selection of Waits' songs, performed by Hammond, produced by Waits. The concept of an artist producing an album of his own compositions performed by another artist is certainly a rare event, if not unprecedented. Yet the results feel as natural as day and night.
On Wicked Grin, Waits has been able to bring Hammond's unique sound into the realm of his own singular vision. The result is a raw and dynamic synthesis of the Delta style Hammond has perfected over his long career and Waits' eclectic and fascinating portraits of American outsiders.
"It's the most evocative, imagistic, incredible material I've ever recorded," Hammond declares with unbridled enthusiasm.
"I've been a fan of John's since his first record and was proud to be a part of this," says Waits. "He's a great force of nature. John sounds like a big train coming. He chops them all down."
Hammond and Waits met over 25 years ago, when Tom opened a gig for John in Arizona. They had an instant rapport and became fast friends, continuing to cross paths ever since. Waits contributed a song to Hammond's 1992Got Love If You Want It album, while Hammond appeared on Waits' 1999 Grammy Award-winning release,Mule Variations. It was during the latter recording sessions that the idea of Tom producing John first arose. The two tossed around thoughts for the next few months and met up again during Waits' "Get Behind The Mule" tour, where Hammond joined him onstage at NY's Beacon Theatre.
"Since I first heard Tom play, on a show with him in 1974, I have been in awe of his talent," Hammond recalls. "His ability to put across his songs so effectively and dynamically is overwhelming."
The notion of Hammond performing Waits' material evolved organically during the recording process. John's ease with one of Tom's tunes was the first clue that the marriage would be a happy one. Waits liked the way Hammond put his own brand on the songs so much that it inspired some additional writing. "Kathleen Brennan and I wrote one fresh song for John - 'Fannin Street,' which he does like Hank Williams."
Previously, Waits had only produced his own albums, "so I was a little nervous about it and I almost backed out because it was too intimidating. But I picked the studio and musicians. We brought in Larry Taylor (Canned Heat, Jerry Lee Lewis, Percy Mayfield, Big Joe Turner, Kim Wilson, Tom Waits) on upright bass; Augie Meyers (Bob Dylan's Time Out Of Mind, Sir Douglas Quintet, Texas Tornadoes, Flaco Jimenez) on keyboards, Stephen Hodges (Fabulous Thunderbirds, James Harmon, Smashing Pumpkins) on percussion and drums; and (fellow blues great) Charlie Musselwhite (everyone) on harmonica," says Waits, who joined in on rhythm guitar and added a guest vocal on the album's final track. The song, titled "I Know I've Been Changed," is a traditional gospel tune and the only non-Waits composition on the disc.
"As the project came together, with the arrival of the musicians, a new shape took form," Hammond remarks. "There was magic involved. And with Tom on hand and in the band, the songs just came together. I was inspired. Another side of me emerged. I feel as good as I have ever felt about this recording session," Hammond says with conviction. "The musicians involved were all inspirational players. We worked as though we had been playing together for years. It was an unforgettable experience for me."
And that's saying a lot from this veteran bluesman who is entering his fifth decade as a professional musician. Hammond has played the gamut -- from coffeehouses and nightclubs to concert halls and major international festivals -- entertaining blues, folk and rock fans around the world. With his acoustic and National steel guitars, harmonicas and a massive repertoire of tunes, Hammond has followed the path of such singing poets as Woody Guthrie, Lightnin' Hopkins and Sonny Boy Williamson, taking musical stories of life and love from one regional corner of the globe to another. Over the course of his stellar career, Hammond has worked with Jimi Hendrix, Eric Clapton, Duane Allman, The Band, Bill Wyman, JJ Cale, John Mayall, Michael Bloomfield, Dr. John and such blues greats as Koko Taylor, Charlie Musselwhite and John Lee Hooker, among others.
As evidenced in all of his recordings, from his first Vanguard album released in 1962, through Wicked Grin, Hammond possesses the unpretentious, wide-eyed enthusiasm of a music fan, despite his distinguished status in America. According to Waits, "Sometimes 'producing' is just drinking coffee, waving your arms around and nodding 'yes' or saying nothing at exactly the right time. John's particular dialect in music is that of Charley Patton's shoe size and Skip James' watch chain. He has a blacksmith's rhythm and the kind of soul and precision it takes to cut diamonds or to handle snakes."
---
CRITICS RAVES
SF CHRONICLE: Hammond Gets A Hand From Waits
ROLLING STONE: "The idea of having veteran bluesman John Hammond perform an album of songs written and produced by Tom Waits turns out to be every bit as pleasing to the ears as it appears on paper…What makes Wicked Grin such a splendidly untraditional-blues album is spelled out in Waits' and Hammond's different approaches to 'Murder In The Red Barn.' On 1992's Bone Machine, Waits bore down on the song like a man in possession of a terrible secret. When John Hammond sings it here, it's like that secret has been handed down for generations." -- Ben Edmonds, 4-stars, April 12, 2001
GQ: "…blues great John Hammond applies his big bluesy voice and bourbon spirit to such Waits classics as 'Get Behind The Mule' and 'Heartattack and Vine.'" -- Jim Nelson, April 2001
NEW YORK POST: "It may be difficult to fathom if you are a Tom Waits fan, but the gravel-voiced singer may have found the ultimate interpreter in blues master John Hammond. On Hammond's Wicked Grin, the blue-eyed bluesman takes a compelling 13-song ride into Waits' heart of darkness…this album is great…[an] instant classic…You need this album if you love Tom Waits, John Hammond or are a sucker for truly amazing lowdown dirty blues." -- Dan Aquilante, 4-stars, February 27, 2001
Q (UK): "[Wicked Grin] is a genuine revelation…A rambunctious joy from beginning to end." -- Peter Kane, 4-stars, May issue
SAN FRANCISCO CHRONICLE: "…[A] tour de force by the veteran bluesman…An in spired match of artist, material and production, Wicked Grin is a Tom Waits album nobody thought possible and a John Hammond album nobody could have expected." -- Joel Selvin, "Classic," March 4, 2001
BLUES REVUE: "Wicked Grin is arguably the most intense music Hammond has ever made, and certainly the most diverse…Not for the squeamish or for blues traditionalists, John Hammond's new album bravely pushes boundaries. It's meant to generate wicked grins on the faces of those adventurous enough to take the plunge into Tom Waits' eccentric, eclectic world." -- Hal Horowitz, May 2001
ISLAND EAR: "…Hammond has never sung with more fury…John Hammond just may have released the best traditional and contemporary blues albums of the year." -- Andrew Ellis, A, February 19-March 4, 2001
MOJO (UK): "Odd idea, great result…the arrangements have all the care-worn beauty you'd expect, and, vocally, Hammond's classy single-malt proves just as satisfying as Waits' rough-assed moonshine." -- James McNair, April 2001
BILLBOARD: "Veteran bluesman John Hammond sings a batch of Tom Waits tunes on an album helmed by Waits; it's a proposition that fulfills its promise wonderfully…" -- Bradley Bambarger, "Spotlight," March 24, 2001
E! ONLINE: "…The crossroads where they meet is the same skewed blues terrain haunted by kindred spirits like Nick Cave and the late, great Morphine. The sultry tracks are tres noir -- shuffling and swaggering with lots of shadowy ambiance…For fans of Waits and Hammond -- or just adventurous blues hounds—Wicked Grin offers plenty to smile about." -- Sandy Masuo, B+, March 13, 2001
THE OBSERVER (UK): "Blues maestro Hammond convincingly inhabits Waits' world of drunken sailors, wayward bohos and other lost souls, offering clarity in place of Waits' off-kilter musicality and unveiling new songs." -- Sunday, April 8, 2001
ROLLING STONE.COM: "His album of Waits' penned-and-produced songs may be the masterwork of Hammond's long career, as well as further testament to Waits' genius." -- Jim Washburn, March 6, 2001
ATLANTIC MONTHLY: "Hammond has somehow preserved his voice over the decades, and its effect on Waits' lyrics is to shine a spotlight on a stage previously hidden in shad ows...The effect is a marvelous introduction to both artists. Nobody has strung images together with Waits' skill since Bob Dylan in his Subterranean Homesick Blues days, and nobody has illuminated those images better than Hammond." -- Charles M. Young, May 2001
FOLK ROOTS (UK): "…it's possibly the best album that Hammond has ever made…If this one doesn't win a Grammy, there is no god!" -- Ian Anderson, April 2001
CDNOW: "Wicked Grin is a rousingly successful experiment. The album's best moments equal -- and often surpass -- anything in both artists' consistently creative careers." -- Hal Horowitz, March 14, 2001
THE NATION: "…a marvelous treat." -- Gene Santoro, March 16, 2001
NEWSDAY: "…it's a gem…" -- Letta Taylor, April 7, 2001
---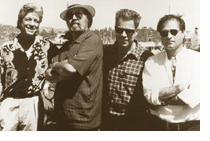 JOHN HAMMOND AND THE WICKED GRIN BAND
John Hammond: vocal, guitar
Augie Meyers: keyboards
Stephen Hodges: drums
Frank Carillo: guitar
Marty Ballou: bass

---