So how does he continue to do it and do it with such passion? "Because I love it, that's how," he said. "It's my life." Blues doesn't get any better than this, in concept or execution. Stay on the road, John Hammond. We need your blues. -- BlueSpeak
From coffeehouses to concert halls, festivals and beyond, John Hammond has spent forty years entertaining blues, folk and rock audiences around the world, performing intense solo-acoustic blues. A Grammy Award winner and four time nominee, Hammond is also a multiple W.C. Handy award winner who has shared the stage and/or recorded with many of the masters, including Muddy Waters, Willie Dixon, John Lee Hooker and Howlin' Wolf. John has recorded over thirty albums and his passionate commitment to traditional blues made him the natural choice to host the BRAVO TV special and Sony Home Video, The Search for Robert Johnson. His latest album, Push Comes To Shove, was released in January 2007 to glowing reviews from Time Out New York, the Washington Post, American Songwriter and many more. The disc was produced by longtime Hammond fanatic G Love (Garret Dutton III) and features Stephen Hodges on drums, Marty Ballou on bass and Bruce Katz on piano and organ. Hammond wrote an unprecedented five original songs for the album, along with new renditions of tunes by Little Walter, Junior Wells, Tom Waits and more.
---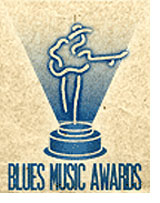 Rosebud Artists Nominated for 10 Blues Music Awards
December 2009, Rosebud News
Duke Robillard, Tommy Castro, Bettye LaVette and Ruthie Foster have been nominated for a total of 10 Blues Music Awards. The 31st Blues Music Awards will take place at the Cook Convention Center in Memphis, TN on May 6, 2010. Rosebud artist nominations are as follows:
Duke Robillard and Tommy Castro both have four nominations each. Duke is nominated for Album of the Year for Stomp! The Blues Tonight, Band of the Year, Best Instrumentalist - Guitar and Traditional Blues Male Artist of the Year. Tommy is nominated for B.B. King Entertainer of the Year, Band of the Year, Contemporary Blues Album of the Year for Hard Believer and Contemporary Blues Male Artist of the Year. Bettye LaVette and Ruthie Foster are both nominated for Contemporary Blues Female Artist of the Year. In addition, Duke produced 10 of the 12 tracks and guests on one song on Album of the Year / Contemporary Blues Album of The Year nominee Between a Rock and the Blues by Joe Louis Walker.
Other Rosebud related nominations are, in the Instrumentalist - Horn category: longtime Tommy Castro Band saxophonist Keith Crossan and Deanna Bogart, who plays in the Rosebud booked Legendary Rhythm & Blues Revue with Tommy Castro. Nominated in the Historical Album of the Year category are: Muddy Waters' Authorized Bootleg and Little Walter's The Complete Chess Masters, featuring hit compositions by Willie Dixon. Both Muddy Waters and Willie Dixon were Rosebud artists until their passing. Nominated in the Acoustic Album of the Year category is: Things About Comin' My Way - A Tribute to the music of the Mississippi Sheiks, which features songs by Rosebud artists John Hammond and Bill Frisell.
Congratulations to all the nominees!
---
10 Grammy Nominations for Rosebud Artists!
December 2009, Rosebud News
We're thrilled to announce that Rosebud Artists received 10 Grammy nominations for this year's awards taking place on January 31, 2010 in Los Angeles. Artists honored with nominations include John Hammond's Rough & Tough nominated for Best Traditional Blues Album. Please see the full entry >>
Rosebud has been fortunate in that generally our artists score between 4 and 6 Grammy nominations every year but 10 is definitely a new record and we are Thrilled, especially considering the fact that Rosebud artists only released 14 eligible CDs this past year. Congratulations to all the nominees!
---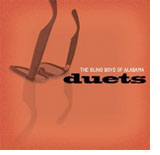 The Blind Boys of Alabama Release New CD, Duets, October 27, 2009
September 2009, Rosebud News
The Blind Boys of Alabama will release their new CD, Duets, on October 27, 2009. This special project features tracks that the Five-Time Grammy winners have recorded with high profile admirers Lou Reed, Bonnie Raitt, Ben Harper, Susan Tedeschi, Randy Travis, Solomon Burke, Marva Wright, Jars of Clay, Timothy B. Schmit (The Eagles), Asleep At The Wheel, Dan Zanes and Toots Hibbert (Toots & The Maytals) as well as with fellow Rosebud artists, Charlie Musselwhite and John Hammond. Of the 14 tracks on the compilation, four are from Grammy winning albums, three are from Grammy nominated discs and three songs have never before been released. See The Blind Boys of Alabama live on stage, including shows in Europe and Canada later in the Fall, please see Tour Dates>>
---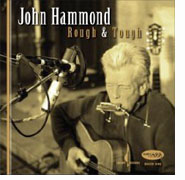 John Hammond Releases New CD, Rough & Tough
May 2009, Rosebud News
available at CD Universe >>
Grammy winner and four-time nominee, John Hammond has just released his new CD, Rough & Tough. This is his 32nd album since his 1962 self-titled debut. The disc was recorded live in November 2008 at St. Peter's Episcopal Church in NYC, not in front of an audience, but for the acoustic benefits of the space. John performs here solo and acoustic, playing National Steel, Guild 12-String and Stubbs 6-String guitars and harmonica. Included are songs written by Muddy Waters, Howlin' Wolf, Blind Willie McTell and Tom Waits among others, as well as two of his own. He has performed or recorded with Jimi Hendrix (discovered while playing in John's band), Eric Clapton, Muddy Waters, Howlin' Wolf, Duane Allman, JJ Cale, Tom Waits, The Band, John Lee Hooker and many more. He remains one of the world's premier acoustic blues artists. A tireless performer, Hammond played his 4000th date as a Rosebud artist last year and continues to tour world-wide on an annual basis. Please see tour dates >>
---
John Hammond Plays Milestone 4000th Show As Rosebud Agency Artist
June 2008, Rosebud News
On June 26, John Hammond will play a landmark 4000th performance as a Rosebud Agency artist. Signed to Rosebud in 1977, Hammond has since played continuously on five continents and collaborated with some of the most legendary artists of our time, including Rosebud artists Muddy Waters, John Lee Hooker, Willie Dixon and JJ Cale. Coincidentally, this 4000th gig takes place in Vancouver, BC, the very same place that Hammond and Rosebud founder Mike Kappus first discussed working together in 1977. To date, Hammond has 30 albums to his name, a Grammy win, four additional Grammy nominations (all of which were executive produced by Kappus) and seven W.C. Handy Awards.
More on "John Hammond Plays Milestone 4000th Show As Rosebud Agency Artist" press release >>
John Hammond will be touring extensively throughout North America this year...see tour dates >>
---