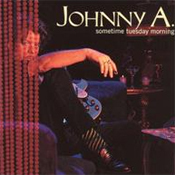 from Favored Nations Entertainment


On his debut album as a leader, Sometime Tuesday Morning, Johnny A. and his trio present a mix of original material and unusual covers. There's slithery rhythm and shadowy attitude all over these tracks, enough to summon images of late-night bars, moonlight along a waterfront, mysterious candlelit encounters -- all without so much as a peep from any vocalist.
The irony is that this ambitious project follows a seven-year stretch as musical director and guitarist with one of the great rock singers and performers: former J Geils bandleader Peter Wolf. Johnny co-produced Long Line, Wolf's critically acclaimed comeback album, which earned four stars from Rolling Stone. But there was a downside: "I didn't play guitar in my own style for Pete; it was more an accumulation of what he likes in guitar players: Steve Cropper, Bobby Womack, Curtis Mayfield, T-Bone Walker, plus the J Geils type of vibe. That's what a good sideman does and my playing definitely broadened because Pete exposed me to a lot of music. Now, that I'm the leader, it gives me the opportunity to dig into my own personal bag of influences and develop my own creativity."
When the Wolf gig came to an end, Johnny found himself with time on his hands. Some musicians would see this as a depressing development -- Johnny saw it as an opportunity. "My mission was to create my own voice," he explains. "I was never able to take my songwriting and my guitar playing and put them together as one. I didn't want a lead singer, because the sound of the singer is the sound of the band. This time, I wanted to be the one with the voice."
That voice speaks through Johnny's guitar on Sometime Tuesday Morning. His tone – deep and dark, or slick and silvery – is all his own; like all of the greats, he can reveal himself with just one note. Though he's got chops to burn at thrash tempos, Johnny prefers finding the perfect bend, or pulling a shimmering vibrato from his Bigsby, or stacking the most expressive possible chord. It's about seeking the greatest eloquence through the fewest gestures.
The material has a lot to do with the album's appeal. The title track could set the feel for a black-and-white noir film, with its restless, jazzy feel, moody chords, and Johnny's extraordinary wah-wah pedal work. "Oh Yeah" is a finger-snapping, jumping jam -- with a couple of uncharacteristically burnin' licks thrown in for spice. A classic shuffle beat riffs behind the intriguing major-to-minor shifts of "Two Wheel Horse." A postbop intro takes a sudden left turn into the chicken-pickin' rockabilly of "Up in the Attic." Even the non-original material is seductive: "Yes It Is," a Beatles B-side, glitters like tinsel under a disco ball, "Walk Don't Run" melts into a steamy tango, and "Wichita Lineman" follows those telephone lines somewhere way beyond the lonely horizon.
Fans in the Northeast responded enthusiastically when Johnny self-released his album. It sold more than seven thousand copies ("even though," Johnny jokes, "I don't have seven thousand friends with fifteen bucks") and was nominated for a Boston Music Award as best debut album of 2000 on an indie label. It also caught the attention of guitar giant Steve Vai, whose Favored Nations label released Sometime Tuesday Morning worldwide in June of 2001. The CD was welcomed as the most successful instrumental CD at AAA radio in years and was nominated for Best Independent Label Artist and Album of the Year in the 2002 Gavin Awards. The CD was also nominated as Best Contemporary Jazz CD in the 2002 Association for Independent Music Awards.
Johnny A. makes a serious bid for guitar stardom on Sometime Tuesday Morning. If originality still counts for something, and if musicians who take risks deserve to be heard, then Johnny A. is about to have his day.