For Johnny A., the guitar has been a lifelong fascination. Those six strings exert a powerful hold over the man, inspiring moments of ecstatic improvisation, imparting deep contemplation and, occasionally, moments of aching frustration. It's a stormy affair coupled with a tempestuous hollow-body lover, but the rewards have been great. Wresting colors and emotions from those six strings, Johnny A. is as much a master as he is the eternal student - with a formidable talent, but a desire to learn that is just as strong. On Johnny A.'s latest Favored Nations disc, Get Inside, he once again lets the guitar lead the way on a dozen instrumentals that span a gulf of style from cool a go-go to finger-lickin' guitar pickin' to laying pure rock n' roll rubber. This is music for an open mind aching for the open road. .. more on "Get Inside" biography >>
---
Johnny A. Custom Gibson Guitar Named An Iconic Guitar
May 2009 Rosebud News
After being honored with his own guitar model by the Gibson Custom Shop, Johnny A.'s Signature Model is now featured as one of the top Five Iconic Guitars and "sweetest rides" in the Gibson Shop, along with Signature B.B. King and Les Paul models. The Custom Shop designs Gibson guitars to the players' exact specifications. Gibson Custom first introduced the Johnny A. Signature Model in 2003, and it's become one of the company's most successful and popular models. The Johnny A. with Bigsby Tremolo has a fully hollow body, an ebony-fretboard equipped neck and the sides and back are a single carved piece of mahogany, topped by solid maple. For more details, visit the Gibson shop. Catch Johnny A. live on the road, please see tour dates >>
---
JOHNNY A. SIGNATURE GUITAR
Gibson Custom Shop
The new Johnny A. Signature model from the Custom Shop combines several innovative new design aspects with loads of vintage Gibson appointments to create what will surely become a modern classic.
The completely hollow body--with a solid, AAA maple top and tonally carved back and sides--features a contoured outer surface but a flat inner back, resulting in a guitar that resonates more like a flattop than an archtop. An exclusive body style and size, a custom neck profile, and custom pearl fingerboard inlays combine with traditional Gibson features like multi-ply binding, gold hardware, and an ebony fretboard to create an instrument that captures the magic of Gibson's past while eagerly anticipating the future.
Check with your local authorized Gibson Dealer for more information.
---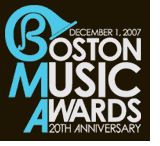 Johnny A. Performs At 20th Anniversary Of The Boston Music Awards

December 2007 Rosebud News
Johnny A. was featured at the 20th anniversary of the Boston Music Awards December 1, 2007 at The Orpheum Theater. Joining an all-star band led by James Montgomery, Johnny ripped through an exciting version of "Walkin' the Dog." Other performers included Bobby Brown, Extreme, Martin Sexton and Joey Kramer and Tom Hamilton of Aerosmith. Johnny A. was first recognized at the Boston Music Awards in 2000, when he received a Best Debut Album nomination for Sometime Tuesday Morning. The Boston Music Awards showcases talented performers in the greater Boston area and supports local charities Music Drives Us and the Berklee City Music Program.
---