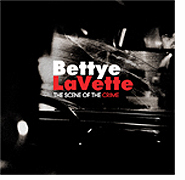 Pollstar Dec.10, 2007: Bettye LaVette >>
USA TODAY September 19, 2007, PICK OF THE WEEK
"Talking Old Soldiers Bettye LaVette: The 61-year-old Detroit soul survivor transforms Elton John's Tumbleweed Connection obscurity into a tour de force about outliving the people one loves the most. From her The Scene of the Crime, out Sept. 25, LaVette's chill-inducing performance is without question one of the finest you'll hear all year."
ROLLING STONE, October 4, 2007, Christian Hoard
"LaVette's nuanced singing evokes prime Tina Turner with even more command. The singer's lone original, 'Before the Money Came (Battle of Bettye LaVette),' tells her hard-luck story over a Skynyrd-esque groove, but even better is the spare ballad 'Talking Old Soldiers,' a 1971 Elton John song that LaVette makes her own."
MOJO, September 2007, Lois Wilson (four stars)
"she's got some of the South's finest - Spooner Oldham, David Hood - working behind her again and a songbook including Ray Charles' 'They Call It Love' and Willie Nelson's 'Somebody Pick Up My Pieces' to interpret. Which she does remarkably, imbuing each with an honesty, tenderness and anguish drawn straight from the heart. A strong contender for soul album of the year."
BLUES REVUE, Oct/Nov 2007 Cover Story, Autumn Long
"She groans, snarls, purrs, and hiccups her way through sweatdrenched performances that provoke chills, shudders of pain, and lip-licking arousal - sometimes all within a single song. With a devastatingly soulful balance between meticulous control and unhinged abandon, LaVette's vocals command absolute respect… She communicates tragedy and triumph in a way that resonates within the most intimate reaches of our hearts and penetrates deep inside our bones."
Patterson Hood of The Drive-By Truckers (from Paste Magazine October 2007)
"Watching her perform her vocal takes-and it was a performance-was like watching a great method actor make a film. She got so worked up and in character, then it just exploded into the microphone. It was awe-inspiring and stunning; I had chills the entire time"
ELLE, September 2007
"Bettye LaVette, a Detroit soul singer denied superstardom in the '70s, possesses the growl of Tina and the forbidding, earthmoving force of Aretha… she lays us flat with her powers of slow-burning devastation, especially on Elton John's emptybarroom ballad 'Talking to Old Soldiers.'"
NO DEPRESSION, September/October 2007, David Cantwell
"…her shards-of-glass vocals; the clipped, ravage phrasing so singular that it can only be termed LaVette-esque... Her voice is jagged and rusty, weary but filled with life too, hard as newforged steel, and with no intention of going easy."
THE NEW YORKER, September 24, 2007
"…the veteran soul singer Bettye LaVette, who can deliver a heartbroken wail through a whisper or make a slow ballad pulse like scorching gospel rock."
MORE, October 2007, Holly George-Warren
"..this scorching set features such tracks as 'Talking Old Soldiers' and 'Take Me Like I Am' which prove the 62-year-old LaVette is, finally Queen of Soul."
VINTAGE GUITAR MAGAZINE - Hit List, November 2007, JH
"But, while the players all contribute, the real star here is LaVette, whose voice can be smoldering and burning and then break out and cut through the haze like a knife."