released in 2002 from BLUES EXPRESS RECORDS


In the words of venerable R&B Historian, Dave Godin, "Betty LaVette, with her remarkable vocal range, and stamina, is one of soul music's finest and most accomplished exponents… She can pack a punch that will knock you out".
During her forty-year career, Bettye has rightfully earned her reputation as a true legend of soul music, a performer whose magnificent voice and dynamic stage presence continues to win accolades wherever she appears.
Her very first recording "My Man (He's A Lovin Man)" went all the way to #7 on the R&B charts and made Bettye an overnight sensation when she was barely 16 years old. In 1965 Bettye recorded a song that has become a classic in the annals of soul music. "Let Me Down Easy", with its haunting string arrangement and explosive vocal earned her another Top 20 R&B hit, and appearances on Shindig and other TV shows. Bettye was now a nationally recognized R&B star. In her early years, she toured with the James Brown Review and appeared at the famed Apollo Theater in Harlem New York with the likes of Otis Redding, Stevie Wonder, Marvin Gaye and many more.
Bettye has always been a "singer's singer", a performer whose soulful delivery has earned the respect and praise of her contemporaries. One such is Kenny Rogers, who so liked her version of his first hit, "What Condition My Condition Is In", that he arranged for her to sign with his brother Lelan Rogers' record company, Silver Fox in 1969 where she was stable-mates with the late legendary Johnny Adams. Another Top 30 hit, "He Made A Woman Outta Me" resulted from this association. Recording in Memphis, Bettye quickly followed up with another Top 40 hit, "Do Your Duty" in 1970. Stopping along the way to win an OBIE Award for her Big Band Schaffer Beer Commercial, which ran on radio for over 5 years. During the '70's, Bettye recorded the classic single "Your Turn To Cry" and 1978 saw the release of the disco classic, "Doin The Best I Can". The record's success made Bettye LaVette the toast of the hottest nightclubs in New York, where it sold 100,000 copies.
Bettye has expanded her music horizons even further, starring in the Broadway musical "Bubbling Brown Sugar" with Cab Calloway and dancing with tap legend, Charles "Honi" Coles. The Boston Patriot Ledger described Bettye's performance "a genuine star!, Her Sweet Georgia Brown is stunningly performed. God Bless The Child makes the appreciative crowd go wild... so powerful that it stopped the show at every performance."
In 1982 Bettye finally recorded for her hometown record label for the first time. Her first album on the Motown record label produced the R&B classic "Right In The Middle (Of Falling In Love)" written by the great Sam Dees. The song brought her back into the Top 40 with appearances on Soul Train, Solid Gold and many other shows.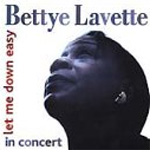 During the '80s and '90s, Bettye, and her band, under the direction of noted producer and keyboardist Rudy Robinson were a much in-demand act in nightclubs and festivals across the U.S. and in Europe. Highlights of this period include engagements at, London's Jazz Café, The New Orleans Jazz and Heritage Festival, and the Miller Theater at Columbia University in New York. Bettye's appearance at the 1998 Blues Estafette in Holland brought a new recording from Munich Records in Amsterdam Holland, "Let Me Down Easy In Concert".
Bettye was fortunate enough to have two CDs released to great critical acclaim in 2000, the second being "Souvenirs" on the Arts & Soul record label in France. Both CD's were reviewed with raves by Blues and R&B magazines on both sides of the ocean.
Blues Access said of Bettye's Munich CD, ""Let Me Down Easy In Concert" provides ample documentation of Bettye's rich interpretive gifts, belting in the tradition of the great blues shouter one moment, and pulling back to a near-whisper the next… you know that you are in the presence of a master vocalist at her peak." In the Basement says of Bettye's "Souvenirs" CD, "If you only buy one CD this year, make it this one." Herman Van Der Horst, writing the liner notes of Bettye's in concert CD, describes Bettye as "the greatest unsung soul singer in the world today".
In June 2001 at the Poretta Soul Festival in Italy, Bettye had the crowd on their feet, crying and cheering. At the Chrysler Arts Eats and Beats Festival that fall, which drew one and a half million people, Bettye held them mesmerized, until SHE let them go.
Although Bettye LaVette is regarded as a "Soul Legend", she is very much an artist of today. This past year, with new band, new music director, and new show, containing songs from her new CD, Bettye performed to packed houses at the Meridian Hotel in Paris, France and the Winter Garden in England to great critical praise. This carried over to the Chicago Blues Festival where the Chicago Sun Times called Bettye the 'brightest surprise of the Festival'. She has just released a brand new album for San Francisco based Blues Express Records, entitled "A Woman Like Me". The CD was produced by triple Grammy Award winner, Dennis Walker and features all new songs for Bettye. The release of "A Woman Like Me" brings Bettye LaVette back into the front ranks of the contemporary blues and soul singers, and serves as a fitting tribute to a most remarkable performer.