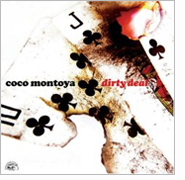 January 16, 2007 from ALLIGATOR RECORDS


"Smoldering blues and southern-fried rock 'n' roll with a master touch and killer soloing" - GuitarOne
GuitarOne magazine calls guitarist/vocalist Coco Montoya "the hottest southpaw in the blues" and raves about his "master touch and killer tone." The Boston Globe succinctly states that Montoya's music is "hot, blistering soul." From his early days as a drummer to his current status as one of the top-drawing guitarists and vocalists on the blues-rock scene, Montoya earned his status through years of hard work and constant touring. And it all started with a chance meeting in the mid-1970s with legendary bluesman Albert Collins, who offered Montoya a gig as his drummer. Albert took an immediate liking to Montoya, becoming his mentor and teaching his new protégé the secrets of Collins' "icy hot" style of blues guitar. Five years later, British blues icon John Mayall happened to catch Montoya at a jam session and was blown away. Mayall recruited him as guitarist in the legendary Bluesbreakers, and Montoya spent the next 10 years touring non-stop, proving himself to be a world-class guitar master in one of the most renowned blues bands in existence.

Since stepping out as a bandleader in 1993, Montoya released five solo albums and performed non-stop at clubs, concert halls and major festivals all over the world. At every show, fans' jaws dropped, and critics raved about Montoya's mind-bending guitar licks and fervent vocals. "The fiery blues that issue forth from Coco Montoya's guitar are awe-inspiring and boogie requiring," says The Village Voice. With his new CD, Dirty Deal (joined by his friends from Little Feat), Montoya turns up the intensity with another dose of his feral, soul-stirring music.

On Dirty Deal Montoya, along with his road-tested, red-hot touring band, once again uses blues as a blasting off point for his emotional, soulful music. With his icy-hot guitar playing and his passionate, unaffected vocals, he attacks each of the 11 songs with deep feeling and ferocious energy. Montoya's friends, Little Feat members Paul Barerre, Kenny Gradney, Richie Hayward and Bill Payne, add their unique talents to the mix as well. Produced by Barrere and engineer Roger Cole, every song on Dirty Deal -the rockers as well as the ballads-burns from start to finish. Montoya brings all the unbridled force of his acclaimed live shows into the studio for a foot-stomping, guitar-fueled ride. Dirty Deal is Montoya's rawest, most stripped-down and impassioned recording to date.

Montoya first met Barerre and Little Feat at a blues festival and instantly hit it off. According to Barerre, "Coco's playing was inspirational to me, great tone and attitude." The band invited Montoya to their annual Feat Festival in Jamaica two years in a row. "Our fans took to him like butter on bread," recalls Barerre. "He fit in so well with the band that I knew I had to produce him. I really wanted to get that live feel from him on a recording, and that's just what we did. He rips the guitar solos, and his voice is as strong as three-day-old coffee."

Coco Montoya was born in Santa Monica, California in 1951 and raised by working class parents. Growing up, Coco immersed himself in his parents' record collection. He listened to big band jazz, salsa, doo-wop and rock 'n' roll. With an immense love of music, the youngster enjoyed picking out notes on the guitar, but he was drawn to the drums. After studying and practicing constantly, he joined a series of local rock bands. In 1969, Montoya saw Albert King opening up a Creedence Clearwater Revival/Iron Butterfly concert and was transformed. "After Albert got done playing," says Montoya, "my life was changed. When he played, the music went right into my soul. It grabbed me so emotionally that I had tears welling up in my eyes. Nothing had ever affected me to this level. He showed me what music and guitar playing were all about. I knew that was what I wanted to do."

By the mid-1970s, Montoya was playing drums in several local rock bands, one of which played a small Culver City, California bar on weekends. One Sunday, Albert Collins was booked to play a matinee there and the club owner gave Collins permission to use Montoya's drums. Montoya continues the story: "I show up to pick up my equipment and I see that someone had been playing my drums and I got a little angry with the club owner. So Albert called me up at the club and was real nice and apologetic. I went down to see his show and it really just tore my head off. The thing that I had seen and felt with Albert King came pouring back on me when I saw Albert Collins."

A few months later, Collins desperately needed a drummer for a tour of the Northwest and he called Coco. "When he called," recalls Coco, "I figured we'd rehearse for a few weeks before the tour. Instead, he told me he'd pick me up in three hours." During the tour, Albert took Montoya under his wing, teaching him about blues music and life on the road. After the tour ended, Montoya remained in Collins' band for five more years. It was during this time that Coco began doubling on guitar. And Collins went out of his way to teach him. "We'd sit in hotel rooms for hours and play guitar," remembers Montoya. "He'd play that beautiful rhythm of his and just have me play along. He was always saying, 'Don't think about it, just feel it.' He taught me to tap into an inner strength. What a great gift he gave me." As Montoya's guitar playing improved, his relationship with Collins kept growing. "He was like a father to me," says Coco, who often crashed at Collins' house. When Collins declared Montoya his "son," it was the highest praise and affection he could offer. In return, Montoya learned everything he could from the legendary Master of the Telecaster. As a tribute to his mentor, Montoya has cut a Collins song on every solo album he's made.

As disco began to take over and gigs began to dry up, Montoya left Collins' band, but the two stayed very close friends. Montoya worked as a bartender, figuring his career as a musician was over. But luck was still on his side. He kept playing guitar ("I had plenty of time on my hands," Montoya recalls) and eventually others took note of his prowess. One night in the early 1980s, Montoya was jamming in a Los Angeles bar when John Mayall walked in. As a quick tribute, Montoya launched into All Your Love I Miss Loving. Impressed, Mayall left the club with a soundboard tape. When Mayall needed a guitarist for the newly reformed Bluesbreakers, he called Coco Montoya. Filling the shoes of previous Bluesbreaker guitarists Eric Clapton, Peter Green and Mick Taylor would not be easy, but Montoya knew he could not pass up the opportunity to play with another blues legend. He joined the band, determined to become an even greater guitarist. For the next 10 years he toured the world and recorded with Mayall, soaking up everything he could. Along with fellow Bluesbreaker guitarist Walter Trout, Montoya was a featured member of the band, and often opened shows with his own blistering blues. And like the great guitarists who came before him in the Bluesbreakers, Montoya's emergence as a scalding hot player with chops to burn suggested big things to come.

By the early 1990s, Montoya was at another crossroads. He had been with the Bluesbreakers for 10 years and felt ready for a change. His friend Albert Collins told Coco to move on and do his own thing. Montoya talked to Mayall, who understood the time was right. "Both Albert and John pushed me out of the nest nice and easy," says Coco. Although he was nervous about the move, Montoya put a band together and hit the road, proving himself night after night. His debut as a leader, 1995's Gotta Mind To Travel (originally on Silvertone Records in England and later issued in the USA on Blind Pig Records), became an instant favorite with blues fans, radio programmers and critics. The album introduced Montoya as a bandleader who immediately ranked among the best players on the contemporary blues scene. In 1996, he was nominated for four Blues Music Awards and walked away with the award for Best New Blues Artist.

Montoya's follow-up, 1996's Ya Think I'd Know Better (Blind Pig), showcased a powerful blues rocker with vocal skills matched only by his ferocious guitar playing. 1997's Just Let Go (Blind Pig) continued to highlight Montoya's steely guitar licks and intense vocals, earning him legions of new fans everywhere he played. In 2000, Coco's Alligator debut, Suspicion, quickly became the best-selling album of his career. "Powerhouse blues," exclaimed Guitar Player, "searing tone, emotional soloing, and energetic, unforced vocals…stunning." With regular radio airplay on over 120 stations nationwide, Montoya's fan base exploded.

2002's massively popular Can't Look Back raised the bar even higher. GuitarOne said Montoya has "a master touch and a killer tone." The Memphis Commercial Appeal called the CD "a party-packed set of blues guitar licks, rock hooks and soulful singing." With radio support equally strong, Montoya's touring kept his visibility high all across the country as he packed one concert after another, always leaving fans screaming for more.

Averaging over 150 tour dates a year, Montoya continues to pack clubs and theaters around the world. He has played major festivals, including the New Orleans Jazz & Heritage Festival, The Chicago Blues Festival, The San Francisco Blues Festival and Canada's International Jazz Festival. It's no coincidence that publications from The Philadelphia Daily News to Blues Revue to Living Blues to The Village Voice all rank Coco among the best guitarists and singers on the blues scene. "Montoya is at the forefront of the contemporary blues world," declared Guitar World. "He is one of the truly gifted blues artists of his generation," said Living Blues. With Dirty Deal and continued non-stop touring, Coco Montoya continues to share his gift with his legion of admirers all over the world.