The Essential Coco Montoya Out October 20, 2009 - Coco On Tour with Tommy Castro This Fall
September 2009 Rosebud News >>


The Essential Coco Montoya will be released by Blind Pig Records on October 20, 2009. All of the songs were hand picked by Coco and span his first three solo albums from 1995-1997. Mentored by legendary bluesman Albert Collins (a Rosebud artist until his passing in 1993), Coco went on to become the guitarist for John Mayall and the Bluesbreakers for ten years before leading his own band. Upon releasing his debut album, he won Best New Blues Artist at the 1996 Blues Music Awards. This fall Coco will embark on a run of tour dates with The Tommy Castro Band as well as dates on his own, please see Tour Dates >>
---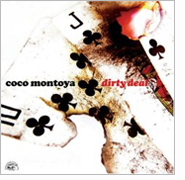 Coco Montoya's new CD Dirty Deal in stores January 16, 2007
December 2006 Rosebud News >>
Coco Montoya uses blues as a blasting off point for his emotional, soulful music on his new CD Dirty Deal, which will be released on Alligator on January 16, 2007. With his icy-hot guitar playing and his passionate, unaffected vocals, he attacks each of the 11 songs with deep feeling and ferocious energy. Little Feat members Paul Barerre, Kenny Gradney, Richie Hayward and Bill Payne guest. Produced by Barrere and engineer Roger Cole, Dirty Deal is Coco's rawest, most stripped-down and impassioned recording to date. Coco first met Paul Barerre and Little Feat at a blues festival and according to Barerre, "Coco's playing was inspirational to me - great tone and attitude." The band invited Montoya to their annual Feat Festival in Jamaica two years in a row. "Our fans took to him like butter on bread", recalls Barerre. "He fit in so well with the band that I knew I had to produce him. I really wanted to get that live feel from him on a recording, and that's just what we did. He rips the guitar solos, and his voice is as strong as three-day-old coffee." Coco maintains an intense touring schedule including major festivals and headlining dates worldwide. "Montoya is at the forefront of the contemporary blues world" according to Guitar World and will be touring worldwide in support of his new release.
---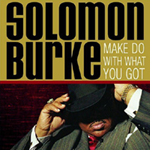 Coco Montoya Co-write Kicks Off Solomon Burke's Grammy Nominated Album
January 2006 Rosebud News >>
Coco Montoya co-write, "I Need Your Love in My Life", was chosen as the lead track on Solomon Burke's Grammy nominated album, Make Do With What You Got. The song was co-written with David Steen, who has been a long time collaborator with Coco Montoya on his own recordings. Coco is currently recording a new album with producer Paul Barrere of Little Feat, to be released by Alligator Records this summer. Coco will be touring nationally throughout the year. see tour dates >>

---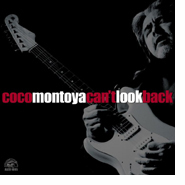 New CD "Can't Look Back" in store June 2002 from Alligator Records


On Can't Look Back, Montoya once again uses blues as a blasting off point for his rock solid, groove-laden music. With his icy hot guitar playing and his soulful, unaffected vocals, Montoya attacks each of the 13 songs with deep feeling and ferocious energy. Produced by Jim Gaines (Luther Allison, Santana, Stevie Ray Vaughan), every song on Can't Look Back (including five Montoya originals) burns from start to finish...
---
Coco Montoya Releases Alligator Debut
February 2000, Rosebud News
Coco Montoya's fourth recording, Suspicion, has just been released to excellent response at AAA radio. Coco is a former W.C. Handy Award winner whose background includes stints on guitar with John Mayall and Albert Collins prior to starting his solo career. See Tour Dates for Coco's extensive and constantly growing schedule.

---
Coco Montoya New CD and Tour
January 2000, Rosebud News


Coco Montoya will release his debut CD for Alligator Records, Suspicion, on January 25. Coco learned to play guitar under the tutelage of former Rosebud artist, Albert Collins, and played with John Mayall for ten years prior to starting a solo career that kicked off with a Best New Blues Artist W.C. Handy Award and has been highlighted to date by three CDs on Blind Pig Records.
---
Blues Agent of The Year, Tom Gold, Joins Rosebud
January 2000, Rosebud News
Tom Gold, owner of The Tom Gold Agency, has joined The Rosebud Agency along with his top two artists, Tommy Castro and Coco Montoya. Tom has just been named Agent of the year by the Blues Foundation in conjunction with their Keeping The Blues Alive Awards. Tom will focus on booking East Coast accounts as well as casinos, fairs and special events nationwide. He will also continue to service dates for Tommy Castro and Coco Montoya on the West Coast. Tommy and Coco both plan to tour extensively behind their new CD releases coming February 22 and January 25 respectively.
---