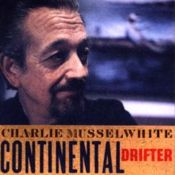 released in 1999 from VIRGIN RECORDS


"The harmonica is the most voicelike instrument, you can make it wail, feel happy, or cry," says Charlie Musselwhite. "It's like singing the blues without works." His new album, Continental Drifter, (Pointblank / Virgin) reflects not only his ability to "talk" through his harmonica, but also the various musical influences that have inspired him over the years. "Today as a touring musician, my work takes me around the world. On my travels I have discovered music that is loaded with feeling. It resonates within me, the same way as the music of my childhood did. This compassionate music of other cultures has seeped into my own blues."
Musselwhite is a vibrant link between the 1960's flowering of blues music, and the modern direction it has taken since. With Continental Drifter, the "harmonica master," as theNew York Times calls him, reaffirms his status as one of America's most beloved and talented blues musicians. And proves why he is revered among the world's harmonica players.
Continental Drifter is comprised of music which, according to Charlie, "reflects who I am today as a musician and a human being." The tracks on the album are divided into three sections. The first section, "The Band Session" features Charlie and his touring band, whom he says, "can play whatever I have a mind to play." Session two, "The Solo Session," incorporated the Delta sounds Charlie grew up with. For the third section, "The Cuban Sessions," Charlie recorded four tracks with his Cuban friend and colleague, Eliades Ochoa and his group Cuarteto Patria. Many of the album's tracks are entwined with Cuban and Brazilian sounds that have been a major influence on Charlie's music over the years. "My experience with the Cuban and Brazilian musicians whom I have met and played with is that we are all excited by the possibilities of blending the musical cultures, sometimes just for the joy of playing together, sometimes in the hope of fostering understanding and tolerance between our cultures."
Numerous influences have worked into Charlie's sound since his 1966 Vanguard debut, Stand Back!. Charlie thinks that many forms of music from other cultures contain "feeling" and embodies the same spirit as the blues. From the beginning it seemed that Charlie was destined to be a bluesman. Born in Mississippi in 1944 and later raised in Memphis, Charlie was immersed in the city's diverse musical culture. He went to school with Johnny Cash's brother, Tommy, lived down the road from rockabilly legends Johnny Burnette and Slim Rhodes and went to parties hosted by Elvis Presley.
Charlie soaked up all the music of Memphis with the enthusiasm of a true devotee, but it was the blues that caught Charlie's soul. In his teens, he befriended several of Memphis' legendary traditional bluesmen, including guitarist Furry Lewis, Will Shade and the surviving members of the Memphis Jug Band. It wasn't long before the young harp player began sitting in with his more experienced friends, and establishing a name for himself.
At 18, intending to find a decent job, Charlie packed up and moved to Chicago. Instead of the factory job Charlie went in search of, he found the urban blues. He began hanging out in the smoky blues clubs on the city's South and West sides and frequently sat in with legends like Little Walter, Muddy Waters and Howlin' Wolf. He also played with Big Joe Williams, J.B. Hutto, Big Walter Horton, Johnny Young, Robert Nighthawk and Flood Jones. "Coming to Chicago was like walking into Fat City. These guys inspired me. The gave me an incentive to find my own sound."
Charlie has cultivated his sound during more than 30 years of recording. Continental Drifter us a full-on display of that sound. In the mid '60s, Charlie's music was a crossover favorite with young rock fans. his subsequent albums in the late 60's and early '70s established him as a worldwide touring artist. In his travels he continued to discover new sounds and new influences. The '80s saw charlie touring, while recording with numerous record labels. In the '90s he signed with alligator records and in 1994 released In My Time, a celebration of his 50th birthday. The album continued Charlie's never-ending infusion of different styles with the gospel-tinged elegy, "Bedside of a Neighbor," which closed the album.
While Continental Drifter us full of the blues sounds that Charlie loves, he continues to show a persistent interest in collaboration. In the past year, Charlie has contributed his distinctive harmonic to several different projects. His most prominent guesting contribution is on Tom Waits' Epitaph Records debut, Mule Variations. "I thought I was gonna play on a tune or two. When I got over there, we went through all the tunes. On some I didn't think the harp really added to them, and on some, it was great. We figured out which songs to try. We tried on seven, and ended up only using four tunes." Charlie also contributed to Bob Weir and Ratdog's cover of the Al Green classic, "Take Me to the River," for the recent Fish Tree Water Blues album. Out on Bullseye Blues and Jazz, the album benefits the Earthjustice organization to protect the Pacific Northwest. Charlie also took some time to pay tribute to both Jimi Hendrix and Muddy Waters in tow televised documentaries.
"I think this is the most exciting music I have recorded," Charlie says of his recent work. "I hope you too will feel it in your heart."