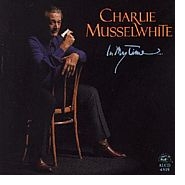 released in 1993 from ALLIGATOR RECORDS


"My feet would be wet from walking in the snow," recalls blues harmonica legend Charlie Musselwhite about his years in Chicago."I had great big holes in my shoes and I remember that really well...once you've been there you don't forget." Charlie remembers all the years that, he says,"toughened me up" -- the early days in Memphis learning about blues guitar and harmonica; the rough and tumble nights in Chicago performing at South Side clubs for a dollar or two; the time he's spent bringing his acclaimed contemporary blues to the world from his Northern California home-base.
Charlie muses about his latest Alligator release," In My Time is a reflection of where I came from and it shows that it's not over either, that I'm still in full steam here." In My Time captures his deep blues roots, points the musical way towards the future - and its release celebrate the bluesman's fiftieth birthday, January 31, 1994.
The Grammy-nominated In My Time weaves Charlie's driving harmonica sounds through a variety of musical settings, but begins with a special bonus -- Charlie's return to his first instrument, the guitar. One of nine newly-written original songs, the solo Delta slide work of "Stingaree" showcases his sparse, soulful singing and playing, which continues on to the baleful deep blues of Sleepy John Estes' "Brownsville Blues" and Charlie's own "Ain't It Time." The latter, gospel-tinged song unites Charlie with famed vocal group, The Blind Boys of Alabama.
To recall his apprenticeship in Chicago, Charlie assembled a group of West Coast players - stylists who are revitalizing the Windy City's 50's blues and swing sounds. Charlie's raw harmonica sounds drive Sonny Boy Williamson's "The Big Boat", which kicks-off In My Time's "Chicago" set, as well as his own "If I Should Have Bad Luck" and Roosevelt Sykes' "Casual Friend."
"I think that part of the true spirit of blues is going ahead and being inventive and playing new things," Charlie declares, and with "Midnight Mama", In My Time steps firmly into the present. With his red hot, funk-tinged road band (guitarist Andrew "Junior Boy" Jones; bassist Felton Crews; drummer Tommy Hill) he sets out to prove this spirit on songs like "Movin' and Groovin'" and "Revelation."
In My Time winds to a gentle close with the gospel-tinged elegy "Bedside of A Neighbor", again with The Blind Boys of Alabama."It leaves you with something to think about," says Charlie."It sets the tone for the rest of the day...it will give you a sense of well being and going forward."
From the very beginning, it seems that Charlie Musselwhite was destined to be a bluesman. Born in Mississippi, the cradle of the blues, in 1944, Charlie moved to Memphis at an early age and became immersed in the city's diverse musical culture. He went to school with Johnny Cash's brother, Tommy, lived down the road from rockabilly legends Johnny Burnette and Slim Rhodes and went to parties hosted by the "King of Rock 'N' Roll," Elvis Presley.
Charlie soaked up all the music of Memphis with the enthusiasm of a true devotee, but it was the blues that caught Charlie's soul. In his teens, he befriended several of Memphis' legendary traditional bluesmen, including guitarist Furry Lewis, Will Shade and the surviving members of the Memphis Jug Band. It wasn't long before the young harp player began sitting in with his more experienced friends, and establishing a name for himself.
But music wasn't paying the rent, so for $50 a trip, Charlie would run moonshine whiskey from remote country stills into downtown Memphis, and his bosses would distribute it to dozens of drive-in burger joints around town. When the state police followed him home one day, 18 year old Charlie decided it was time for a change of profession. The next day, he packed up and headed north on Highway 51 to try his luck in Chicago.
Intending to find a factory job in the Windy City, what he found instead was urban blues in all of its soulful glory. He hung out in the smoky blues clubs on the city's South and West sides and frequently sat in with legends like Little Walter, Muddy Waters and Howlin' Wolf. He also worked as a band member with Big Joe Williams, J.B. Hutto, Big Walter Horton, Johnny Young, Robert Nighthawk and Floyd Jones."Coming to Chicago was like walking into Fat City," says Charlie."These guys inspired me. They gave me an incentive to find my own sound."
Charlie's sound was firmly rooted in Memphis and Chicago-style blues, but it was also injected with the high energy of rock 'n' roll. In the mid-sixties, Charlie and Paul Butterfield tapped a whole new audience of young rock fans who were drawn to their high-energy style of blues harp. In 1966,Vanguard Records took note of Charlie's crossover popularity. Charlie, who still had a day job at the time, signed with Vanguard and recorded the classic album Stand Back!. It was one of the first blues albums marketed to the rock audience and, along with his subsequent albums in the late 60's and early 70's, established Charlie as a worldwide touring talent. As one critic wrote at the time,"Charlie Musselwhite is the natural born heir to carry the torch for the big city blues tradition."
After recording three albums for Vanguard, Charlie moved to the San Francisco Bay Area, where he still lives. Over the next two decades, he recorded for numerous labels, before signing with Alligator in 1990. His Alligator debut, Ace Of Harps, garnered considerable critical and commercial success. Signature, which followed in 1992, reconfirmed Charlie's position as a world-class bluesman.
In My Time is a summation of a distinguished thirty years of music making. But as Charlie Musselwhite emphatically declares,"It's not the end of the road, either. It's looking back when your still in the middle of the stream."