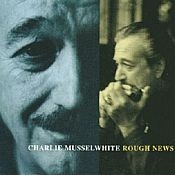 released in 1997 from VIRGIN RECORDS


Celebrating the blues tradition, Charlie Musselwhite releases his Pointblank Records debut, Rough News.
Rough News marks the latest step in Musselwhite's ongoing journey, exploring new regions of the blues. Here, in his own words, Charlie describes his latest project.
"This album has an international thread to it. Two of the songs were written by an Australian friend, Red Rivers, and I've gotten into a Brazilian blues style on 'Feel It In Your Heart.' Also, I'm playing more guitar. I recorded the album over three sessions, all deep in the blues, but with different feels. The Chicago session reflects the years I spent there, resulting in a tough urban blues sound. The Los Angeles session has a kind of rocky, modern feel. The songs from the New Orleans session are real swampy and laid-back.
"You don't have to be cold and hungry to know the blues. When I hear real emotion, I can't help but recognize its power. In today's world, the blues is kind of like an antidote to all the computers and things all around us that lack a human quality. It doesn't matter where you live or what kind of background you come from: when you hear the blues, it reminds you that you are human and it hooks you forever."
The blues harmonica giant has already established his worldwide reputation with over a dozen albums, as well as numerous guest appearances with friends such as Bonnie Raitt, John Lee Hooker, John Hammond, and Jimmy Witherspoon. Musselwhite's newest solo album, Rough News, brings his multifaceted talent into sharp focus.
Rough News showcases his songwriting ("Feel It In Your Heart," "Rainy Highway," "Clarksdale Boogie," and the title track) as well as his undeniable genius with a harmonica (check out Musselwhite's version of Santo & Johnny's classic instrumental "Sleepwalk"). Stylistically, the album covers a wide terrain: it features the old Chicago blues favorite "Rough Dried Woman," while showing Musselwhite exploring new directions with the Brazilian-flavored "Feel It In Your Heart."
A central theme links all the varying sounds, moods, and textures on Rough News throughout, Musselwhite continues to reach deep inside in search of the blues' most essential ingredient -- raw emotion.