Rosebud is music industry's first Solar Powered facility >>


buy CDs via rosebudus.com and help music charities >>


Certified Green - The Rosebud Agency has been named among the first San Francisco businesses to become officially certified as a Green business. >>

For booking, please contact agent for your area >>
For complete roster, please refer to Roster >>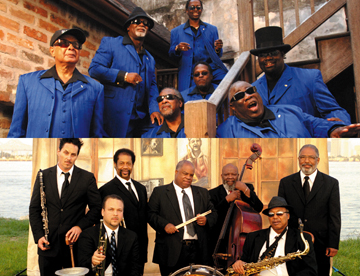 Following the excitement and success of their 2008/2009 inaugural tour, "Down By The Riverside" returns for the 2009/2010 Season, featuring vocal legends The Blind Boys of Alabama and the ageless music of The Preservation Hall Jazz Band. With a celebrated career spanning over 60 years, 4 consecutive Grammy awards (2001-2004) and induction into The Gospel Music Hall of Fame, The Blind Boys of Alabama are an indisputable musical treasure. For over 45 years, The Preservation Hall Jazz Band have maintained the bridge between the present day and the earliest foundations of New Orleans jazz, all the while enriching audiences the world over. Whether performing at their historic home base in New Orleans, at Carnegie Hall or for the British Royal Family, the group embodies the joyful, timeless spirit of a true American art form. As two of America's great cultural ambassadors, both groups carry proud traditions on into the future, demonstrating their historic standing with each classic performance.
*Down By The Riverside is a joint project between The Rosebud Agency and International Music Network.
---
THE CRITICS LOVE THE "DOWN BY THE RIVERSIDE TOUR" FEATURING THE BLIND BOYS OF ALABAMA AND THE PRESERVATION HALL JAZZ BAND
The Washington Post Sept. 30, 2008: The performance at the Kennedy Center was "…an evening of upbeat, optimistic and quintessentially American music. …high-energy performances that had the audience on its feet to the very end."
The Village Voice Sept. 23, 2008: "An inspirational alliance between two legendary regional traditions."
Time Out New York Sept. 23, 2008: "A rare, soul-stirring affair."
JamBase Sept. 16, 208: "Some say you can never have too much of a good things, and if that's true, then the Down By The Riverside tour is the proof."
The Birmingham News Oct. 19, 2008: "…It's easy to see why both of these groups have endured and thrived for decades. Authenticity, conviction and a sense of humor have served them well over the long haul."
The Times-Picayune Oct. 27, 2008: "Best summit at Voodoo Fest in New Orleans: The Blind Boys of Alabama combined with members of the Preservation Hall band for an ecstatic Sunday afternoon 'I'll Fly Away.'"