Rosebud is music industry's first Solar Powered facility >>


buy CDs via rosebudus.com and help music charities >>


Certified Green - The Rosebud Agency has been named among the first San Francisco businesses to become officially certified as a Green business. >>

For booking, please contact agent for your area >>
For complete roster, please refer to Roster >>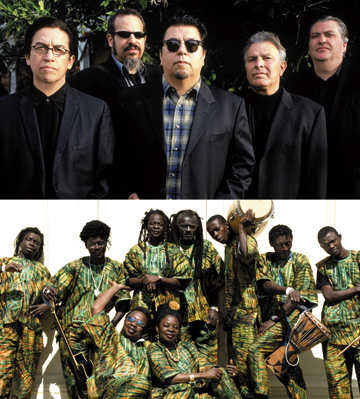 East Los Angeles and West African cultures come together for a very rare double bill of music featuring Sierra Leone's Refugee All Stars and Los Lobos.
Since they began as Los Lobos Del Este Los Angeles in 1973, Los Lobos has evolved into a respected artistic entity searching for themes and topics that are an interpretive pulse of our times. Using musical molds built on the blues, rockabilly, jazz, Latin and their own Mexican-American heritage, Los Lobos have never beat their fans over the head with politics or agendas. Instead, they subtly challenge them with conscience-raising songs and thought-provoking lyrics.
Formed in a refugee camp, Sierra Leone's Refugee All Stars are a group of musicians whose incredible story is documented in a compelling and emotionally-driven film, "Sierra Leone's Refugee All Stars", which won a series of major awards including the Grand Jury Prize for Best Documentary at the AFI Film Festival. The music is an energetic fusion of traditional West African music, roots reggae and rhythmic traditional folk. The group now tours the world (having performed on 5 continents for hundreds of thousands of people) spreading their message of peace and love in a "can't help but dance" show that fans from all musical backgrounds can enjoy.
*Booked as a joint project between The Rosebud Agency and Monterey International.
---