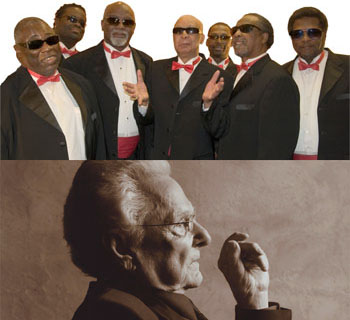 Join two legendary names in gospel and bluegrass as The Blind Boys of Alabama and Ralph Stanley and the Clinch Mountain Boys share the stage for the first time in this unforgettable concert event. Both groups will explore the common connections between gospel and bluegrass, from the Appalachian Mountains to the Deep South, with full performances from each artist plus special combined performances. As their music has for decades, this is a show that will inspire and entertain audiences of all ages.

The Blind Boys of Alabama have become one of the most important and influential gospel groups of all time. The Washington Post was moved to describe a recent concert as a "high-energy performance that had the audience on its feet to the very end." Their many honors include 5 Grammy awards, a 2009 Grammy Lifetime Achievement Award, The National Heritage Award Fellowship and induction into the Gospel Music Hall of Fame. Collaborations with Peter Gabriel, Tom Waits, John Legend, Lou Reed, Ben Harper and many more have helped The Blind Boys introduce gospel music to a vastly broader audience and their incredible journey shows no sign of slowing down.

Ralph Stanley has been deemed "the most important figure in bluegrass music today" (Chicago Sun Times). Mr. Stanley is an inductee of The Grand Ole Opry and is the recipient of the Living Legend Award from The Library of Congress as well as The National Medal of The Arts and National Heritage Fellowship Award. He's won two Grammy Awards of his own (2001 and 2002) as well as a third (2001) for his contribution to the multi-platinum album O Brother, Where Art Thou? Mr. Stanley has recorded over 170 albums and a brief sample of artists who have recorded with him over the years includes Bob Dylan, Dolly Parton, George Jones, Emmylou Harris and Vince Gill. Ralph Stanley presides as one of the last living founders of a distinctly American art form and he continues to maintain the vital link between generations of musicians and fans alike.

*Booked as a joint project between The Rosebud Agency and Keith Case and Associates.