"As harrowing as these personal tales may be, the music buoying them is uplifting. The cliché bears repeating: music heals and creates community." - Stephen Holden, New York Times

Formed in a refugee camp during Sierra Leone's civil war, Sierra Leone's Refugee All Stars incredible story is documented in an award winning, compelling and emotionally-driven film, "Sierra Leone's Refugee All Stars".

Their debut album "Living Like A Refugee" (Anti Records-2006) is one of the most acclaimed world music releases of the past few years.

Featured on Oprah, CNN, PBS-TV, CBS Sunday Morning, New York Times, NPR among many other media highlights.

Recent performances on 5 continents for hundreds of thousands of people including Hollywood Bowl, NYC Central Park Summerstage, Bonnaroo, Fuji Rock in Japan, East Coast Blues & Roots Festival in Australia and much more.

The band will release a new album in early 2010 (title TBA, Cumbancha) produced by Los Lobos' Steve Berlin (Rickie Lee Jones, Michelle Shocked, Susan Tedeschi, Angelique Kidjo).
---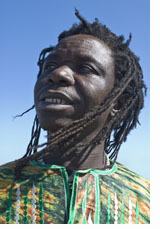 Idrissa Mallam Bangura, Sierra Leone's Refugee All Stars Bassist, Passes
March 2009, Rosebud News
Idrissa Mallam (Mallam) Bangura passed away unexpectedly this past week in his hometown of Freetown, Sierra Leone. There will be a celebration of his life this week in Sierra Leone with musicians from around the country gathering to pay tribute. Donations to help support his wife and six month old baby can be made via checks payable to 'The Refugee All Stars of Sierra Leone' and forwarded to:

Attn: Fiona O'Grady
The Rosebud Agency
P.O. Box 170429
San Francisco, CA 94117
For more information and to view pictures of Mallam, please visit RefugeeAllStars.org >>
Thank you for anything you can do to help.
---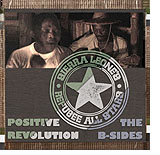 Sierra Leone's Refugee All Stars Release New B-Sides Album Positive Revolution
December 2008, Rosebud News
Sierra Leone's Refugee All Stars have just released a 12 song collection of B-Sides and rarities from their earliest recordings entitled Positive Revolution. The album is available in digital download format only and includes some raw demos straight from the refugee camps (as featured in the documentary film), as well as original studio recordings that were not released on their debut album Living Like A Refugee. Standout tracks include an acoustic version of "Weapon Conflict", the Freetown via Motown R&B vibe of "Mental Slavery" and the sax flavored highlife of "Kelemanghi".
To purchase the album, go to: sierraleonesrefugeeallstars.portmerch.com>>
To preview tracks, go to: myspace.com/therefugeeallstars >>
---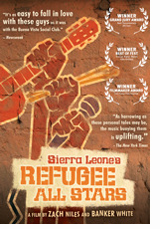 Award-Winning Documentary "Sierra Leone's Refugee All Stars" Available Now on iTunes
July 2008, Rosebud News
The acclaimed documentary "Sierra Leone's Refugee All Stars" is now available for worldwide purchase on iTunes. The inspiring film follows the band's incredible journey, from living the refugee life as a result of the brutal civil war in their native Sierra Leone, to recording their first album. This heartbreaking yet life-affirming story won thirteen major awards, including honors at the AFI Film Festival, Miami Film Festival and Human Rights Watch Film Fest and was also aired on PBS nationwide on the Independent Documentary Film Series, Point of View (POV). Filmmakers Zach Niles and Banker White have partnered with New Video to make the remarkable film available to an even wider fan base through iTunes and to continue spreading the film's positive message of hope and peace.
"Sierra Leone's Refugee All Stars" is available on iTunes >>
Stay tuned for upcoming tour dates for Sierra Leone's Refugee All Stars >>
---

Sierra Leone's Refugee All Stars Nominated as Best African Entertainers in International Reggae & World Music Awards
March 2008, Rosebud News
Sierra Leone's Refugee All Stars were honored with a nomination for Best African Entertainer for the 2007 International Reggae & World Music Awards (IRAWMA). The awards ceremony will be held at Harlem's Apollo Theater on Sunday, May 4th at 7 p.m. Eastern. In its 27th year, the objective of the IRAWMA's is to promote reggae and world beat music as an art form and honor entertainers and others associated with world music for their contributions to the industry and humanity internationally. Fans can purchase tickets for the event at ticketmaster.com or at the Apollo Theater box office: (212) 531-5305.
Sierra Leone's Refugee All Stars currently do not have any immediate tour plans, but stay tuned to this site for any updates.
---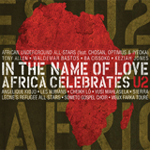 Sierra Leone's Refugee All Stars Featured On In The Name Of Love: Africa Celebrates U2, In Stores April 1
February 2008, Rosebud News


Sierra Leone's Refugee All Stars appear with Aerosmith's Joe Perry on a cover version of U2's "Seconds" for the compilation CD, In The Name Of Love: Africa Celebrates U2 (Shout! Factory). Set for release April 1st, the album features original interpretations of classic U2 songs by 12 artists, each representing a different region of Africa. Celebrating the music, culture and future of Africa, this compilation is an unprecedented musical homage to Bono and U2 for their ongoing humanitarian relief efforts aiding the country. A portion of the album's proceeds will directly benefit The Global Fund, created to finance a turn-around in the fight against AIDS, tuberculosis and malaria. The All Stars continue on their current Winter Tour, wrapping up their successful North American run at the Langerado Music Festival on March 7. ..see tour dates >>
You can also listen to band leader Reuben Koroma and rapper Black Nature's recent appearance on NPR's News and Notes program >>
---

Bettye LaVette, Mavis Staples And More Rosebud Artists Recognized In Village Voice Pazz & Jop Poll
January 2008, Rosebud News

Rosebud artists Bettye LaVette and Mavis Staples scored spots in the top 35 of Village Voice's annual "Pazz & Jop Poll" for LaVette's Scene Of The Crime and Staples' We'll Never Turn Back. The annual poll combines ballots from 577 critics' Top 10 lists to acknowledge the best albums of 2007. Additional Rosebud artists whose CDs were honored were Bill Frisell (for his work with Floratone and with Paul Motian and Joe Lovano) Loudon Wainwright III, Meshell Ndegeocello, Ruthie Foster, Pieta Brown, Ann Savoy and the late Muddy Waters. Compilations that featured Rosebud artists were Instant Karma: The Amnesty International Campaign to Save Darfur (Sierra Leone's Refugee All Stars), Goin Home: A Tribute To Fats Domino (Allen Toussaint, Dirty Dozen Brass Band, Trombone Shorty and Marcia Ball) and Song Of America (The Blind Boys of Alabama and Bettye LaVette).
See the full list of albums at: Village Voice's annual "Pazz & Jop Poll" >>
---