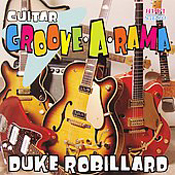 2006 from STONY PLAIN RECORDS


Although it's been almost a year-and-a-half since Duke Robillard's last CD under his own solo moniker, the blues guitar maestro has certainly not been resting on his laurels in the interim. During that time, he participated in a stellar album pairing with fellow guitarists Jay Geils and Gerry Beaudoin (New Guitar Summit) and a barn-burner of a CD with another Roomful of Blues alumnus, Ronnie Earl, on 2005's critically-acclaimed The Duke Meets the Earl. The first of those two CDs also yielded a DVD, New Guitar Summit: Live at the Stoneham Theatre; plus Duke also had his own live DVD, A Special Evening with Duke Robillard and Friends, released in that time.
And while those previous efforts generated continuing praise for the four-time "Best Guitarist" as voted on by members of Blues Foundation at the annual W. C. Handy Awards, they may be viewed in the context of an "appetizer" when music fans get a hold of Duke's tasty new disc, Guitar Groove-A-Rama, wherein Mr. Robillard proceeds to tear up the strings on his collection of amazing guitars to show who's the real boss of the blues.
"Usually I record with my full band and I feature the piano and horns; everybody gets a shot at stepping out with a solo," says Robillard in the CD liner notes. "To me, singing, songwriting, arranging and playing my instrument go hand-in-hand. Sometimes, though, I get complaints that there's not enough of my guitar. So, Guitar Groove-A-Rama is an answer to the people who want to hear more of my playing."
Consider this CD not only an answer, but also a definitive statement from this guitarist, singer, producer, session musician and one-man cheering section for the blues. "Duke's one of the great players," said B.B. King; and The New York Times called Robillard "a soloist of stunning force and originality."
A salute to the many influences that have informed his guitar work, Guitar Groove-A-Rama is perhaps his most ambitious album yet in a career that spans almost 40 years. The CD jumps out of the gate with the funky lead-off track, "Do The Memphis Grind," (with a tip of the hat to guitar greats James Burton and Steve Cropper) and never lets up. Along the way, Duke explores the grooves of Delta blues (Lil' Son Jackson's "Gambler's Blues"), jazz/gospel ("Sunday Mornin'"), Chicago blues (Sonny Boy Williamson's "One Way Out"), the soul of Ray Charles ("I'll Do Anything But Work"), the country blues of Bob Dylan ("Down Along The Cove") and even Irish folk ("Danny Boy"). In an album filled with highlights, the best may be the 16-minute tour-de-force "Blues-A-Rama," where Duke pays tribute to 10 guitar influences with an amazing performance recorded live in the studio.
"When I came up with the idea of Guitar Groove-A-Rama, I wanted to make an album of tunes that showcased all the sounds and influences that make up my style, or styles," says Robillard. "Of course, the blues is at the root of nearly everything here, but I also wanted to show some of my other influences that moved me as a young guitarist. Guitar Groove-A-Rama is a culmination of my lifelong love affair with guitars and roots music, but I really wanted to make this album for my fans," he adds.
The new CD features Duke Robillard in mostly a trio format, which accentuates the many nuances of his guitar work, and also gives him a chance to play a number of the guitars in his vast collection. In addition to Robillard on guitar and vocals, the band lineup includes Mark Teixeira on drums/percussion, with Jesse Williams and Marty Ballou on bass. Guests include Doug James on baritone sax, Bruce Bears on Hammond organ and Al Basile on cornet. It was recorded at his 24-track home studio, Duke's Mood Room, in Pawtucket, Rhode Island.
Duke had his first band in high school - he was born in Woonsocket, Rhode Island - and he was fascinated from the beginning by the ways in which jazz, swing, and the blues were linked. In 1967, he formed Roomful of Blues, and the band was tight enough and tough enough to accompany two of its heroes, Big Joe Turner and Eddie "Cleanhead" Vinson on record and in live appearances.
Always ahead of his time, Duke's first band pre-dated the renewed interest in jump blues by more than a decade - and almost 20 years later, in 1986, when he recorded with jazz sax master Scott Hamilton, he recorded a collection of classic big band tunes from the '30s and '40s, thus skillfully pre-dating the neo-Swing craze of the mid '90s.
Roomful of Blues - which still continues to record and perform - gave Duke his first exposure to a wide public, and when he left after a dozen years, he played briefly with rockabilly king Robert Gordon, then cut two albums with the Legendary Blues Band (a sterling collection of former members of Muddy Waters' band). He led his own band until 1990, then replaced Jimmy Vaughan in the Fabulous Thunderbirds.
In 1993, he met Holger Petersen, head of the Canadian independent label Stony Plain, at a folk festival in Winnipeg. In conversation, he mentioned he wanted to record a complete album of blues, without the R&B and jazz influences of his work to date. Petersen was interested and the resulting album, Duke's Blues, earned rave reviews. It was so successful, in fact, that Virgin Records, soon licensed the record from Stony Plain and released it around the world (except in Canada, where it continues in the Canadian company's catalogue.)
In addition to his own albums, Duke has produced (and played on) a number of projects for Stony Plain, including two albums with the late Jimmy Witherspoon, three with Kansas City piano king Jay McShann, comeback CDs for Billy Boy Arnold and the late Rosco Gordon, a swinging confection with the Canadian band The Rockin' Highliners, and two superb albums of guitar duets with the jazz legend Herb Ellis.
As if this growing catalogue was not enough, he has found time to share studio gigs with Bob Dylan (the Daniel Lanois-produced Time Out of Mind sessions), Ruth Brown, the late Johnny Adams, John Hammond, Pinetop Perkins, and Ronnie Earl, among many others.
Now, with the release of Guitar Groove-A-Rama, Duke Robillard has ascended the throne of blues royalty.