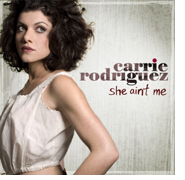 2008 from MANHATTAN/BACKPORCH RECORDS


Pigeonhole Carrie Rodriguez at your peril. Sure, she's done a lot of duets. She plays a fiddle. (a mean one at that.) She's recorded songs with a pleasing, folksy twang.
But don't think you know what you're getting. Not yet 30, and with a critically-acclaimed solo record and several well-received duet records in her wake, the classically trained singer/songwriter has just begun flexing her artistic muscles, still figuring out how far her talents will take her. If you're looking for someone playing it safe and sticking to tried-and-true ways of music making, as the title of Rodriguez's daring new album aptly states, SHE AIN'T ME.
"Because I took some chances, wrote with some new people and actually co-wrote most of the songs on the album, it's very different," Rodriguez notes.
Also different: Malcolm Burn's dense production, bulging with thoughtful details, yet always serving the song. "If the song doesn't hold up on its own, without all the production, he doesn't want to have anything to do with it," Rodriguez says. "And he was much more into the vibe than perfection - which is good for me, because my tendency is to try to make things perfect."
The songs on SHE AIN'T ME, Rodriguez's second solo outing for Manhattan/Back Porch, come from an introspective place, rife with self-assessment and questioning. "It comes from having to really look within yourself when you're forced to be alone, and to not be afraid of that process," Rodriguez says. "Taking some time off from the road this year to write allowed me to do some growing and reflecting that I often put aside when I'm touring all the time."
Long before Carrie Rodriguez was a fiddle-toting, mandoguitar-slinging Brooklyn-based singer/songwriter, she was a junior violin student in Austin, Texas, absorbing the influences of an opera-obsessed mom and folk-singing dad. "In kindergarten, we had a pilot program at my public elementary school to teach five year olds Suzuki violin lessons," Rodriguez recalls. "They would give the lessons during naptime, and I must have gotten out to go to the bathroom. And I remember walking down the hallway and hearing these violins scratching out 'Twinkle Twinkle Little Star.' I was immediately drawn to that and came home and told mom I wanted to take violin lessons.
"Also," she adds, "I really hated naptime."
Group lessons soon led to private lessons, which led Carrie to a conservatory program at Oberlin. Enter Lyle Lovett, a family friend, who invited Carrie to sit in with his band at soundcheck in Cleveland, an experience that was both inspiring and frustrating. "My feel was awful and I knew it," she recalls. "But I was mesmerized by [Lovett fiddler] Andrea Zonn. I wanted to do what she was doing."
Rodriguez transferred to Boston's Berklee College of Music, where she found no shortage of resources for transforming "violin" into "fiddle. "Casey Driessen is now one of the greatest American fiddle players on the scene (plays with Bela Fleck, Tim O'Brien), and he was my roommate," Rodriguez recalls. "He taught me one of the first fiddle tunes I ever learned."
Berklee also set the table for a love of collaboration, which led to three duet records (and many touring miles) with singer/songwriter Chip Taylor, who was instrumental in helping Carrie to realize her debut album, SEVEN ANGELS ON A BICYCLE. The Associated Press raved, "…her voice has a character few achieve. Rather than a support player taking a minor turn, she uses her first solo album to mark her ground as a singular talent." For SHE AIN'T ME, Rodriguez knew it was time to form new collaborations and she ended up with an impressive list of co-writers, including Gary Louris (Jayhawks), Dan Wilson (Semisonic), Jim Boquist (Son Volt) and Mary Gauthier.
"I feel the most comfortable when I have someone to react to," Rodriguez says. "The process was completely different with each person I wrote with. For example, with Mary Gauthier we sat down one rainy afternoon in New York City and wrote the entire song, more or less. With Dan Wilson we just came up with a little melody and a few snippets of words while we were in the same room. Later, I wrote the verses, he came up with a great chorus, and we put the song together via e-mail and a few phone calls."
Lucinda Williams wasn't among the co-writers, but she makes her presence felt, singing backup on "Mask of Moses" while singing Carrie's praises elsewhere. After receiving a copy of SEVEN ANGELS ON A BICYCLE from Chip Taylor, Lucinda told the New York Times "...I have to say I am very impressed. She's got something unique in her voice that's very subtle and a little smoky and sweet. I detect a certain wisdom in her, and yet a sense of wonder as well." Rodriguez recalls, "Lucinda had sent me this beautiful email, saying how much she loved my record, and how she really saw something special there. And if I ever wanted to open up for her, that'd be great. It was like, wow! Merry Christmas!"
Rodriguez subsequently toured with Williams, and also sat in on fiddle during Lucinda's sets. And it was on the heels of a night out with Williams that Rodriguez met Malcolm Burn - whose work she'd admired on Emmylou Harris' WRECKING BALL (engineer and musician) and Chris Whitley's LIVING WITH THE LAW (producer and musician) - for an early chat about her next record. "I was pretty hung-over that morning, in my pajamas, looking like a train wreck," Rodriguez admits. "And Malcolm comes over, looking all dapper in his vintage three-piece suit."
Appearances were quickly dismissed as Malcolm made spot-on suggestions about Carrie's songs, and offered production ideas that made her feel her own project would be a worthy addition to the "desert island discs" Burn has already recorded. "I knew immediately that this was the guy," she recalls.
The result is a record that lives up to its name - an expectation-confounding statement, equal parts organic folk and expansive atmosphere, yet one that comes closest to revealing what Carrie Rodriguez is all about. Think you already know? Think again.
---