Rosebud is music industry's first Solar Powered facility >>


buy CDs via rosebudus.com and help music charities >>


Certified Green - The Rosebud Agency has been named among the first San Francisco businesses to become officially certified as a Green business. >>

---
Mavis Staples to appear on NPR's Tavis Smiley Show and NBC-TV's Conan O'Brien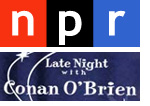 Mavis Staples, whose new Alligator Records CD "Have A Little Faith" is being received with critical praise, will appear on National Public Radio's "The Tavis Smiley Show" on Monday, September 27. Mavis talks to Smiley about her storied career as well as her new CD. Then on Wednesday, October 20, Staples is scheduled to perform on "Late Night With Conan O'Brien" on NBC Television. The Conan O'Brien appearance comes in the middle of tour dates with soul legend Al Green, with whom she performs on October 19 in Boston at the Orpheum Theatre and October 21 and 23 in New York at the Apollo Theatre and the Beacon Theatre respectively --see tour dates >>.
---
Blind Boys of Alabama and Ben Harper Join Forces - Virgin releases "There Will Be A Light" on September 21st.
After a history of live performances and studio collaborations, The Blind Boys of Alabama and Ben Harper will release a new studio album on September 21st entitled "There Will Be A Light" (Virgin) which features eleven tracks, mostly Ben Harper originals, but also includes covers of the traditional gospel song "(If I Could Hear My) Mother Pray" and the country folk classic "Satisfied Mind."
Initially, "There Will Be A Light" began as Ben Harper working with the Blind Boys on two songs for the Blind Boys next studio release. However, there was magic in the studio, and the sessions quickly turned into a full-blown collaboration. "They're one of the musical wonders of the world," Harper explains. A national television appearance is already confirmed; The Blind Boys will appear with Ben Harper on The Late Show with David Lettermen on October 11.
---
The Blind Boys of Alabama Rejoin The Award Winning Gospel At Colonus At The Legendary Apollo Theatre!
New York's legendary Apollo Theater welcomes the return of The Gospel At Colonus featuring The Blind Boys of Alabama, opening October 25th, 2004 and running through November 7th, 2004. Marking it's 20th Anniversary, this OBIE Award winning and Pulitzer and Tony Award nominated musical production transforms Sophocles' classic Greek tragedy (Oedipus at Colonus) into a contemporary, foot-stomping gospel masterpiece. The Apollo return also features noted theater, film and television actor Charles. S. Dutton, The Soul Stirrers and several New York choirs. -- see press release.
---