Rosebud is music industry's first Solar Powered facility >>


buy CDs via rosebudus.com and help music charities >>


Certified Green - The Rosebud Agency has been named among the first San Francisco businesses to become officially certified as a Green business. >>
---
Kaki King Featured On Acoustic Guitar Magazine Cover
Kaki is on the cover and is also the subject of a feature article in the December 2004 edition of Acoustic Guitar, the premiere magazine worldwide for serious acoustic guitar fans and musicians. Kaki's new CD, Legs To Make Us Longer, is just out on Epic Records. You can catch her on tour doing headline dates as well as supporting shows for Robert Randolph. -- see tour dates >>

---

David Lindley Featured on Warren Zevon Tribute Album
David Lindley is featured with an all-star lineup on Enjoy Every Sandwich: The Songs of Warren Zevon set for release October 19 on Artemis Records. The album features many of Zevon's best-known songs performed by a stunning array of artists including Bruce Springsteen, Bob Dylan, Jackson Browne, Don Henley, and many more. For the tribute album Lindley collaborated with Ry Cooder on the Zevon tune "Monkey Wash Donkey Rinse". David Lindley also has a new Live In Europe CD with Wally Ingram out now and available at davidlindley.com. Catch David Lindley on tour now -- see tour dates >>
---
Ben Harper/Blind Boys "There Will Be A Light" #1 Gospel CD!
After selling over 25,000 units in the US alone in the first two weeks since the release on 9/21/2004, There Will Be A Light featuring Ben Harper and The Blind Boys, remains the #1 selling Gospel CD in the US with a top 100 position on the pop charts for the second consecutive week as well. The much anticipated collaboration is also the #1 selling CD in both France and Italy and was a Top 10 entry in Switzerland, Australia and Portugal's pop charts.
buy "There Will Be A Light" at Amazon.com >>
---

Living Blues Polls Honor Bettye LaVette, Charlie Musselwhite
Bettye LaVette was named Best Female Blues Artist in the just released Living Blues Critics Poll and Charlie Musselwhite was honored as Best Harmonica Player in the Living Blues Readers Poll. Bettye had also scored a WC Handy Award this year for Best Comeback Album of the Year and Charlie Musselwhite is a perennial Handy Award winner for Best Harmonica Player. The results of the Living Blues Polls are in the current September/October issue of the magazine.

---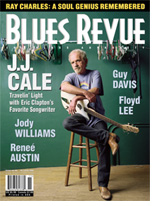 JJ Cale Blues Revue Cover, Clapton Film and More
JJ Cale is featured on the October/November Blues Revue cover with an extensive and entertaining interview. Cale is also featured in an extensive interview in the November issue Vintage Guitar Magazine and in a full page feature in the current Fader Magazine. Watch for Cale's appearance in the DVD and PBS film of Eric Clapton's Crossroads Guitar Festival featuring Eric performing with Cale throughout his set at the all-star event.
Order "Crossroads Guitar Festival" DVD from Amazon.com >>

---