---
Mavis Staples in Rolling Stone and on WBEZ's Eight Forty-Eight
The current issue of Rolling Stone features a review of Mavis Staples' new CD Have A Little Faith and proclaims Mavis "still delivers a spine-chilling amen". The review comes in a double issue featuring the Best 500 Songs of All Time including two Staple Singers classics - "Respect Yourself" and "I'll Take You There". Mavis was also recently interviewed by Richard Steele on WBEZ Chicago's daily magazine program Eight Forty-Eight. The interview covers Mavis' legendary career—from her early fame with the Staple Singers to her 2004 solo release.
Listen WBEZ Eight Forty-Eight interview >>
---

BeauSoleil Featured on "Christmas Gumbo" Holiday CD!
Grammy winners and renowned Cajun music masters, BeauSoleil, contribute the song, "Papa St. Nick", to the holiday CD release, Christmas Gumbo. Other Louisiana notables featured on the project include Irma Thomas, Aaron Neville, Allan Toussaint, The Subdudes and The Hackberry Ramblers.
ChristmasGumboCD.com >>
Buy "Christmas Gumbo" at Amazon.com >>
---
Kaki King On NPR's Weekend Edition
Kaki King recently visited Weekend Edition at NPR's New York studios to chat and entertain listeners with her unique style of playing. "The Queen of Acoustic Guitar", as dubbed by NPR, performed three songs from her excellent Epic debut CD plus one as yet unreleased composition. The NPR site contains both audio and video of Kaki's performance.

---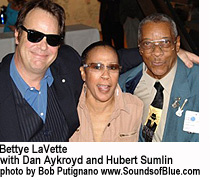 Bettye LaVette Performs On Sirius Radio for Dan Aykroyd Special
Bettye LaVette performed with an all star group of musicians on Sirius radio network in conjunction with the release of Dan Aykroyd's and Ben Manilla's new book "Elwood's Blues, Interviews with the Blues Legends & Stars". In celebration of the release, Backbeat Books & The Sirius Satellite Network joined together and co-hosted a performance which featured blues greats from around the world. The band consisted of: Bettye, Mose Allison, Hubert Sumlin, Michael Hill, David Maxwell, Jerry Jemmott, "Blue" Lou Marini, Calvin Owens, Terry Silverlight, Nikki Armstrong, Ben Griffin, Rob Paparozzi, and Dan Aykroyd. The show will air on Nov. 15, 10PM (ET) on SIRIUS Blues.
Buy "Elwood's Blues, Interviews with the Blues Legends & Stars" from Amazon.com >>
---

Robert Cray's "Time Will Tell" Released on New DualDisc Format
Silverline Records has just released Robert Cray's Time Will Tell CD on the revolutionary new DualDisc format, a two-sided disc with CD content on one side and DVD content on the other. The CD side plays in all but a limited number of CD and DVD players while the DVD side plays wherever a DVD plays, including many gaming consoles and computers. Available now at leading retailers, the CD/DVD features the entire Time Will Tell CD with all tracks re-mixed in 5.1 surround sound. The package also includes an exclusive video of a portion of the band's live performance on the syndicated Mountain Stage program as well as links to lyrics, photo galleries and upcoming shows. More bonus features are available at DVDlauncher.com.
---

Eric Clapton's Crossroads Guitar Festival DVD Features JJ Cale and Robert Cray plus Duke Robillard
JJ Cale and Robert Cray are both featured on the just released two disc, four hour plus DVD of Eric Clapton's Crossroads Guitar Festival which took place in Dallas this past June. Duke Robillard is also shown performing with blues legends Honeyboy Edwards and Robert Lockwood Junior. The DVD chronicles the festival which brought together dozens of the world's top rock, blues, country, jazz, and folk guitarists and also included Rosebud artist, Johnny A.. Check out the Crossroads Media Player for clips and snapshots from the festival.
Buy "Crossroads Guitar Festival" DVD from Amazon.com >>
---