Rosebud is music industry's first Solar Powered facility >>


buy CDs via rosebudus.com and help music charities >>


Certified Green - The Rosebud Agency has been named among the first San Francisco businesses to become officially certified as a Green business. >>

---
Robert Cray Set For Induction In Hollywood Rock Walk April 4
Robert Cray joins Etta James, Solomon Burke, Ike Turner, and posthumously, Muddy Waters on April 4 in a joint ceremony for their individual inductions in to the celebrated Hollywood Rock Walk.

---

The Blind Boys perform on NAACP Image Awards - March 25 on FOX
The Blind Boys of Alabama will perform at the 36th Annual NAACP Image Awards, airing March 25 from 8pm to 10pm on FOX. The band will sing the slow blues-cum-gospel song "Faith & Grace," from their new album Atom Bomb on Real World Records. The performance will pay homage to those who passed on in 2004 including Ray Charles, Ossie Davis, Rick James and The Blind Boys' own founding member George Scott who passed away peacefully on 3/8/2005.
---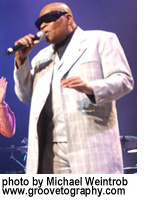 LEGENDARY BLIND BOYS OF ALABAMA VOCALIST GEORGE SCOTT DIES AT 75
George Scott of The Blind Boys of Alabama passed away on peacefully Wednesday (March 9) at his home in Durham, N.C. He was 75.
"We're grateful to the Lord for letting us have George for as long as we did," said Blind Boys leader Clarence Fountain, who was one of the last people Scott spoke to before his death. "He and I grew up together and sang together from little boys to old men. George was a great singer, he could sing any part in a song. We loved him and he was one of the 'Boys.' He lived a life of service and now he's gone on to his reward."
Though Scott retired from touring last year, he continued to record with the group and will be heard on its new album, Atom Bomb, due Tuesday (March 15) from Real World Records. No changes are planned in the Blind Boys' touring schedule, which picks up again with a March 18 showcase at the South by Southwest Music Festival in Austin, Texas.
Funeral services are scheduled for Tuesday (March 15) at Peace Missionary Baptist Church in Durham. His family has asked that mourners make donations to the American Diabetes Associations or send flowers to the city's Holloway Funeral Home.
For more details see George Scott Obituary >>
---