---

Bettye LaVette On David Letterman July 28!
Bettye LaVette has just been booked to perform on The Late Show with David Letterman this Thursday, July 28. Bettye will perform "Little Sparrow" from her upcoming release, I've Got My Own Hell To Raise, with the Letterman band. The new Anti Records CD is set for release on September 27 with extensive touring to follow.-- see tour dates.
Watch Web-Exclusive Bettye LaVette "Little Sparrow" >>
---

Bill Frisell and other Rosebud Artists Honored in Downbeat Critics Poll
Bill Frisell was voted Best Guitarist in the annual critics poll in the current issue (Aug 2005) of Downbeat magazine. Bill also ranks in several other categories including Best Jazz Artist, Best Composer, Best Arranger, Best Electric Group and Best Jazz Album for his 2005 Grammy winning CD Unspeakable. Individual musicians from Bill's various touring bands were also recognized as Jenny Scheinman was voted top Rising Star Violin and Sam Yahel was voted top Rising Star Organ. Brian Blade was also acknowledged in both the Best Drums and Rising Star Drums categories with Ron Miles ranking in Rising Star Trumpet.
Rosebud artists Mavis Staples, Bettye LaVette, Charlie Musselwhite, The Blind Boys of Alabama and Duke Robillard also ranked among the best blues artists. Mavis Staples and Bettye LaVette were recognized in the Best Blues Artist and Rising Star Blues Artist categories, respectively. The Best Blues Album category acknowledged Charlie Musselwhite (Sanctuary), Mavis Staples (Have A Little Faith), Ben Harper and The Blind Boys of Alabama (There Will Be A Light) and Duke Robillard and Ronnie Earl (The Duke Meets The Earl).
---
JJ Cale's "Cocaine" in The Bad News Bears Film & Soundtrack CD
JJ Cale's classic, "Cocaine", is back in the movies in the just released Bad News Bears with Billy Bob Thornton. Eric Clapton's version of "Cocaine" is in the film and on the soundtrack CD.


In the meantime, JJ Cale has been working on a few major projects. Watch for announcements coming soon.

---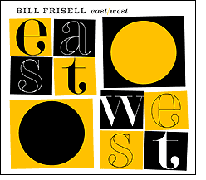 Bill Frisell New Live CD "East/West" Out August 9
Bill Frisell's new CD East/West will be released August 9 on Nonesuch Records. The double disc captures two live trio performances with drummer Kenny Wolleson and bassist Tony Scherr at New York's Village Vanguard, as well as a show with Wolleson and bassist Viktor Krauss at Yoshi's in Oakland. Beyond covers of Bob Dylan's "A Hard Rain's A-Gonna Fall" and Marvin Gaye's "I Heard It Through the Grapevine," the "West" disc sports such Frisell originals as "Blues for Los Angeles," "Boubacar" and "Pipe Down." "East" contains originals "Ron Carter" and "The Vanguard" alongside covers such as Henry Mancini's "The Days of Wine and Roses," and Johnny Cash's "Tennessee Flat Top Box". The always-busy Frisell who can also be seen on the July cover of Downbeat magazine has tour dates lined up throughout 2005 -- see tour dates.
---

Loudon Wainwright III On Conan O'Brien July 13
Loudon Wainwright III returns to perform on Late Night with Conan O'Brien on Wednesday July 13. Loudon has been touring extensively in the US and Europe in support of his new Sovereign Records CD, Here Come The Choppers. Loudon was recently seen as a singer in Martin Scorsese's The Aviator. He also played the role of a mayor in Tim Burton's The Big Fish and he will be featured in Cameron Crowe's upcoming film, Elizabethtown, with Orlando Bloom, Susan Sarandon, Kirsten Dunst, and Alec Baldwin.
---
Kaki King Named One Of Top 50 Players In Acoustic Guitar Magazine Poll
Kaki King was named one of the top 50 favorite players in Acoustic Guitar Magazine's Reader's Poll. Kaki was one of only three women and the youngest person overall honored. The poll is featured in the July edition of Acoustic Guitar magazine - the premier world-wide acoustic guitar magazine for over 25 years. Watch for Kaki King on tour.
---