Rosebud is music industry's first Solar Powered facility >>


buy CDs via rosebudus.com and help music charities >>


Certified Green - The Rosebud Agency has been named among the first San Francisco businesses to become officially certified as a Green business. >>

---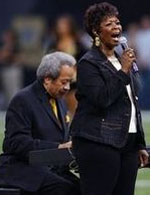 Rosebud artists Allen Toussaint and The Dirty Dozen's Gregory Davis featured in National TV Broadcast of Superdome Re-opening Celebration
The New Orleans Saints returned to the Superdome with a nationally televised grand celebration in which Rosebud artists Allen Toussaint and The Dirty Dozen's Gregory Davis were highly visible. Gregory lead a group of brass musicians to the foot of the stage, preceding a performance by U2 and Green Day. U2's Bono even name dropped Allen Toussaint in the lyric to "Beautiful Day". Later, the national anthem was performed by legendary New Orleans icons Irma Thomas and Allen Toussaint.

---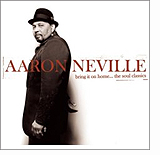 Mavis Staples featured on Aaron Neville's new album "Bring It On Home - The Soul Classics"


Mavis Staples is featured on Aaron Neville's "Bring It On Home - The Soul Classics," just released on Burgundy Records. The new album is a collection of 13 of Aaron's favorite soul songs. A former Rosebud artist as a member of The Neville Brothers, Aaron recruited current Rosebud artist Mavis Staples to join him on the classic track "Respect Yourself." Other guests on the album include Art Neville, David Sanborn, Chaka Khan and Chris Botti.

---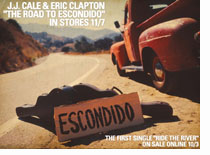 JJ Cale and Eric Clapton join forces on new CD, "The Road to Escondido"


JJ Cale and Eric Clapton have joined forces on their new CD, The Road To Escondido, to be released November 7. In a true collaboration, Cale and Clapton jointly produced and recorded the album's 14 tracks, 11 of which are JJ Cale compositions. The project came about when, after joining Cale on stage for his set at Clapton's Crossroads festival, Clapton asked Cale to consider producing an upcoming album for him and the depth of the collaboration grew from there. In addition to veterans of Cale's touring band, guest musicians on the album include Taj Majal, John Mayer, Derek Trucks, Albert Lee, Doyle Bramhall II, Steve Jordan, Willie Weeks, Pino Palladino, Nathan East and Billy Preston to whom the project is dedicated along with Clapton's late friend Brian Roylance.
---
Muddy Waters and The Staple Singers Featured on Mojo's "The Roots of Bob Dylan"

Rosebud artists, the late Muddy Waters and The Staple Singers are featured on Mojo Magazine's "The Roots of Bob Dylan". The CD, included with the September 2006 issue, is a compilation of music that helped shape Dylan's "world view and his music." The album features "Rollin Stone" by Muddy Waters (which also inspired the name of the legendary rock group). Also included is The Staple Singers, "Uncloudy Day", which Bob also played on his radio show recently.
Bob Dylan has connections to other Rosebud artists as well including the late John Lee Hooker who Dylan opened for in his New York City debut and whose friendship lasted for decades after. John Hammond and Bob were also good friends going all the way back to the days prior to John's father signing Bob to his first record deal with Columbia. And Mavis Staples and Bob, also long time friends, were nominated for a Grammy in 2003 for their duet "Gotta Change My Way of Thinking." Other collaborations by Rosebud artists on stage or record include work with Bob and Rosebud artists Booker T. Jones, David Lindley and Duke Robillard.
---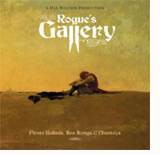 Loudon Wainwright III and Bill Frisell Featured on All Star "Rogue's Gallery"


Loudon Wainwright III and Bill Frisell are both featured on Anti Record's two-CD release, "Rogue's Gallery: Pirate Ballads, Sea Songs and Chanteys." The project, inspired by actor Johnny Depp and film director Gore Verbinski and produced by Hal Willner, is a collection of songs from this lost genre. Loudon contributes his version of the songs "Turkish Revelry" and "Good Ship Venus" while Bill Frisell reinterprets "Spanish Ladies" for the collection. Other artist featured on the album include Bono, Sting, Nick Cave, Lou Reed, Lucinda Williams and actor John C. Reilly.
---