---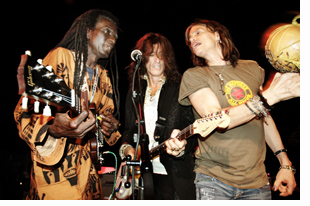 Sierra Leone's Refugee All-Stars joined by Aerosmith's Joe Perry and Steven Tyler to Kick Off US Tour
Sierra Leone's Refugee All-Stars kicked off their North American tour on October 20 at the Belcourt Theatre in Nashville joined by surprise special guests Joe Perry and Steven Tyler of Aerosmith. Joe Perry joined the band halfway through their set, lending his guitar licks to several of "The Refugees" songs. Steven Tyler then joined in on an extended reggae medley jam. The two had been moved by the documentary on their group and have been lending their support ever since. Sierra Leone's Refugee All-Stars will open for Aerosmith at the Mohegan Sun Arena on Nov 29.
Sierra Leone's Refugee All-Stars' tour dates >>
---
John Lee Hooker Box Set Released by Shout! Factory


John Lee Hooker's first-career box set has just been released by Shout! Factory. John Lee Hooker, legendary blues original and undisputed father of the boogie, recorded for dozens of labels over a span of over 50 years. The 4-CD set, entitled Hooker, culls material from the primitive 1948 recording of "Boogie Chillen'", a million seller at the time, to a version of the same song recorded exactly 50 years later in 1998 with Eric Clapton. Hooker also features performances by Van Morrison, Ben Harper, Bonnie Raitt, Carlos Santana, Ry Cooder, Robert Cray, Jimmie Vaughan, Charles Brown and Los Lobos. Rosebud founder Mike Kappus acted as Executive Producer on all recordings since the late 1980's and as Co-Producer on Eric Clapton and Ben Harper tracks.

http://www.amazon.com/exec/obidos/ASIN/B000IU3YN2/therosebudage-20
---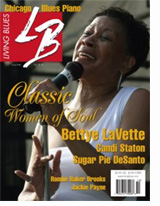 Bettye LaVette Living Blues Magazine Cover Feature
Bettye LaVette graces the cover of the September/October Living Blues Magazine. The issue includes a 10 page feature on Bettye, chronicling her long career and her recent "breakthrough." Bettye's album I've Got My Own Hell to Raise continues to receive raves from reviewers and audiences Worldwide-including a just issued 5 page feature in Netherlands' Vrij Magazine.

---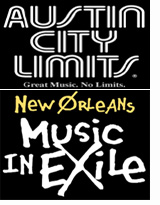 Marcia Ball Featured in Three National Television Programs
Marcia Ball is featured in three national television programs currently airing. She is a guest artist in The New Orleans Social Club's Austin City Limits performance on PBS. The band features members of The Neville Brothers, members of The Meters, Raymond Weber and Henry Butler. Marcia Ball performs as a special guest, singing "Red Beans", and joining her close friend Irma Thomas on "Look Up and Yield Not To Temptation." She also graces Robert Mugge's film, "New Orleans Music In Exile", airing on the Starz cable television network. The film follows many New Orleans musicians after the devastation caused by Hurricane Katrina. Ball delivers a new keyboard to piano legend Eddie Bo and performs two songs, including Randy Newman's "Louisiana 1927". Finally, in a show filmed for PBS earlier this year, Ball joins the Cincinnati Pops Orchestra in "Cincinnati Pops: A Musical Celebration of America's Rivers." She performs "Way Down Yonder In New Orleans" and "Louisiana 1927."
---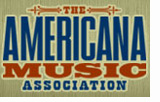 Allen Toussaint Honored with Lifetime Achievement Award
Allen Toussaint was honored with a Lifetime Achievement Award for Producer/Engineer at the Americana Music Awards. The award was presented by Elvis Costello who cited Toussaint's classic recordings with artists such as Irma Thomas, Ernie K-Doe, Chris Kenner, The Band and LaBelle. Costello and Toussaint capped off the event by performing a track from their album The River in Reverse before leading the crowd in a gospel sing-along and a version of Bob Dylan's "Blowin' in the Wind." Other stars performers included Dave Alvin, Rosanne Cash, Alejandro Escovedo and Ruthie Foster.
---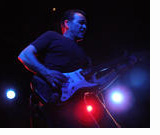 Mayor of San Francisco declares October 14 "Tommy Castro Day"
San Francisco Mayor Gavin Newsom's office has announced that October 14th will be declared "Tommy Castro Day" in recognition of his support of various community projects as well as his musical achievements. A representative of the Mayor's Office will present Tommy with the Mayor's Proclamation at his show at Slim's on October 14th.
Tommy Castro will also be honored by the North Beach Chamber of Commerce who will have his image painted onto a building-wide mural at the intersection of Broadway and Columbus Streets. Tommy started his career by playing in the clubs in North Beach and the mural features cultural icons and heroes from that storied neighborhood's illustrious history.
---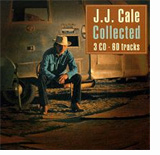 JJ Cale's "Collected" Goes Gold in The Netherlands
JJ Cale's, Collected, has just achieved gold sales status in The Netherlands. The 3 disc compilation features studio and live tracks from throughout Cale's career as well as never before released tracks from a radio session taped in Holland on his last tour there in 1994. The album is currently only available in The Netherlands where it reached #1 in August and is still enjoying a spot in the Top 10.
JJ Cale's latest project is a full CD collaboration with Eric Clapton entitled The Road To Escondido which will be available worldwide on November 7. The first single from the CD, "Ride The River", is now available as a download on iTunes.
---

Marcia Ball featured in PBS special, "Cincinnati Pops: Take Me to the River"
Marcia Ball's performance with Cincinnati Pops Orchestra was recently featured in a PBS special entitled "Cincinnati Pops: Take Me to the River." The special featured a live performance presented by The Cincinnati Pops Orchestra, celebrating America's rivers. Marcia Ball was a special guest, as were Gregg Baker and The Preservation Hall Jazz Band. Marcia is having a banner year this year, having received another Grammy nomination (her third) and once again being one of the most nominated artists at the Blues Music Awards. 2006 is also one of her busiest tour years.

Watch Preview "Cincinnati Pops: Take Me to the River" of at Cincinnati Public Media >>
---