Rosebud is music industry's first Solar Powered facility >>


buy CDs via rosebudus.com and help music charities >>


Certified Green - The Rosebud Agency has been named among the first San Francisco businesses to become officially certified as a Green business. >>
---
Mavis Staples New CD Live: Hope at the Hideout Out November 4


Mavis Staples will release her first live solo CD Live: Hope At The Hideout on election day - November 4, 2008. The album was recorded in Mavis' hometown of Chicago last June at The Hideout, Chi-Town's renowned stronghold of alt country and purist rock and roll. The audience who packed the sold-out club were blessed with a riveting musical statement as Mavis, backed by her fiery three-piece band and three backup singers, put on a rousing musical tour de force captured live for the rest of us. It's also fitting that Mavis' record will come out the same day that one of the most momentous elections in U.S history will be decided. Mavis' dedication to social justice and freedom spans over 40 years of modern history as her voice became a living soundtrack to the Civil Rights Movement in the 1960's with The Staple Singers, and in 2007 she won an Americana Music Association "Spirit of Americana" Free Speech Award created to honor artists who have incited discussion and worked against the status quo through their music and their actions.
To download a free track from the CD ("We Shall Not Be Moved"), as well as read more about Live: Hope At The Hideout please go to: http://www.anti.com/artists/view/44
To see Mavis Staples on tour, please see tour dates >>
---
Bettye LaVette's New Video For "Talking Old Soldiers" / Austin City Limits Appearance

Bettye LaVette just completed a new video for her cover of "Talking Old Soldiers". The song, from her latest CD The Scene of the Crime features the Drive By Truckers as her backing band. USA Today noted that Bettye "transforms Elton John's Tumbleweed Connection obscurity into a tour de force about outliving the people one loves the most. "How the hell do they know what it's like to have a graveyard for a friend?" she wails, looking around the bar at the youngsters who've dismissed her as a crazy old lush…LaVette's chill-inducing performance is without question one of the finest you'll hear all year." The video was filmed by Lex Halaby in The Locker Room, a bar in her hometown of Detroit, where she spent many a night feeling the things that appealed to her in the lyrics of the song. Bettye said she chose to record "Talking Old Soldiers," because "it is a true segment of my life."
Bettye will also be featured on Austin City Limits beginning the week of October 11. Please check their website for your local PBS station schedule >>
See Bettye LaVette live this fall: tour dates >>
---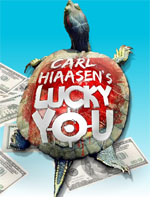 Loudon Wainwright III Music In New UK Play / Mountain Stage Feature
Loudon Wainwright III has written original music featured in the stage adaptation of Carl Hiaasen's novel, "Lucky You," which premiered August 2 at the Edinburgh Fringe Festival. The show is directed by Matthew Francis and will be playing at the Oxford Playhouse in England September 1-6. For details, please visit seeluckyyou.com >>
Loudon was also recently featured on NPR's Mountain Stage including duets with daughter Lucy Wainwright Roche on two songs. Listen to the show here >>
Loudon is touring extensively in the wake of acclaim for his new CD, Recovery. Rolling Stone stated "Wainwright's voice sounds better than ever, adding the weight of history to songs that were poignant to begin with". Please see tour dates >>
---