---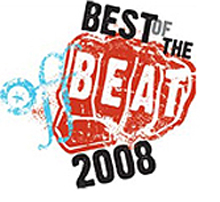 Rosebud Artists Honored With New Orleans Best of The Beat Nominations
Rosebud Artists are once again figuring prominently among those honored with nominations for Best of The Beat Awards presented by OffBeat magazine, recognizing the best of New Orleans music. Nominees are selected by the editors and writers of OffBeat and the public has the opportunity to vote for the winners. Vote here as the polls close January 22. The awards take place January 31 at the House of Blues in New Orleans.
Rosebud Artists nominated are Trombone Shorty and Orleans Avenue for Best R&B / Funk Band or Performer - a category they won last year. Trombone Shorty himself is nominated for his third Artist / Band of the Year award and for Best Trumpet player. Also nominated for Best R&B / Funk Band are Jon Cleary and the Absolute Monster Gentlemen, who have recently joined the Rosebud roster. Jon Cleary is also nominated for Best Piano / Keyboards player. Dr. John's City That Care Forgot, which features a guest performance by Trombone Shorty, is nominated for both Album of the Year and Best R&B / Funk Album. The Dirty Dozen Brass Band have been nominated for Best Brass Band, a category they have won a number of times in the past. Best Cajun Band or Performer nominees include 12-time winners BeauSoleil avec Michael Doucet. Michael Doucet's solo CD, From Now On, is nominated for Best Cajun Album and Michael is also nominated for a Violin / Fiddle award.
Best of luck to all the nominees!
---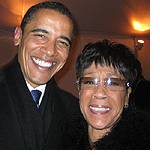 Bettye LaVette Featured At Pre-Inauguration Concert
Bettye LaVette was featured at the We Are One: The Obama Inaugural Celebration At The Lincoln Memorial, the opening event for the Presidential Inaugural on January 18, 2009. She delivered a stirring rendition of "A Change Is Gonna Come" with Jon Bon Jovi. The event was presented by HBO. Bettye's performance can be seen here with the full show available here. See pictures from the event here and here.
This follows close on the heels of Bettye's stunning performance at the The Kennedy Center Honors which aired on the CBS network on December 30 and can be seen here.

See Bettye live on tour (more dates to be added soon) >>
---

Bettye LaVette To Duet At Obama Pre-Inauguration Event January 18 With Jon Bon Jovi
Bettye LaVette has been invited to sing "A Change Is Gonna Come" with Jon Bon Jovi at a star studded event kicking off the opening Obama Inaugural festivities on January 18, 2009. We Are One: The Obama Inaugural Celebration At The Lincoln Memorial, the Opening Celebration for the Presidential Inaugural, will be presented exclusively by HBO on Sunday (7:00-9:00 p.m. ET/PT) January 18. The event will be free and open to the public, kicking off the most open and accessible Inauguration in history. Other artists appearing include Beyonce, Mary J. Blige, Bono, Garth Brooks, Sheryl Crow, Herbie Hancock, John Legend, John Mellencamp, Usher, Shakira, Bruce Springsteen, James Taylor, will.i.am, and Stevie Wonder. Among those reading historical passages will be Jamie Foxx, Martin Luther King III, Queen Latifah and Denzel Washington. This follows close on the heels of Bettye's stunning performance at the Kennedy Center Honors which aired on the CBS network on December 30.
See Bettye live on tour this Winter >>
---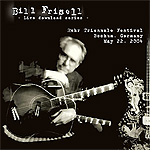 Bill Frisell New Releases Including Download Series and Live DVD
Bill Frisell has initiated a unique monthly download series of live recordings available on Bill's website. The first offering was recorded at the Ruhr Triennale Festival in Bochum, Germany on May 22, 2004. The second in the series has just been released, a classic solo performance from Grace Cathedral in San Francisco recorded on
March 16, 2007.
Bill has also released a DVD of a 2004 solo session from the atmospheric Berkeley Church in Toronto. The film is beautifully shot by Director Daniel Berman.
In other recording news, Bill collaborates with one of his musical mentors, the legendary guitarist Jim Hall on the recently released Hemispheres, a double CD on the Artist Share label. One CD showcases Bill and Jim's duo collaboration while the other disc features the two artists in a quartet format with Scott Colley on bass and Joey Baron on drums.
For more details or to purchase these new releases, please visit Bill's website. Catch Bill live on the road, please see tour dates >>
---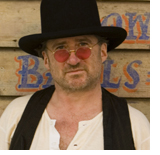 Jon Cleary Signs With The Rosebud Agency
The Rosebud Agency has signed New Orleans singer, songwriter and piano master Jon Cleary for exclusive worldwide representation. Cleary, born in England, is an adopted son of the Crescent City, who's made good his citizenship with five soul-soaked R&B funk albums with the Absolute Monster Gentlemen. He has collaborated with a long and diverse list of artists including India.Arie, Taj Mahal, Ryan Adams, B.B. King, Irma Thomas, Keb Mo and many more and is a longstanding member of Bonnie Raitt's touring band. According to Bonnie Raitt, "Jon Cleary is the ninth wonder in the world."
Cleary recently recorded on John Scofield's new CD, scheduled for a Spring release. A subsequent 2009 tour sees Jon spending a great deal of his time on the road in Europe, the US and Japan on keys and as featured vocalist with Scofield and The Piety Street Band (also featuring George Porter, Jr. and Ricky Fataar (Bonnie Raitt). One segment of the tour is capped at the 40th Annual New Orleans' Jazz Fest where Jon will perform with both Raitt and Scofield on the same day, returning two days later to perform with his own band on the festival's closing day. Only rare dates are available for Cleary in 2009 between an already hectic touring schedule and work on a new Jon Cleary CD.
---
---