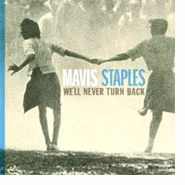 MAVIS continues to get great reviews wherever she goes!
WE'LL NEVER TURN BACK is being hailed as a triumphant success! Here is what some of the most respected publications have to say about it.
---


"Mavis Staples's 'We'll Never Turn Back' is bluesy, unvarnished, gutsy and knowing. Exhorting, confiding, moaning or chuckling, she's serious about these songs, with a fervor and pride that reclaims civil rights as a moral crusade. The music is righteous ... and never far from roots in the Mississippi mud." - Jon Pareles


"An excellent example of a great singer finally creating a fully realized statement...this album serves as Mavis Staples's magnum opus" - Ashley Kahn

"Staples' state of the union address" - Dave Hoekstra


"Her music has the power to create change. You shall be moved." - Michael McCall

"There are voices that never lose their resonance, and songs that never lose their relevance. Staples delivers both." - Elysa Gardner


"Staples keeps her eyes on the prize on this inspired collection...this is a history lesson with heart and plenty of soul."


"At once intimate and larger than life ... age has darkened her timbre, bringing a gravitas to her proclamations." - Richard Cromelin

"Staples' voice [is] rich, weathered, and full of fire ... her eyes still on the prize." - Will Hermes


"Even as she mourns Katrina, hope remains the strongest quality in Staples' voice - and this album trembles with it." - Julianne Shepherd

"Extraordinary...one of the best collections of songs Staples has ever made. She sounds more fiery and inspired than ever." - Greg Kot ...more >>


"For Mavis Staples, one of the most stirring gospel and soul singers of all time, [the album] couldn't be timelier - or more prophetic ... Rarely have "remakes" sounded so tonic or inspired." - Bill Friskics-Warren


"Mavis Staples doesn't so much sing a song as baptize it in truth." - Renee Graham

"[These songs] have the kick of punk-soul. Staples and [producer and guitarist Ry] Cooder chiseled a brutal sound, using just a four-piece, rock edged band to back Mavis' gutteral wonder of a voice." - Jim Farber

"Staples calls it like it is, not just how it was, from Katrina to Kabul. By the third track, you'll be shouting along." - John Corbett

"Unifying, uplifting and a proud, [an] unyielding rallying cry for change." - Glenn Gamboa


"Electrifying...raw and powerful."


"It's hard not to be won over by the project's eerie majesty"



"An album that can only add to her legend."



"Cooder and Staples work well together, his epic sound-scapes pushing her to sing in a fiery way….Stunning" ...more >>