April 24, 2007 from ANTI- RECORDS


For Immediate Release
December 19, 2006
Mavis Staples Breathes New Life and Personal History into Songs of the Civil Rights Movement with 'We'll Never Turn Back' (April 24, 2007), Her Debut for Anti- Records

Ry Cooder Produces Album with Backing from Original Freedom Singers, Ladysmith Black Mambazo and others

"Like many in the civil rights movement, The Staples Singers drew on the spirituality and strength of the church to help gain social justice and to try to achieve equal rights. With this record, I hope to get across the same feeling, the same spirit and the same message as we did then - and to hopefully continue to make positive changes. Things are better but we're not where we need to be and we'll never turn back." - Mavis Staples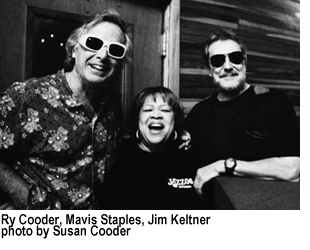 Soul/gospel legend Mavis Staples recently completed work on We'll Never Turn Back, the most personal and polemical album of her career. Set for April 24 release, the album was produced by Ry Cooder, and marks Mavis' debut for Anti- Records.

We'll Never Turn Back combines raw, emotional, contemporized versions of some of the freedom songs that provided the soundtrack to the civil rights movement of the 1950s/60s, along with other traditional songs, and new originals written by Mavis and Ry.

Soul music authority Rob Bowman ('Soulsville USA: The Story of Stax Records') listened to We'll Never Turn Back and had this to say:

"For over fifty years, Mavis Staples has been a national treasure, working her vocal magic on the highways and byways of gospel, folk and soul music. With both her family group, the Staple Singers, and as a solo artist in her own right she has helped to define much of what is righteous and soulful in American music. In the early 1960s, the Staple Singers began to work with Dr. Martin Luther King singing in support of the Civil Rights movement.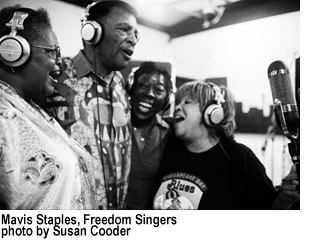 With We'll Never Turn Back, Mavis Staples has come full circle, singing songs that were seminal to a movement and time that helped form her as an artist. Alongside songs that were inextricably part of the Civil Rights movement, many of them associated with the Freedom Singers, Mavis co-wrote the title track with producer and guitarist extraordinaire Ry Cooder, sings a Cooder original, "I'll Be Rested," and opens the CD with a cover of bluesman J.B. Lenoir's "Down in Mississippi," connecting the disc to her own roots down South.

For many artists, such a project would be an exercise in recreating period pieces in much the same way that museums present the past as freeze-frame tableaux. Mavis takes a different path, personalizing the record, ad libbing spoken and sung commentary on several songs, connecting the lyrics to her own life, her family and, perhaps most tellingly, to the very real issues of today. Ry Cooder with the help of his son Joaquin, drummer Jim Keltner, bassist Mike Elizando, many of the original Freedom Singers and South African choir Ladysmith Black Mambazo, creates soundscapes for Mavis' deep-in-the-well, heart felt vocals that redefines much of the material while simultaneously casting it in a rich, vibrant deeply rooted past.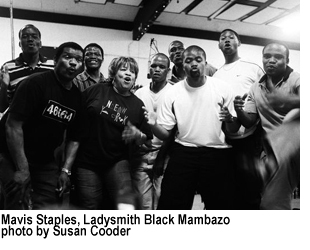 We'll Never Turn Back may have started off as an homage to a period in which everyday citizens exhibited incredible bravery and, in the process, wrought incredible changes to American society. It ended up being a deeply personal account of Mavis' life from childhood days in Mississippi, through the Civil Rights era and on up to her current anger and indignation over the fact that many Americans are still treated as second class citizens. The net result is perhaps her greatest life work and one of the most moving albums this writer has ever heard. If there is any justice, We'll Never Turn Back will inspire many of us to find bravery in our own hearts, conquer the rampant apathy that blankets our society and take action to right the wrongs in our present day society."

Track listing:

1. "Down In Mississippi" (JB Lenoir)
2. "Eyes On The Prize" (Traditional)
3. "We Shall Not Be Moved" (Traditional)
4. "In The Mississippi River" (Marshall Jones)
5. "On My Way" (Traditional)
6. "This Little Light" (Traditional w/ lyrics & arr. by Ry Cooder)
7. "99 And A Half" (Traditional w/ lyrics & arr. by Ry Cooder)
8. "My Own Eyes" (Mavis Staples, Ry Cooder)
9. "Turn Me Around" (Traditional)
10. "We'll Never Turn Back" (Bertha Gober)
11. "I'll Be Rested" (Ry Cooder)
12. "Jesus Is On The Main Line" (Traditional)
For more information: