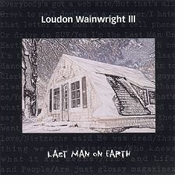 released in 2001 from REDHOUSE RECORDS


Veteran singer/songwriter Loudon Wainwright III released his new studio album, Last Man On Earth, on September 25. The album is his first for the Red House Records label, home to some of the finest acoustic performers in the world. Red House label President Bob Feldman is a long time fan and has attended Loudon's Twin Cities appearances for years.
Two years ago Wainwright released Social Studies, an acclaimed collection of topical songs written throughout the 1990's. Last year, he released The BBC Sessions, a collection of his best recordings from 30 years of live sessions at BBC radio. Last Man On Earth, his first album of newly recorded material in four years deals with more personal subjects, the loss of his mother being a central theme.
Originally Wainwright had planned to call the album Missing You, which is the opening track on the CD, however after a live audience poll at McCabe's Guitar Shop in Santa Monica, Last Man On Earth became the title track. The song was given a national television premier some months ago on Late Night With Conan O'Brien.

The album was produced by Stewart Lerman, who has also produced for The Roches, Dar Williams, Jules Shear, and the acclaimed folk compilation Bleecker Street. The album also features arrangements by Dick Connette of the group Last Forever.

Last Man On Earth's release came on the same day as the September 25 premier of the Fox Television series, Undeclared, in which Wainwright plays Hal Karp the father of college freshman, Steven. Hal is recently separated and spends a good deal of his time on campus constantly showing up unexpectedly at Steven's dorm, to the younger Karp's embarrassment but to the amusement of his room mates and fellow freshmen.

Wainwright's role as the somewhat dysfunctional father in "Undeclared" came as a result of creator/director Judd Apatow ("Freaks & Geeks") being a long-time fan of his music.

Apatow tracked the singer down wanting to know if he had ever acted. Wainwright, in fact, studied acting and has appeared in television ("M*A*S*H") and movies ( "Jacknife" starring Robert De Niro and most recently "28 Days2 starring Sandra Bullock.) He appears in seven of Undeclared's 13 completed episodes.

The combination of the television role, as well as his real-life role as father of four children won him a citation as "Hot Dad" in the forthcoming Hot Issue of Rolling Stone. Loudon's song, "One Man Guy" is featured on his son, Rufus Wainwright's new CD, Poses. Loudon Wainwright III will tour the U.S. upon his return from the Cambridge Folk Festival in late July.
---
Loudon Wainwright III On PBS' Life 360 June 13
June 2002, Rosebud News
Loudon Wainwright III will perform "No Sure Way" On PBS' Life 360 on June 13. Loudon wrote the song following the attacks on September 11 and the song has become a moving part of his live show. Loudon appeared recently on Life 360 performing "White Winos" from his current CD, Last Man On Earth. ...more updates >>