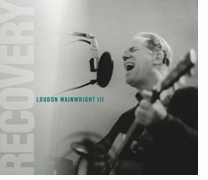 August 19, 2008 from Yep Roc Records


What if you could go back in time and have a dialogue with your younger self, stopping to appreciate the triumphs and chuckle at the foibles you might've experienced years -- or even decades -- back. That's the concept at the core of Loudon Wainwright III's Recovery, a fascinating collection on which the celebrated singer-songwriter revisits some of his earliest work, imbuing the songs with the voice of experience and the musical sophistication gained over nearly four decades spent traversing music's blue highways.
"Friends of mine had suggested I go back and rework some of my older material, but my reaction was always just to shrug," says the singer-songwriter-renaissance man. "I'd kept performing a few of these songs, but most of them, I hadn't really thought about in at least 30 years. But when [producer] Joe Henry and I were working together on the soundtrack to Knocked Up, he brought up the idea and wouldn't let it go, so I started going back to the early stuff."
And back Wainwright went, clear back to the first track on his self-titled 1970 debut, "School Days", a wry slice of collegiate bravado that imbues Recovery with musings about scenarios that played out "in Delaware when I was younger" -- a notion that's all the more intriguing when one realizes the words were written by a 23-year-old whippersnapper.
"Like most overly dramatic twentysomethings, I thought I'd burn out quickly," he says of the tone expressed on that song, and several of Recovery's other offerings. "I certainly didn't think I'd be around any longer than Jim Morrison. But somewhere along the way, I changed my mind. I got interested in being old when I was fairly young, and wrote from that perspective. So songs about getting old had one kind of resonance for me then, and another kind now."
Changes in attitude are but one aspect of what makes Recovery such an intriguing listen. Wainwright -- with the help of Henry -- also took the opportunity to alter the tenor of the tunes by augmenting their original spare, solo acoustic sound with cleverly-appointed arrangements. On "Saw Your Name in the Paper," a cautionary tale about the pitfalls of spending too much time seeking fame," that translates to Patrick Warren's stately piano lines being layered over a steely, slowly-marching rhythm. "Drinking Song," on the other hand, gets an even more vivid veneer of wooziness from an off-kilter percussive underpinning and a fuzzed-out six-string melody courtesy of Greg Leisz.
Wainwright describes the latter song -- one of several avowedly autobiographical essays on Recovery -- as his way of addressing the fact that there was "plenty of alcoholism in the family...To quote a line from "Nanny", a song not on this album which celebrates my Dad's mom, ' men were queer who just drank beer and ginger ale was for sissies.'"
That brand of black humor is but one of the calling cards the Grammy-nominated singer-songwriter plays on Recovery. He addresses the loneliness of the long-distance touring musician on 1971's one-night-stand allegory "Motel Blues" -- a tale he grants that he's oddly detached from at this juncture in life. On a similar continuum, he takes on the trauma of being unable to write a tune on a rocked-up version of "Muse Blues" (driven by the locked-in rhythm section of David Piltch and Jay Bellerose)-- an ironic topic for a man who's filled more than 20 albums with strikingly original songs over the years.
"My father [LIFE magazine veteran Loudon Wainwright Junior] could write to deadline, to order, and what I inherited from him was my ability to be descriptive," says Wainwright. "Nothing fancy. For a guy who was touted as a new Bob Dylan, I'm not cryptic or mysterious or complicated at all."
Loudon Wainwright III was one of -- if not the -- first to be anointed with that title back in the late '60s, when he began plying his trade in the folk clubs of Boston and New York. His self-effacing wit and broad humor earned a cult following -- and, in 1972, a bona fide top 40 hit in the form of the rollicking "Dead Skunk." By the middle of that decade, his reputation as one of the folk-rock scene's true characters -- in contrast to his peers, he had a fondness for Brooks Brothers' flannels and neatly-shorn hair -- had spread far enough that he was tabbed as a recurring character on the CBS series M*A*S*H, on which he portrayed "singing surgeon" Calvin Spaulding.
While Wainwright has maintained a parallel career in front of the cameras -- appearing in such flicks as The 40-Year-Old Virgin, The Slugger's Wife and Elizabethtown -- he's always been most at home with guitar -- or, even more accurately, a pen -- in hand. Always one for unsparing detail, he spent the '80s turning out stinging, critically-acclaimed discs like Fame and Wealth -- on which he shrugged off the importance of both -- and 1989's Therapy. The latter title is an anomalous one, given the fact that he once offered "as to whether what I do is therapeutic for myself, I doubt it. My career has provided me with a living and a half-assed identity, but having it hasn't resolved any of my so-called 'stuff.'"
That 'stuff' included a sometimes tumultuous personal life, and the rearing of several offspring, including acclaimed singer-songwriters Rufus and Martha Wainwright, the latter of whom joined in on Loudon's 2003 album, So Damn Happy. In recent years, Wainwright's been reaching new sets of ears, thanks in part to a plethora of soundtrack work -- like the compositions he and Joe Henry contributed to the blockbuster Knocked Up.
That resurgence makes it all the more timely to revisit the still-vibrant material that Wainwright re-imagines on Recovery. Whether he's basking in the tongue-in-cheek misanthropy of songs like "Old Friend" or musing about the pleasures of isolation on the appropriately-titled "Movies Are a Mother to Me," the 61-year-old still bristles with passion and energy -- and the excitement of a man who's in the throes of rediscovery, not in the midst of a nostalgia trip.
"I called the album Recovery for a number of reasons," Wainwright explains. "The title can be taken so many ways. You could look at it as an archeological dig -- like unearthing some dinosaur bones -- since the newest thing was from 1973. But more importantly, it also carries the connotation of getting better, which is something we'd all like to think we're doing."
There's no questioning the fact that Loudon Wainwright III is doing just that -- and will continue to do so for a long while to come.