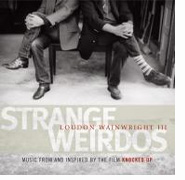 STRANGE WEIRDOS: MUSIC FROM AND INSPIRED BY KNOCKED UP - May 22, 2007 from Concord Music Group


The seeds were planted for Loudon Wainwright to write the songs with Joe Henry for the Concord Records release, Strange Weirdos: Music From and Inspired by 'Knocked Up,' the follow-up to Judd Apatow's 2005 hit The 40-Year-Old Virgin, when the writer/director first saw the singer-songwriter perform on David Letterman's old morning show in 1980 as an impressionable teen.

"Loudon has been an influence on my own work in that he's so brutally honest," says Apatow, who first cast Wainwright in his TV series Undeclared as well as giving him roles as a priest in The 40-Year-Old Virgin and as a obstetrician/gynecologist who misses the birth of his patient's baby in Knocked Up. "One minute he can be comedic and the next painfully heartbreaking. He's encouraged me to go as far as I can go truth-wise in my screenwriting, to give the material a funny, sardonic edge. He certainly sees the humor in the tragedy of trying to live your life."

That sensibility perfectly captures the mood of Apatow's Knocked Up, starring Katherine Heigl (Grey's Anatomy, Roswell), with Virgin alums Seth Rogen, Paul Rudd and Leslie Mann in a bittersweet romantic comedy about the best thing that will ever ruin your best-laid plans: parenthood.

The album, co-written and co-produced by Loudon and Joe Henry features new Wainwright songs like the title track, "Strange Weirdos," the elegiac "Valley Morning," the tongue-in-cheek look at a midlife crisis, "Doin' the Math," and his Hollywood homage, "Grey in L.A." along with covers of Mose Allison's "I Feel So Good" and Peter Blegvad's "Daughter," which he first recorded with Henry two years ago for a charity album.

On "Daughter," Wainwright played with what Henry calls his "Wrecking Crew" - keyboardist Patrick Warren, bassist David Piltch, drummer Jay Bellerose and guitarist Greg Leisz - all of whom reprise their roles on Strange Weirdos, along with special guests like legendary British guitarist Richard Thompson ("Grey in L.A.") and Brian Wilson collaborator Van Dyke Parks on accordion ("Daughter").

"I've been a fan of Loudon's work since I was 15," says Henry, who wrote a magazine piece a few years back about how Wainwright was one of four major influences on his songwriting along with Bob Dylan, Randy Newman and Tom Waits. "He is the most under-appreciated of all of them."

When the writer/director Apatow first heard Wainwright perform "Grey in L.A." live, he had the idea to ask him to work on the soundtrack for Knocked Up.

Adds Apatow: "Loudon is one of the great national treasures most people aren't aware of, so for me, it's very exciting to do something that exposes his work to a larger audience. Loudon's work is a powerful reminder to me that I must always be honest, funny and true to myself."

"I didn't really have much experience at scoring, which is to say, none," laughs Wainwright, who turned to Henry, at the time helping Loudon put together a career retrospective box set with some new material, to join him.

The process was an organic one, with Wainwright and Henry writing snippets of score melody that turned into songs and full-length pieces that were later cut down and used as instrumental cues in the film, including the Henry-penned "Ypsilanti" and "Naomi." The two co-wrote and co-produced the final result, which Joe calls "as strong a Loudon Wainwright album as he's made in 15 years."

"It was a very happy experience," says Loudon. "We were given a lot of freedom, a bit of a budget and just took it from there."

"We approached this as songwriters, not score composers," explains Henry. "Any germ of an idea that resonated enough to form a musical cue, we were encouraged by Judd to turn into a song. The key is, he gave us a tremendous amount of freedom. You can't overestimate how much confidence that can give you. He let us do our job while he did his, largely because he wanted to be surprised at what we came up with."

"Strange Weirdos" resulted from a suggestion Apatow made to write a song about two people who don't really belong together, but are trying to get along, mirroring the film's main characters.

"I definitely had the movie in mind when I wrote that," explains Loudon. "It's kind of a love song, an uncharacteristically positive song for me. The film had a definite effect on the songwriting."

"It is very emotionally open as opposed to being an intellectual discussion of feelings," says Henry, "which is the way Loudon usually writes."

"Passion Play" has a Cajun Zydeco/African feel reminiscent of Paul Simon's Graceland, which Loudon attributes to "my ridiculously rudimentary ukulele playing," while resurrecting the old song "Lullabye," with its very Wainwright-like opening line, "Shut up and go to bed," for a scene with the baby.

"I don't think people would necessarily need to know anything about the movie to appreciate this as a complete and realized Loudon Wainwright album," says Henry. "And that was absolutely our goal. He's never sounded better or been more emotionally available as a writer. His vocals are richer than ever."

"This is a fantastic Loudon Wainwright album," adds Apatow. "Having him release this album is a very exciting moment indeed. He hasn't made many records with a band like this before. The combination of him, Joe Henry and Richard Thompson is very exciting."

"I am so proud that a movie I wrote in my underwear has led to this record," adds Apatow. "It's a completely unique piece of music and art which is both connected to our film, and completely its own wonderful, heartfelt creation."