Loudon Wainwright III in Rolling Stone's Fathers and Sons Feature, Loudon added to NYC Rainforest Alliance Benefit Nov. 29, Mountain Stage coming soon
November 1999, Rosebud News
Loudon Wainwright III and son Rufus Wainwright are featured in a two page cover-mentioned spread in the November 11 Rolling Stone. The article also features the Cooders, Allmans and Costellos. Loudon will also join with Robert Cray, Levon Helm, James Taylor, Shawn Colvin and Angelique Kidjo in an all-star benefit November 29 at New York City's Beacon Theater. In the meantime, Loudon can be heard on the nationally syndicated Mountain Stage program around November 19. (date and time vary by market).
---

Loudon Wainwright III appears on CNN's Showbiz Today on August 18.
August 1999, Rosebud News
Loudon appears in support of his new CD, Social Studies, which features the millenium send-up "Y2K" among other songs he's written over the past decade for National Public Radio and ABC's Nightline. Loudon's interview and performance will be aired at 4:00 pm Eastern and 1:00 pm Pacific Time. The North American tour in support of the new CD begins August 28 at the Philadelphia Folk Festival and includes dates with The McGarrigle Sisters, Stacy Earle, Catie Curtis, Jesse Winchester, and daughter Martha Wainwright.


---
LW3 To Release Y2K Warning- Loudon Wainwright III's Social Studies CD Kicks Off With Y2K Send Up
May 1999, Rosebud News
Social Studies, Loudon Wainwright III's debut CD for Rykodisc features the single, "Y2K", a funky fireball of a song which celebrates the termination of the world as we know it promptly on January 1, 2000, naming an alleged villain behind the global millennial crisis. Set for a July 13 release, the CD features David Mansfield ( Bob Dylan, Bonnie Raitt, Johnny Cash), Chaim Tannenbaum and Greg Cohen ( Tom Waits) throughout as well as special guests Lenny Pickett ( Tower of Power, Saturday Night Live), John Scofield and Jenni Muldaur. The incredibly eclectic material for Social Studies is drawn primarily from the songs Wainwright has written over the past decade for National Public Radio and ABC Nightline ranging from hilarious satires to moving personal perspectives on our favorite scandals and scandalous favorites.
---

Loudon Wainwright III on Austin City Limits April 10
May 1999, Rosebud News
Loudon Wainwright III appears on Austin City Limits, airing on PBS nationwide on April 10. Specific air dates may vary by market so check your local listings. Dave Alvin appears on the same program.

---
Rosebud Artists Featured on Fish, Tree, Water Blues - Environmental Project to benefit Earthjustice Legal Defense Fund
April 1999, Rosebud News
Rosebud artists J J Cale,The Robert Cray Band, John Hammond & John Lee Hooker, Charlie Musselwhite (with Bob Weir), Mavis Staples and Loudon Wainwright III join Ani DiFranco, Etta James, Ruth Brown (with Duke Robillard on guitar), Tracy Nelson, Branford Marsalis & Joe Louis Walker, Keb Mo, Alvin Youngblood Hart and Roomful of Blues in contributing to Earthjustice Legal Defense Fund's "Fish, Tree, Water" Blues CD to raise awareness and funds for their campaign of the same name. Watch for a national print media campaign featuring Robert Cray to highlight the cause.


---
Loudon Wainwright III and "Bad Boy Bill" (Clinton)
January 1999, Rosebud News
Loudon Wainwright III has written and performed a song about President Clinton's current predicament for National Public Radio. NPR and Canada's CBC broadcasting both aired the song nationally the week of January 4. Loudon has been commissioned by NPR regularly over the years to write topical songs on current events. "Bad Boy Bill" lyrics >>
---

Loudon Wainwright III and The McGarrigles on CBC's "The National"
December 1998, Rosebud News
Loudon Wainwright III and The McGarrigles appeared on Canadian Broadcasting Corporation's "The National" in Canada on December 4. Loudon Wainwright III, The McGarrigle's, Rufus Wainwright, Martha Wainwright and more were chronicled on tour, in concert and in conversation on Canada's nationally televised program.
---

Loudon Wainwright III on VH-1's Midnight Minutes November 17
November 1998, Rosebud News
Loudon Wainwright III recently taped several segments for VH-1's new feature, Midnight Minutes. The segment features artists doing 60 second performances to be aired at midnight. Loudon's first segment, "Fame & Wealth" airs at midnight on November 17.
---
Belated Update - Loudon Wainwright III's Attempted Mustache and Unrequited remastered from original sources to appear on CD for the very first time
October 1998, Rosebud News
Nearly a quarter century after their initial release, Loudon Wainwright III's fourth and fifth career LPs, Attempted Mustache (1973) and Unrequited (1975) have been released on CD for the first time. The CDs are now available via Columbia/Legacy's Common Chord singer/songwriter reissue series.
---
Loudon Wainwright III on new McGarrigles, Best Of Cambridge Folk Festival CDs
September 1998, Rosebud News
Loudon Wainwright III is featured on several tracks on the new CD by The McGarrigle Sisters, The McGarrigle Hour on Rykodisc. Loudon joins family members ex-wife Kate McGarrigle and son and daughter Rufus and Martha Wainwright among the guests featured (along with Emmylou Harris and Linda Ronstadt). Loudon is also featured on The Best Of The Cambridge Folk Festival CD just-released in the UK.
---

Loudon Wainwright III set as performer/emcee on Newport Folk Festival tour
June/July 1998, Rosebud News
Loudon Wainwright III will be featured not only as a performer but as an emcee on select shows on the Newport Folk Festival Tour. On select dates, Loudon will perform between sets of the final artists as will as handling standard emcee duties. Overall, Loudon will perform as part of the festival in the following markets:
July 30 Atlanta, GA, Lakewood Amphitheatre
August 1 Camden, NJ, Blockbuster Entertainment Center
August 2 Wantagh, NY, Jones Beach Amphitheatre
August 9 Newport, RI, Fort Adams State Park
August 20 Nobelsville, IN, Deer Creek Music Center
August 21 Tinley Park, IL, New World Music Center
August 22 Charleston, MI, Pine Knob Music Theatre
August 23 Burgettstown, PA, Coca-Cola Star Lake Amphitheatre
---
Loudon Wainwright III joins Lucinda Williams in a taping of Austin City Limits
June/July 1998, Rosebud News
Loudon Wainwright III joinsLucinda Williams in a taping of Austin City Limits in late July. Inspired by Austin, Texas' burgeoning live music scene in the early '70s, Austin City Limits has featured more than 500 different regional and internationally acclaimed artists on its stage over the years. From B.B. King and Bob Wills' Texas Playboys to Mary Chapin Carpenter, Ray Charles and Leonard Cohen, each new season presents some of the best original music in every music genre. Its ability to consistently present an amiable mix of musical styles makes it a standout among television music programs. The show airs on PBS nationwide. Loudon appeared on Austin City Limits last in 1988.
---
Loudon Wainwright III featured on ABC's Nightline
May 1998, Rosebud News
Loudon Wainwright III was featured on ABC's Nightline performing a song he'd written specifically for the program about the declining birth rate entitled "Brand New Braver World". Loudon has previously supplied Nightline with the songs "Tonya's Twirls" about Olympic skater Tonya Harding and "Talkin' Woodstock '94", a satire on the 25th anniversary version of Woodstock.
---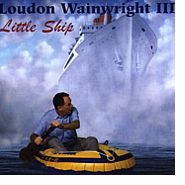 '98 Grammy Award Winners Help Launch Wainwright's Little Ship!
February / March 1998, Rosebud News
Loudon Wainwright III's newest CD, Little Ship, was released the day before the Grammys and features help on all levels from a variety of 1998 Grammy Winners.


The record was produced by John Leventhal who shared Song Of The Year and Record Of The Year honors for his shared songwriting and production, respectively, of Shawn Colvin's "Sunny Came Home". Colvin herself, a standout for her two Grammy wins, shares vocals with Wainwright on two tracks on Little Ship, "Mr. Ambivalent" and "Our Own War".
Among the musicians on the record, playing bass and pedal steel respectively, are Tony Garnier and Larry Campbell of Bob Dylan's Band. Dylan picked up three Grammys for his latest CD, Time Out Of Mind.
Photography and artwork for Little Ship was handled by Hugh Brown who scored two Grammy wins for Best Recording Package for Titanic, Music As Heard On The Fateful Voyage and Best Recording Package, Box Set, for Beg Scream & Shout! The Big Ol' Box of 60s Soul.
Executive Producer for Little Ship was Mike Kappus, who also coordinated John Lee Hooker's double Grammy winning Don't Look Back project with Van Morrison. That record took Best Traditional Blues Recording honors and then shocked many by beating out Barbra Streisand, Celine Dion, Stevie Wonder and Babyface for Best Pop Collaboration with Vocals for the CD's title track. Wainwright will be touring extensively throughout the year in support of the Little Ship.
---
New Releases from Rosebud artists The James Taylor Quartet, The Blind Boys Of Alabama and Loudon Wainwright III
October 1997, Rosebud News
The Rosebud Agency is proud to announce that we now represent legendary blues artist Charles Brown for exclusive worldwide bookings. Charles will celebrate his 75th Birthday this Fall with a Tribute from the San Francisco Jazz Festival as well as a National Endowment For The Arts Heritage Fellowship Award presented by President Clinton. The James Taylor Quartet has just released, Creation, their latest from Hollywood Records. The group is currently on only their second tour of the United States in support of the record.
Loudon Wainwright III has just released Little Ship in Europe. He is touring the UK and select Europe dates in support of the CD. Little Ship will be released by Virgin in the US, Canada and "Down Under" in early 1998 with extensive touring to follow.
The Blind Boys of Alabama have also just released a new CD, Holdin' On, on the House of Blues label and are touring continuously.
---
John Hammond and Duke Robillard Down Under (And Soon Loudon Wainwright III /Richard Thompson)
February 1997, Rosebud News
The blues touring package featuring John Hammond and Duke Robillard recently completed a successful two-week tour of Australia and New Zealand, performing in Sydney, Melbourne, Wellington and Auckland. Watch for Duke's new pointblank/Virgin CD, Dangerous Place this Spring.
Loudon Wainwright III will also tour Australia from February 19 to March 10 along with old friend Richard Thompson.
---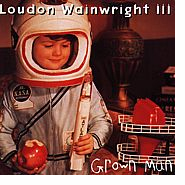 Loudon Wainwright III honored for 'Best Lyric' in 1996
January 1997, Rosebud News
Loudon Wainwright III was honored in Entertainment Weekly's "Best Of 1996" issue as composer of the year's "Best Lyric." The line is taken from his "IWIWAL" (I Wish I Was A Lesbian) on his latest Grown Man CD: "I wish I was a lesbian / I'd like to be a dyke / I'd hang with k.d. lang / Mel Gibson, take a hike!"


---
CURRENT-2000 • 1999-1997