released in 2000 from CYBEROCTAVE


During the past 15 years, Rolling Stones drummer Charlie Watts has been able to pursue his passion for jazz, playing in a variety of settings whenever he wasn't otherwise engaged with the "World's Greatest Rock 'n Roll Band." In 1985, he formed a big band and toured the States, ultimately releasing Live at Fulham Town Hall on the Sony label. In 1991, he formed a small group to pay homage to the music that first grabbed him while growing up in London. In a span of five years, The Charlie Watts Quintet released a series of stellar recordings -- From One Charlie, Tribute To Charlie Parker, Warm And Tender and Long Ago And Far Away -- that reaffirmed Watts' ongoing love affair with jazz.
Now comes his most personal and compelling statement to date. Joining forces with fellow drummer Jim Keltner (a studio session ace whose lengthy list of credits includes work with Joe Cocker, Crosby, Stills, Nash & Young and the aforementioned Stones), Watts has created a genre-defying yet nonetheless heartfelt tribute to jazz drumming royalty. The song titles, each named for a different jazz drumming legend, tell the whole story. And though Charlie makes no attempt to imitate his heroes by aping their signature licks or trademark fills, he conveys the very essence of their individuality and attitude behind the kit on nine provocative tracks.
"It's not got anything to do with them as players, it's more the feeling that I get off of them from just watching them play or hearing their records," says Watts. "And it's a tribute to them all."
The bold Burundi beats on "Art Blakey," for instance, convey the sheer power that piloted The Jazz Messengers for so many years. The jaunty energy of "Roy Haynes" captures the ebullient spirit of that ageless hipster while the majestic "Elvin Suite" is a fitting tribute to Elvin Jones, one of jazz's most regal drummers and the "rolling thunder" behind John Coltrane's quartet from the '60s. The giddy samba groove of "Airto" speaks of the playfulness of that Brazilian master while the dirge-like "Tony Williams" is a stirring requiem for that formidable drumming master who died just a week before the recording session. Other tracks are named for bebop pioneers Kenny Clarke and Max Roach, West Coast jazz icon Shelly Manne and smilin' Billy Higgins, a charter member of the revolutionary Ornette Coleman Quartet that helped change the course of jazz.
An ambitious undertaking that had its beginnings at a Los Angeles recording studio in 1997, the Charlie Watts Jim Keltner Project evolved over nearly two years' time, culminating in digital editing and overdub sessions at a Parisian recording studio near the end of 1999 with co-producer Phillipe Chauveau. "It started with Jim and myself, just the two of us playing around, really," Charlie recalls. The Stones were in the midst of recording Bridges To Babylon at Ocean Way Studios in Los Angeles at the time. During idle moments, Watts and Keltner (who was also participating in the Stones session) would slip away into another studio and begin experimenting. "He had some sampled sequences that he wanted me to play along with," Charlie recalls, "and so I did. Eventually, these rhythms had come along and I put these names on them after the fact. They could've been called 'Track 1,' 'Track 2' or anything at all. But at that particular time there happened to be an awful lot of great jazz drummers playing in Los Angeles and I'd go and see them with Jim. We saw Billy Higgins, Roy Haynes and Elvin Jones together. And Tony Williams had just died the week before. So all of those people were very much on my mind at the time we were making this recording."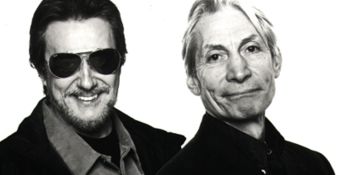 For Keltner, the whole process began with a simple question. "I wondered what it would be like to have 'the Charlie Watts beat' on a couple of my little sequences," he explains. "So I brought my machine down at one point and asked Charlie to play along with them. He agreed and it just carried on from there." After the basic tracks were laid down with Keltner, Watts went back out on tour with the Stones in support of Bridges To Babylon. A year passed before he would return to his own pet project, this time at Twin Studios in Paris with programming wiz Phillippe Chauveau, who presided over digital editing while further shaping the tracks with additional arranging and overdubs. Chauveau contributed the oud and voice samples on the Middle Eastern flavored "Kenny Clarke," the sampled bandoneon, strings and voices on "Airto," the tabla, flute and Indian voice samples on "Billy Higgins" and the sampled African choir on "Elvin Suite."
This kind of collaborative process was very different from anything Watts had ever done before. "I didn't approach it like I would normally do in a band, where I'd just hire five guys to play the music with me. What I didn't want to do on this was...I didn't want to have a saxophone player, which I was sorely tempted to have. And I didn't want to have a guitar or anything like that because the percussion and various electronic things make the music here. The overtones of the rhythm make a melody in themselves. So I wanted to keep the drums as sparse and as simple as possible. At the same time, we did it very electronically. And that was kind of the interest because I'm normally not very into that."
Indeed, there are traces of digital sampling technology throughout the recording, though Keltner prides himself in using all organic sources for his sequences. "They're not anything that anybody would recognize," he says. "There's no real keyboards on any of it. All my sampled stuff comes from fish steamers and boiled egg cutters, pipes and a lot of steel shelves...just odd things that I've acquired over the years."
At the core of this startling, techno-world beat melange is Charlie's signature backbeat, which is especially pronounced on "Roy Haynes," "Max Roach" and "Billy Higgins," all of which carry the same urgent snap of "Start Me Up," "Brown Sugar" or "It's Only Rock 'n Roll." Says Charlie, "That was particularly at Keltner's insistence. I kind of wanted to get into it more but Keltner kept saying, 'Play that way you play,' whatever that is. But that's what I did. He kept it right there."
Keltner himself played sparingly on each track, melding in organically with Charlie's beats. "I told Charlie that I'd rather just play here and there, contributing to his fills without ever being obtrusive," he says. "I would play the floor tom like a heartbeat on a lot of the songs, the 'Art Blakey' especially. My goal was just to be a part of Charlie's drum kit. I just let Charlie play the drums and the things that I did around him were hopefully to enhance."
Ultimately, adds Keltner, it was Watts who called the shots on this project.
"Rhythmically, there were a couple of little rough spots on the tape but that stuff is left there for a reason. That's the way the Stones music has always been...slightly rough. And anybody Pro Tool-ing that would've taken all of those rough spots out or would have tried to adjust it... move the beats around and make it perfect. But Charlie wouldn't have any of that. So the integrity of the whole thing is intact and that's all because of Charlie. His instincts on this thing were really fantastic."
Now that the Charlie Watts Jim Keltner Project is fully realized and ready for release, Watts confesses, "I don't know how to judge this record, really. I just find I like it, but I don't know why because it's not what I normally like. Each time I've done a recording I could say, 'Well, I don't care if you don't like it because Gershwin wrote that beautiful song and I think we do it beautifully.' Whereas, with this, I don't know what to think. I don't have any of those safety nets, you know? It's kind of uncharted territory. But I'd like to think of it as sounding 'tomorrow' rather than 'yesterday'."
"This is truly Charlie's baby," adds Keltner. "I just feel really happy to be involved. I treasure Charlie Watts and always have. And I'm not only one. Every other drummer that does studio work has tried to emulate Charlie's playing. And none of us has ever got it right, because there's only one cat that can do it."