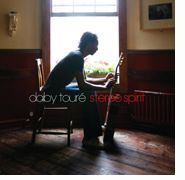 April 22, 2008 from Real World


Between the rain-swept streets of Paris and the swirling sands of the Sahara, there lies a voice that is neither and both of these music-soaked places. Musician Daby Touré, son of the African desert and child of a Parisian musical upbringing, has created new boundaries and categories that go beyond territory, ethnicity or birthright. He is simply, Daby.
This musician's life started out in Mauritania, where the Sahara, the world's largest hot desert, divides northern Arabic Africa with southern black Africa. There, in the village of Djeole on the banks of the verdant River Senegal, he grew up surrounded by music and a feast of languages and cultures. Toucouleur, Fulbe, Soninke and Wolof mingled together, helping to give Daby the richest memories of his life.
But his life changed dramatically, and with wide-reaching consequences. When his father- a musician- was invited by the Afro-pop group Touré Kunda to join them in Paris, he took his 18-year-old son along with him. He hoped that Daby would take to his studies and earn the qualifications which were going to lead his son - already showing signs of favouring music over his other studies - along a less onerous professional road than he himself had taken.
"But," explains Daby, "it wasn't the right path for me. I was always absent from school because I was actually in the studio practising music with my friends. They called my father and told him and he was really disappointed. He decided to stop helping me then, and all I could say to him was, 'that's not my way, I want to live, I want to live my passion.'"
After a successful album release with his cousin Omar, with whom he formed the band Touré Touré, Daby immersed himself in the Paris jazz scene. And after many years of lone experimenting, playing and recording, he released the magical solo album Diam, a masterpiece of music which successfully nudged, pushed and then broke down the sides of the box he felt he, a musician born in Mauritania, had been put in. This remarkably sensitive but energized and engaging performer had emerged with full force onto the European music scene, as a musician both rooted in his own cultures as well as freely exploring the spaces between, creating something entirely new and breathtakingly fresh.
"I was born in Africa," agrees Daby. "And all the traditional music I picked up when I was young is still in me and that doesn't change. But in my music I am still searching, and mixing, and trying things and that's what I am doing now. I have travelled far from the 'traditional' or 'folkloric' music of my country."
Stereo Spirit is Daby's second release from Real World Records. It is both a message to the world, to those who are sleeping and who need to wake up, as well as an attempt to offer some kind of musical solace in these troubled times.
"My songs are about giving people an emotion, making them feel good, just for a few moments. What I'm trying to do is to give people the best moment possible whilst listening to this album, even if they don't understand what I am talking about because I'm not speaking a language they understand."
Daby's lyrics are a complex interplay between languages, both European and African. As well as French and English, he mixes Wolof with Soninké and Pulaar, the languages of his childhood that represent the different cultures that abound on the African continent.
"When you travel in Africa, you understand that people are really different, that there are so many different cultures and mindsets. And sometimes that can really complicate things because we don't speak the same language. What I am trying to do in this album is to say to people, look, we have to speak the same language, for our future and for the future of our children. We have to forget our differences so we can take steps towards becoming more powerful, more united as Africans for when we want to talk to the rest of the world."
The lyrics of Stereo Spirit travel through these complex human stories and relationships, from 'Kebaluso' in which he speaks of a country's need for unity, to 'Banta' where he sings of the pain of separation from someone you love.
"In the song Yakaare, I am talking about hope and about the children of the world. When you see kids on the streets, you can see the future of these countries, so I am saying to these children, maybe you and future generations can make some changes and do something more positive in the world than we have been able to do."
With his rich voice soaring through the songs that are sometimes only accompanied by the punctuated tapping of his fingers on the fret board, it is easy to see that this latest work - created at the Real World Studios over a three-month period in 2006 - is a one-man work of serious personal expression.
"I made this album alone, and like Diam I played all the instruments myself. It's much easier to say what you want to say when you know exactly what you want," he says, adding that making music through collaboration for him never really worked.
"It was really important for me to express exactly what I needed to express, to say to people exactly what I needed to say, and I never met anyone I could share that with."
It was also important that the music be created slowly, at its own pace, like a good soup left to simmer in its own flavours.
"It's hard to make an album these days in the way that I want to do it," he says. "Nowadays everything must be fast, because of money and deadlines and it just doesn't help the creative process. But I am lucky to have a company like Real World, which supported me in this work, and I did it. It wasn't easy, but I did it."
After the final mixing in Paris, with Bob Coke, who has also worked with Ben Harper, Daby took off for a month in Mauritania and Senegal where he visited his family and the various towns and villages of his childhood.
"When I went back to Mauritania and Senegal after finishing this album, it was magical, very emotional. It was a coming home for me," says Daby, moved by his recent return to Africa.
"But I haven't lived in Mauritania now for 20 years," he says with a smile. "Even if I go back to my village to visit my family, to return to my roots, I am still a modern man. I am a young artist living in Paris, and who has changed. I am African but I am also European. I feel that in my music too."

By Rose Skelton