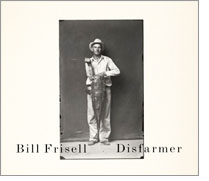 2009 NONESUCH RECORDS (more info >>)
ABOUT THIS ALBUM: The late Michael Disfarmer was an odd, curmudgeonly character in the rural community of Heber Springs, Arkansas, who, despite his anti-social character, chose to record the stark images of his fellow townspeople, during the 1940s and '50s, in cheap black-and-white photographic portraits. Decades after the photographer's passing, a cache of work made by this solitary and oft-reviled man was rediscovered, and he has come to be regarded as an important outsider artist. Among the many drawn to his plain yet deeply evocative pictures was Chuck Helm, Director of the Performing Arts at the Wexner Center in Columbus, Ohio, who introduced guitarist and composer Bill Frisell to Disfarmer's oeuvre on the hunch that Frisell might be inspired by it.
Says Helm, the catalyst for Disfarmer, "To me, Bill Frisell is a uniquely American artist with a distinctive and singular musical voice, like that of Thelonious Monk or Aaron Copland. In his probing yet atmospheric evocations of American vistas I could hear parallels to the emotional truths of Disfarmer's compelling photographs."
As Helm suspected, Disfarmer's work resonated with Frisell and led to the creation of a touring multimedia work, Disfarmer Project - featuring Frisell, lap steel guitar player Greg Leisz and violinist Jenny Scheinman, plus slides of Disfarmer's photos, displayed on screens. The piece premiered on March 3, 2007, at the Wexner Center, on the campus of Ohio State University. The score was subsequently recorded in Seattle and Nashville, produced by Frisell's longtime collaborator Lee Townsend and also featuring Viktor Krauss on bass. Along with the Frisell's original compositions, he interpolates versions of such tunes as Arthur Crudup's "That's Alright Mama" and Hank Williams Sr.'s "I Can't Help It (If I'm Still in Love with You)" into this subtly - yet stunningly - beautiful set.
In his liner notes, Frisell, who took a driving trip to Heber Springs to learn more about the area where Disfarmer chose to ply his trade, says, "Of course I was blown away when I saw his photos for the first time and started to learn a little about his life. What a fantastic story ... I kept thinking about the many other unsung and misunderstood artists who never had the recognition they deserved during their own time: Vermeer, Van Gogh, Charles Ives, Henry Darger, etc. ... I try to picture what went on in Disfarmer's mind. How did he really feel about the people in this town? What was he thinking? What did he see? We'll never know, but as I write the music, I'd like to imagine it coming from his point of view. The sound of him looking through the lens."
more info >>
"Like David Lynch, post jazz guitarist Bill Frisell has a knack for insinuating an odd haze around the most wholesome aspects of Americana. Disfarmer, named after the cranky Arkansas photographer who created gripping images of his neighbors, finds Frisell teamed with steel guitarist Greg Leisz, violinist Jenny Scheinman and bassist Viktor Krauss for a set of 26 evocative miniatures. Each one flits by like a half-remembered dream, yet paradoxically their sum amounts to one of Frisell's loveliest, most consistently affecting recent creations." - Time Out, New York
"Frisell's pacing is magnificent, and the album sweeps along with purpose like a gorgeous, spacious epic. It is full of sounds that suggest settings and characters, including the mysterious eccentric who inspired the recording." - Houston Chronicle
"The music of omnivorous guitarist Bill Frisell reflects an eclectic range of influences ... On "Disfarmer," he draws inspiration from the Depression-era portraits of little-known Arkansas photographer Michael Disfarmer. The result is a provocative soundscape that features a mixture of acoustic and electric guitars.... Creatively restless, Frisell is best suited for exploring vast territory and responding with imaginative integrity, which is evidenced on "Disfarmer." - Dan Ouellette, Billboard
"Disfarmer pulsates with implication...with lazily romantic melodies like the delectable "Think" confirming just how powerful a composer, as well as a playing force, Frisell is." - Guardian
"A nation under a very different groove, Disfarmer is the most off whack love story to country and Country ever composed. An album to mount up and ride off to the sunset with." - JAZZWISE
"Frisell's filmic themes summon up the ghosts of a lost America. The results are gently beautiful."
- THE TIMES
"As ever, Frisell's playing, all texture and touch, raises matters way beyond the merely atmospheric."
- Q
"Frisell's latest reflects the work of Michael Disfarmer, whose black-and-white images captured the realities of rural life in the Forties. Bill's plaintive sketches for guitar, bass, violin and lap-steel guitar cleverly evoke those gritty times." - Evening Standard
"Not just the outstanding guitarist of his era but also the most diversely prolific." - INDEPENDENT
"Exquisite." - INDEPENDENT ON SUNDAY
"You practically feel the Arkansas soil slipping through your fingers." - THE SUN
---